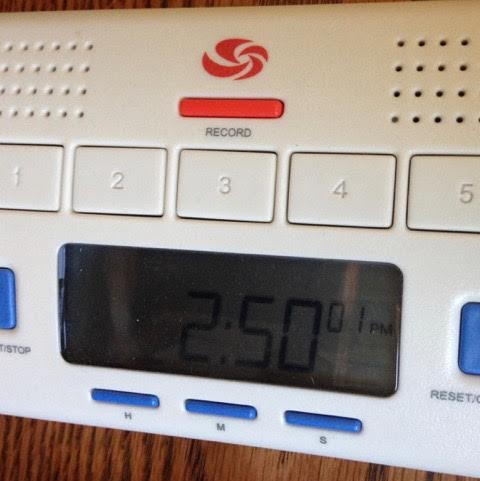 How can you help someone and yet maintain their independence, and yours? This was a question I faced one day when my husband misunderstood the time and showed up for a class early. The next day he asked me to stay home to make sure he left on time for an appointment, not early or late.
 I searched for a long-term solution, one that did not involve the use of a cell phone and an app. Of course, my search led me to amazon.com! There I found, and ended up purchasing the FreshAlarm-5 Alarm Voice Timer.
The company's brief description of this reads "Five interval timers each with recordable loud voice alarm. Easy to set timers. Interval up to 12 hours."
To use this product, you need to begin by setting the clock to the correct time. It can then be used as a clock if desired. There are five alarms that can be set, with a voice message recorded for each. I love that I can leave a message that says, "Get your water bottle and towel ready. You leave in five minutes!" and then set another one for five minutes later that says, "Time to go! You don't want to be stuck in school traffic!" This definitely frees me up so I don't have to be there nagging my husband!
 The trickiest part of this product is setting the alarm. Unlike an alarm clock, you are not setting the time you want the clock to go off. You are setting how far in the future from the current moment you want the alarm to sound. For example, if it is now 1:00 pm and you want the alarm to sound at 4:00 pm, you do not set the alarm for 4:00, you set it for 3:00 because you are setting how long from now, in this case, three hours, you want the alarm to go off, not the time it is to go off. Once you remember that, it's easy.
 With this product, you can set up to five alarms to go off up to 12 hours from the current time. What you cannot do is set an alarm to go off every day at a certain time. If you want that, you have to set the alarm every day. This product is effective if someone is there to set it every time it is needed. For us, it's only used once or twice a week, so it's perfect.
 Of course, this can be used effectively by anyone. You can set an alarm to remind yourself to get the laundry or turn off the stove or to leave to pick up the kids at school. This product would be especially useful for someone who doesn't use a phone as an alarm.
 There is one really good piece of news for this product. I purchased it in 2015 and the price is now one-third what I paid for it. Since I am happy with my purchase and felt it was worth what I paid for the independence it gives my husband, I'd say that it is now an exceptional value! If you're looking for a way to remind someone when to do something when you can't be there, definitely consider the FreshAlarm-5 Alarm Voice Timer.
 *All views expressed are my own. I was not asked to write a review of this product or compensated for giving an opinion.
LEARN TO LOVE YOUR LIFE AGAIN
---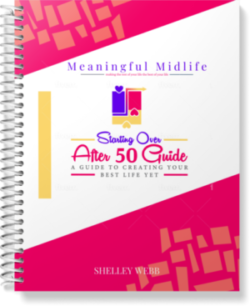 Do you feel like you need to hit the REFRESH button on your life? Download our free guide and begin to create your best life yet!