You've heard it every time you fly.  "In case there is a loss in cabin pressure, yellow oxygen masks will deploy from the ceiling compartment located above you…..Please make sure to secure your own mask before assisting others".
 I know you probably thought this only applied to flying in a plane but this little strategy applies to everything you do in life especially when you're the caregiver for a loved one.  You need to take care of yourself before you can take care of anyone else.
Maybe you have been doing it all alone – taking care of Grandma during the final or late stages in life or illness, caring for an aging parent or caring for a loved one.  This can be tough, I mean really tough on you and your family.  This is especially true if you're a business owner and run your business from home.  Your family may think it's only natural that you become the caregiver.  After all you have all the free time in the world.  But life has a way of throwing you a loop by creating an unplanned situation where you feel compelled to help.
If you are caring for an aging parent or loved one or think you might become a caregiver down the line, remember one thing: You must always take care of yourself first–
Putting the oxygen mask on first:
Join a support group – other caregivers can share with you what they're going through and how they manage to cope.  There's nothing like getting advice from someone who's been there.  Just about every disease has a  support group available.  Professionals that can provide you with rock solid information.  Here's where to find them.

Local hospitals
Associations look in the yellow pages or if you're like me, "Google" my yellow page look-up.
 Department of aging in your community

Involve other family members.  Remember you don't have to be a one mans shop.  Usually in the beginning family will be gung-ho to help out but as time goes on the ongoing support will wear thin.  But ask them to identify blocks of times they can be available to get you away from the house  (which is always the best choice) or just away from the situation.
Hire Help – now this may not be an options for some but it can be an option for others.  If your family member is living with you and keeps you up at night consider bringing in nighttime help.  Again your department of aging will be a good resource for finding good reliable help.
Support from your spouse.  Since the average caregiver is a woman in her 50s or early 60s (if that's you read on), holds a job, caring for an elderly family member may be the ultimate relationship test.  Don't forget to encourage your spouse to go to the support group and speak freely about how they feel. Don't allow caregiving to consume your relationship.
Know when to let go. You may be blessed to be able to be the caregiver until death do you part.   You may, however, have done all of this and have reached a point when you are physically and mentally cannot provide the level of care that is needed.  In this situation (and I have seen this many times) it may not be safe for you to provide the care and you're causing more harm than good.  It's never easy to make these kind of life choices.  There's always plenty of should haves or would haves and if only.  Stick with what is in the best interest of all parties and know that you've done the best that you could.
Caregiving is never easy.  It can be even more difficult if you're trying to provide caregiving while running your own business.  Remember you're no good to anyone if you don't take care of yourself.  So don't burn yourself out, and take joy in the good you are doing.
LEARN TO LOVE YOUR LIFE AGAIN
---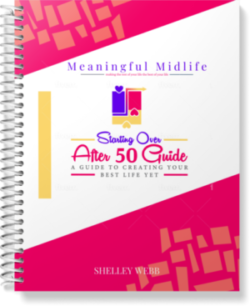 Do you feel like you need to hit the REFRESH button on your life? Download our free guide and begin to create your best life yet!