One of the things we stress here at Intentional Caregiver is care for the caregiver. Caring for yourself in all aspects of your life is an important part of the caregiving process. Physical, emotional and spiritual well-being are all very important parts of living a holistic life.
We women deal with many physical and emotional changes during and after menopause. Some of these changes can take a real toll on our relationships, including our sex life.
To complicate matters, it's often difficult to find straightforward, trustworthy information about how to deal with issues like changes in our libido, pain during sexual intercourse.
That's why I'm excited to share with you that Vibrant Nation, the leading online community for women 45+, is having its first ever Live webcast discussion, Sex After Menopause. On March 31, 2015 at 1:00pm EST, Vibrant Nation sexual health expert and blogger Dr. Barb DePree will lead a panel of women in sharing their stories and advice for getting that spark back in the bedroom.
What a great opportunity to learn more about a subject that is often difficult to discuss… and right from the comfort of your own home. Sign up below! (No need to use your real name!)
Disclosure: I am participating in a Vibrant Influencer Network campaign. I am receiving a fee for posting; however, the opinions expressed in this post are my own. I am in no way affiliated with Pfizer and do not earn a commission or percent of sales.
LEARN TO LOVE YOUR LIFE AGAIN
---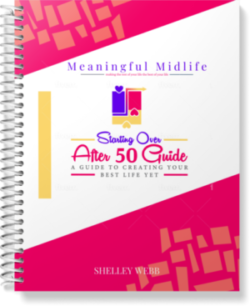 Do you feel like you need to hit the REFRESH button on your life? Download our free guide and begin to create your best life yet!