Using Writing as Self-care by Diana Raab
Diana Raab, PhD is an author, poet and speaker who also teaches classes on memoir writing. Her book, Writing for Bliss: A Seven-Step Plan for Telling Your Story and Transforming Your Life can be found on Amazon.
My father and father-in-law were both Holocaust survivors. Although they didn't like dwelling on the trauma of living through that horrific experience, as they approached the end of their lives they realized the importance of sharing their stories—both for their legacies and as a way to heal from their pasts.
Healing can occur whether seniors talk or write about their experience. However, for some people like myself, writing is an easier form of expression.
Most of those who enroll in my memoir classes are age 40 or older. The main reason is that they've lived long enough to have a clear perspective on their lives. By this age, writing benefits both the writers and the readers. Writers practice self-care and heal during the writing practice, and readers learn how others navigate their journeys.
Writing as Self-Care: The Benefits
Writing down your thoughts and feelings is an excellent way to indulge in self-care. It's also a good way to organize what you're feeling and thinking. An important part of writing is to not only write about your experiences but to write about your reactions to and feelings about them. Putting your thoughts and feelings on the page is also a way of organizing them.
One of the most amazing and magical aspects of writing is that, once you make the decision to put your pen to the page, you have no idea what will emerge from your subconscious mind.
We are all storytellers. Stories help us understand and make sense of our experiences, the lessons we've learned, and our dreams for the future. The stories of difficult life situations are often complicated, but they are stories that must be told. In fact, there is nothing much more important than acknowledging and writing our own personal narratives as a way to examine our lives . . . in terms of what happened, what it was like, and where we are now.
Studies have shown that this type of writing allows us to change our perspective, which in the end leads to more self-awareness through deeper insights, and then to recovery. Writing for healing is very useful when recovering from certain illnesses and traumas, such as post-traumatic stress syndrome (PTSD). Sometimes memories from our past experiences become blurred, and writing can help us organize our thoughts.
Journaling: A Daily Activity
As a daily activity, journaling is an excellent form of self-care. It's best done first thing in the morning or at the same time each day. Choose a journal and a pen that you love, and keep them in a safe place. You can begin writing for five minutes a day, and then increase as needed. Write wherever your pen wants to take you. Unlike writing an essay or a memoir, journaling has no beginning, middle, or end.
In her book, You Can Beat the Odds (2009), Brenda Stockdale studied the importance of the body-mind connection, especially when dealing with trauma. She is a huge journaling advocate when it comes to dealing with the stress of trauma. Her work suggests techniques to manage stress and help your body calm and heal itself. She says that for self-care, journaling can help you identify psychological stressors that can affect your mood and your body. When you're stressed physically or emotionally and you journal your symptoms, you are better able to connect the dots.
She suggests that, once a week, "you look back on what you've written and notice any connections between events, moods, and symptom." In doing so, you can identify any patterns your symptoms have, what leads to them, and how you can conquer them. As an advocate of stream-of-consciousness writing, she says that if you write in this way, "What needs to come out usually does," and this is a way to increase your self-awareness and increase your problem-solving skills.
Here are some other benefits of journaling:
Improves communication skills
Begins a dialogue with the self
Increases a sense of gratitude
Is empowering and energizing
Provides emotional release
Fosters exploration and self-discovery
Helps track patterns in your life
Allows you to work through illness or trauma
Builds self-confidence
Is a container for sentiments, hopes, and dreams
Captures moments that you don't want to forget
Inspires you to manifest intentions
Encourages mindfulness
Helps you detach from and let go of the past
Writing about Traumatic Events
One of the most amazing and magical aspects of writing for healing is that, once you make the decision to put your pen to the page, you have no idea what will emerge from your subconscious mind. For example, a friend of mine had gone into counseling as a result of childhood abuse, and the therapist gave her some writing prompts to get her creative juices flowing. The narrative-writing process helped her dissipate some of the overwhelming emotions about the trauma by providing a safe container for them. Her therapist also suggested that she write a dialogue between herself and her perpetrator, and the writing that emerged revealed essential information that resulted in transforming her outlook on life. For example, she realized that much of the dialogue that emerged was similar to that which she was having in her adult relationships. She acknowledged that she frequently repeated the patterns of her childhood. Her therapist helped her break those patterns and move forward as a way of becoming whole again and enjoying a sense of well-being.
Learning to open up about issues and traumatic experiences—even when you're writing just for yourself—does not happen overnight, but it is all part of the healing process. Author Louise DeSalvo, an advocate of writing for healing, began writing her own memoirs, Vertigo (2002) and Breathless (1998), as a way of coming to terms with her own pain. Her book Writing as a Way of Healing (2000) embraces all the basic concepts about using a passion for writing to help cope with life. In a section called "Why Write?" she concludes that writing is cheap, doesn't need to take much time, is self-initiated, is flexible, is private or you can share it, is portable, can be done whether you're well or ill, and writing to heal requires no innate talent.
Memoir Writing: Benefits
There are many reasons why someone might be inspired to write a memoir. Often it is because of a burning need to do so. Most memoirists will say that they have stories to tell and felt that they were the only ones who could tell them. Others might have secrets to share, or maybe they want to write memoirs to study or understand a situation. Other reasons include preserving a family legacy, learning more about one's ancestors, searching for one's personal identity, gaining insight into the past, or healing from a traumatic experience.
Writer Andre Aciman believes that people write memoirs because they want a second chance to create another version of their lives. When you write a memoir, you are writing your version of what you think happened—from your own perspective. Someone else might have another version, and years and years later, your perception of an incident might eventually change.
It's a common misconception that if you write a memoir, you've had an extraordinary life. It's true that some famous or accomplished writers write memoirs, but everyone has a story worth telling. A memoir is about a slice of life and has a theme or focus. Unlike an autobiography, it's not written about one's entire life. Actually, an autobiography is usually written by public figures—actors or politicians.
When writing, try to share anecdotes in such a way that readers feel as if they're walking through your experiences with you. Use all your senses. It's powerful when seniors write about childhood memories because they have the wisdom to look back and reflect upon those experiences. It's the reflective aspect of reading memoirs that is the most interesting. In fact, memoir writing is an activity of self-reflection that brings creative expression into a senior's life. Writing as self-care also gives seniors the chance to share and relive notable moments of their lives, and share their legacies with future generations. Thus, the benefits are huge!
Diana Raab, PhD is an author, poet and speaker who also teaches classes on memoir writing. Her book, Writing for Bliss: A Seven-Step Plan for Telling Your Story and Transforming Your Life can be found on Amazon.
LEARN TO LOVE YOUR LIFE AGAIN
---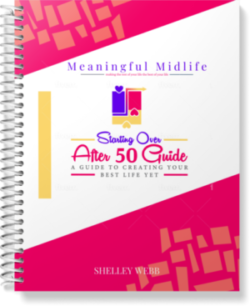 Do you feel like you need to hit the REFRESH button on your life? Download our free guide and begin to create your best life yet!