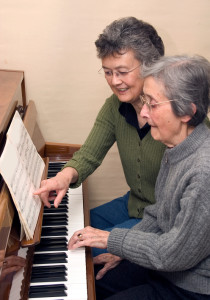 Symptoms and behaviors associated with dementia can be difficult to adjust to for any family caregiver. Forgetfulness and repetitive discussion might be irritating, sudden aggressive behavior is hard to tackle and wandering and depression require additional safety and attention. Although a cure has not yet been discovered for dementia, studies have shown that particular methods and exercises can help improve the condition. Incorporating music into your senior's life is one of those practices. Studies have shown music can make a difference in the lives of those with early to late stages of dementia. Here are four ways music can help your senior improve their dementia.
Flashback Into the Past
Music can act as a memory trigger. Creating a playlist or purchasing CDs of favorite records from your loved one's past can stimulate happy memories and help them recall facts. Big band, swing, jazz, opera, gospel and the blues are commonly preferred amongst the baby boomer generation. Once that familiar tune starts playing, your mom or dad could dance or sing the lyrics as they recognize the tempo. Overall, the repetitive, increased cognitive use will help the mind. Just like any muscle in the body, the more exercise the brain receives the greater the chance for improvement.
Learning Again
Music can also serve as a new hobby for your senior or a way for families to collaborate on a fun activity. If your mom or dad used to play an instrument, reintroducing them to old habits stimulates his or her brain activity. Working on a duet with younger grandchildren also produces the same effect.  Giving them a new hobby or project to tackle motivates them with a sense of purpose, allows them to revisit old memories and gives the hands and ears familiar movements and tunes to relive.
Altering Moods and Behavior
Pleasant melodies can also alter the mood or behavior for the senior. It is no secret that music is a powerful tool against our many emotions. Some songs have a somber notation, and others are uplifting. Triggering a specific emotion is key. Finding the perfect groove for your loved ones helps those suffering from depression, loneliness or isolation.
Powerful Motivation
Music can also be associated with activities. For undesirable activities such as moving from room to room, bathing or physical therapy, caregivers can turn on favorable music to help inspire them to get through the dreaded task.
If forms of music therapy are not incorporated in your senior's dementia care, you may want to consider trying this fresh approach. With minor changes as needed, music therapy could make a difference in a dementia patient's life. If you want to consult with a professional music therapist, connect with The American Music Therapy Association to locate one near you.
About the Author:
Kym Clark, RN, BSN, CLNC, CSA is the Director of Home Care Services and Quality Administration for Comfort Keepers®. Comfort Keepers is a leading franchise network in the in-home care market for seniors and other adults needing care. Since its founding in 1998, the company has grown to more than 700 franchised locations around the world by staying true to the founders' goal of providing in-home care services that allow clients the opportunity to age in place. In August of 2009, the brand was strengthened even further by the purchase of the franchisor, CK Franchising, Inc., by Sodexo, one of the world's leading food and facilities management services companies and the global leader in the health care and seniors markets. For more information, visit www.comfortkeepers.com.
LEARN TO LOVE YOUR LIFE AGAIN
---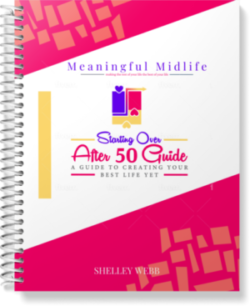 Do you feel like you need to hit the REFRESH button on your life? Download our free guide and begin to create your best life yet!