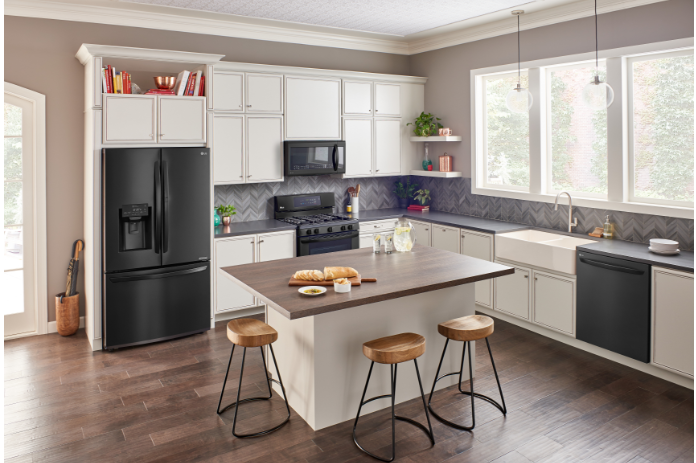 I recently attended the Mom 2.0 Summit (blogging conference) in Pasadena, California. One of the sponsors was Best Buy and they brought lots of their fun new techy products to show us. I was especially happy to see the LG refrigerator and their washer and dryer in their exclusive matte black stainless steel. I've long been a fan of LG products because they're stylish, reliable and always ahead of the curve when it comes to tech features. I've had my LG washer and dryer (which, coincidentally,  I purchased at Best Buy in Yorba Linda) since 2003 and both are still working fine. That's 15 years!  There was only one time I had to have a service guy come out to repair the washer – the time my father washed a Depends with his jeans. (Uff da!)
The latest LG washers and dryers come SmartThinQ® technology and will change the way you do laundry. You can start and stop wash cycles remotely, get updates when laundry is done and even receive reminders about scheduled maintenance.
If you have an Amazon Echo or Google Home device or the SmartThinQ app, you can do even more!  For instance, you can say "Alexa, how much time is left on my washer?" or you can receive notification on the SmartThinQ app that your dryer cycle has finished (I love this because I always forget to check back and then my clothes end up wrinkled! I HATE ironing!)
LG's exclusive Matte Black stainless steel combines the timeless look of stainless steel with a lovely low-gloss matte finish which is great because if you're like me, you've discovered that "stainless steel" is NOT stainless! These LG smart kitchen appliances are wi-fi and voice-enabled, allowing you to control your kitchen appliances remotely.  You can change the settings, check the status, or turn something on or off.
These smart appliances make life easier but additionally, if you have the Amazon Echo or Google Home, you can do even more. If you're busy preparing for company and suddenly realize you forgot to buy additional ice, you can say "Alexa, turn on my ice plus for my party tonight".  I use Alexa for kitchen timers, but if there's more than one, I'm not always sure which timer is set for which action. With the LG smart range, I could ask "how much time is left on the range?"  I could also use the SmartThinQ app to check if I happened to be in another part of the house, perhaps tending to a parent or loved one.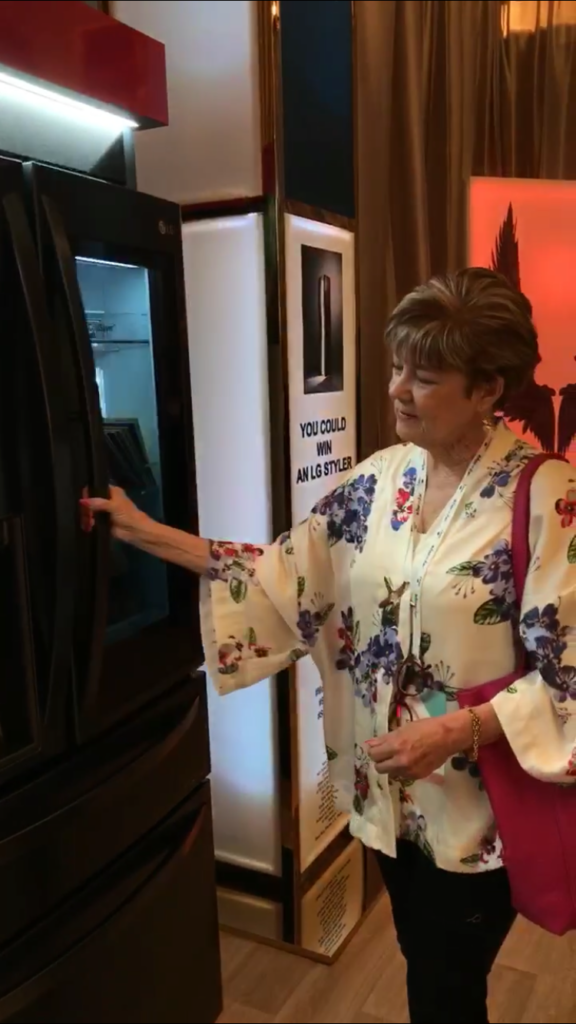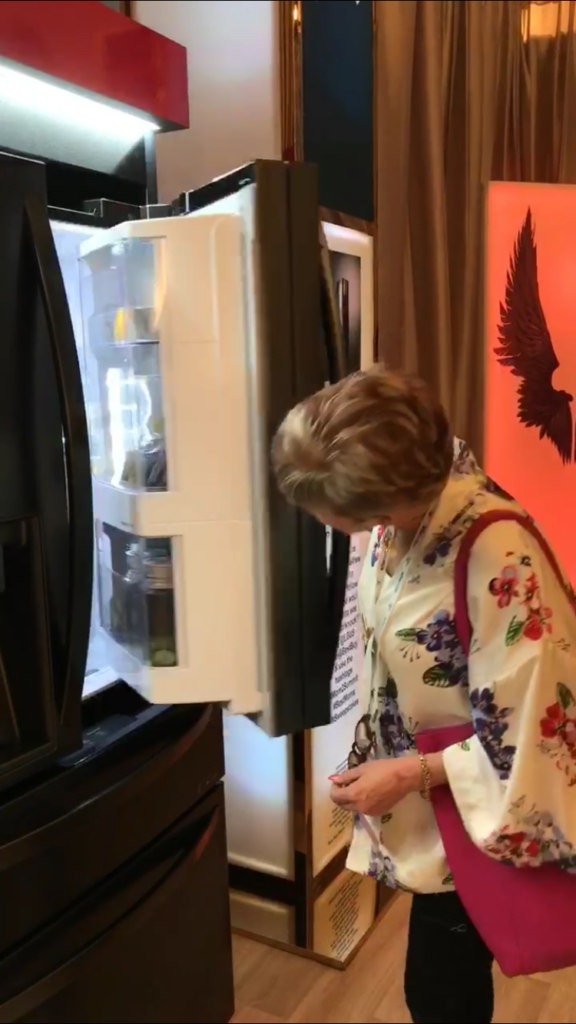 At the summit, we were able to see the LG refrigerator's Instaview door-in-door. It allows you to see inside the easy-access door without letting the cold air out. You just knock twice on the glass and a light illuminates the items inside.
Here are 5 reasons that I love LG Smart Appliances:
Their history as a durable product
As I mentioned, my washer and dryer are over 15 years old and still going strong.
2. They're stylish.
I've always liked their softer yet modern lines and finishes.
3. The technology and innovation.
From saving energy to helping make our daily tasks more palatable by offering cutting-edge technology, they are always at the forefront.
4. Energy Efficiency
Not only does refrigerator have several features to help prevent cold air loss like the door-in-door, both the refrigerator (and the washer) are ENERGY STAR Certified. You can even maintain your refrigerator using their smartphone diagnosis app.
5. They're having a summer savings event!
Right now, Best Buy and LG are offering two great savings bundles!
The Summer Kitchen Bundle is available from May 10th to July 11th, 2018 (5/10 – 7/11).
Purchase a 4-piece Kitchen Bundle and receive up to $400 INSTANT rebate.  LG and LG Studio models are eligible for this offer.
The offer covers both Memorial Day and Independence Day.
The LG Ultimate Laundry Room Rebate is available at the same time – May 10th to July 11th, 2018 (5/10 – 7/11).
Purchase a qualifying laundry bundle and receive up to a $400 rebate
For more information, please visit Best Buy's LG page . Be sure to check out LG's cute little SideKick washer. It looks like an everyday pedestal but it's a mini LG washer (it pairs with almost any LG front loading unit), so you can wash two loads at the same time.
Follow LG Appliances on Twitter at @LGUS. Follow Best Buy on Twitter @BestBuy.
*I received compensation for this post but all opinions are my own. #ad
LEARN TO LOVE YOUR LIFE AGAIN
---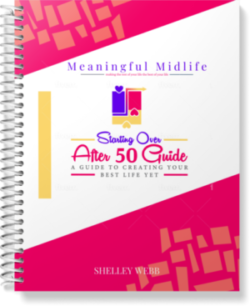 Do you feel like you need to hit the REFRESH button on your life? Download our free guide and begin to create your best life yet!