Best Smartphone Cases for the iPhone 11 Pro and 11 Pro Max
My phone was due for an upgrade so I chose the iPhone11 Pro, specifically because of its camera capabilities. This camera is rated best in the smartphone options available by Digital Camer World. I'm always worried about breaking my cell phone (and the back of this one is made with frosted glass) so I immediately went searching for a new case.
The Loopy Case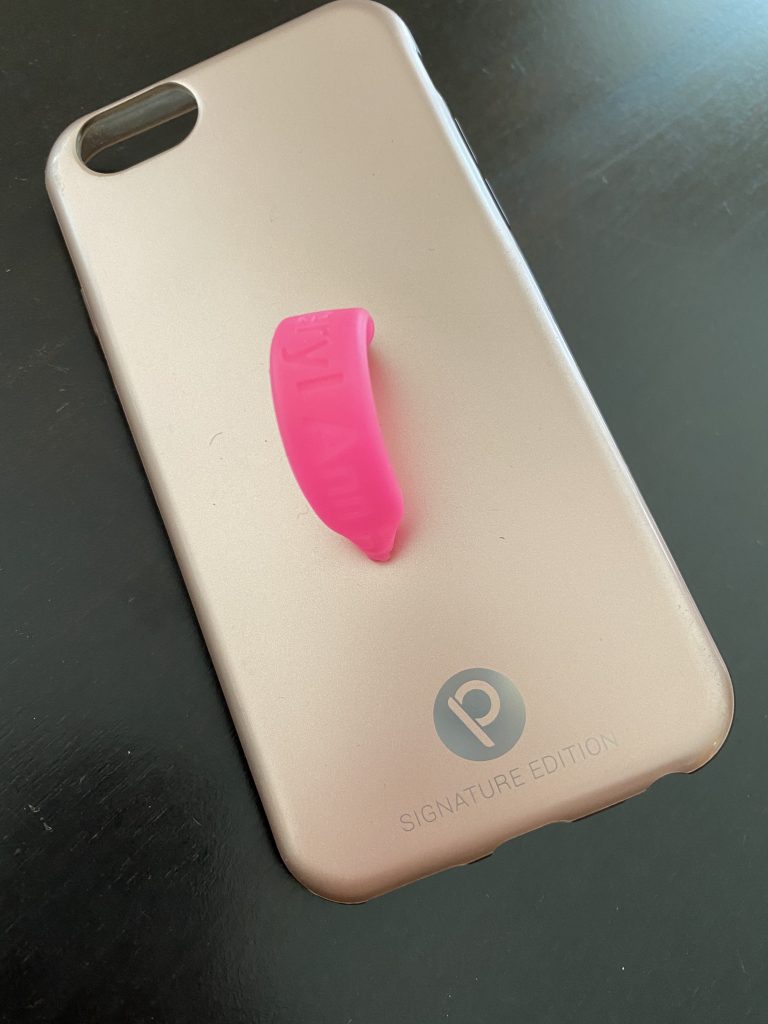 I used the Loopy Case for over 4 years and have always been pleased with it. It has a sturdy built-in loop that's great for being able to hold it safely while juggling other items.  I can also hold it in one hand and type with the other. Everywhere I go, people ask me about it. The strap is very durable and can be ordered for the way you hold your phone. For instance, if you hold your phone in your left hand, you would choose the corresponding option. The loop also enables it to prop up like a kickstand!
The Loopy Case sells for $39.00 and is available here. You can also buy interchangeable/replaceable loops but I discovered that you can use the original loop as a template for others. You know those silicone bracelets that they hand out for events and causes – those work perfectly! (Shhh, don't tell them I mentioned this.)
They also sell Loopy cases for other phones and models.
Designer Kate Spade cases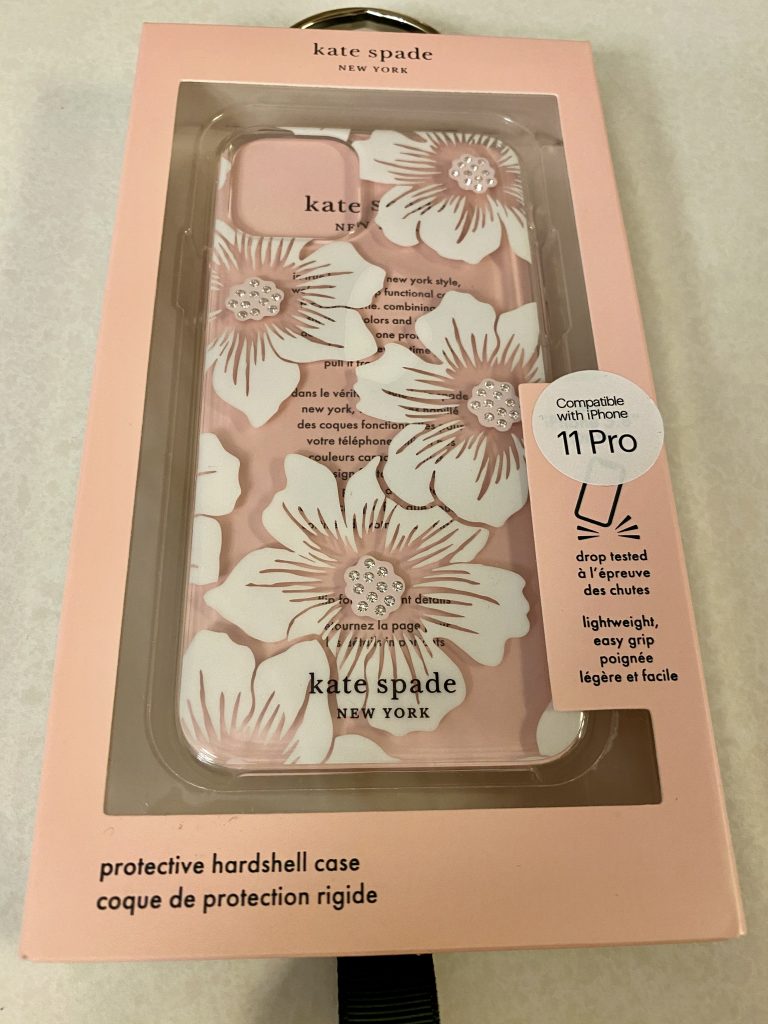 I bought this one immediately after purchasing my phone just to have something to protect it on the way home. It's very feminine and pretty and has a protective hardshell case, but without something to hold on to, I still felt like my phone could slip out of my hand. The Kate Spade cases sell for between $25.00 and $49.99  and are available at Best Buy.
TOOVREN iPhone 11 Pro Max Wallet Case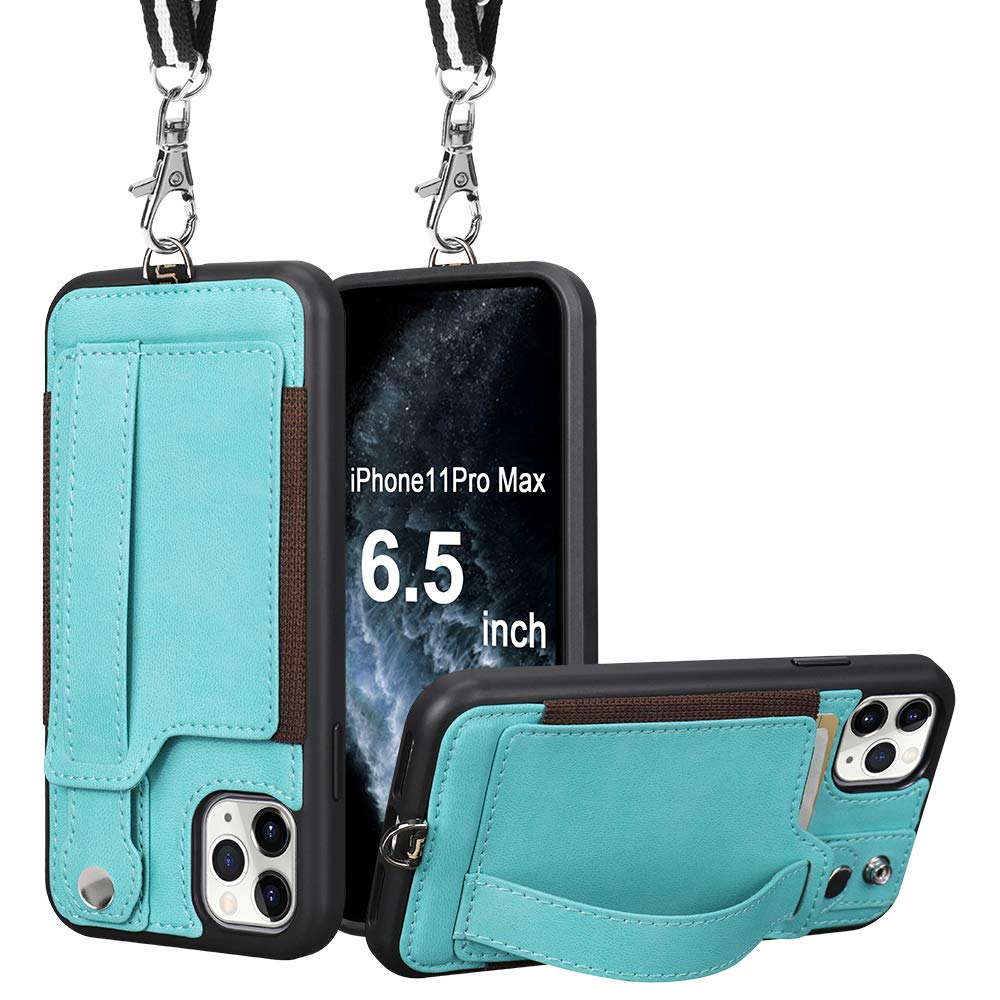 The Toovren is a little more involved but what I like about it is that it has several features:
" the protective case keeps your iPhone from scratches. Supporting kickstand when buckle the second button. iPhone necklace is Anti-theft and perfect for outdoor activities like shopping, hiking, gym, bars, concert, and more. Convenient your all daily needs outside.
Detachable & Adjustable iPhone Lanyard: The strong detachable lanyard for apple iPhone can be easily installed and removed. You can easily adjust length as needed. Durable and comfortable 3-in-1 Hand Strap, Wrist Strap, and Neck Strap.

Material and Precise Cut-outs: TPU Protective cover iPhone 11 Pro Max with leather PU card holder wallet, and Fabric Strap, making it soft to the touch and looks luxurious. Easy access to all ports, buttons & camera of iPhone 11 Pro Max without opening the iPhone case.

Wireless Charging: Our lanyard wallet cases are compatible with wireless charging. The Power of charger should be 10 Watts above, for iPhone 11 Pro Max, it needs a charger with bigger power and no cards in the wallet. (Tips: Moving it around to find the best spot and then pressing it down on the charger to engage.)
You can find it on Amazon in several color combinations at the price of $17.99.
Flowers iPhone 11 Pro Case with Finger Grip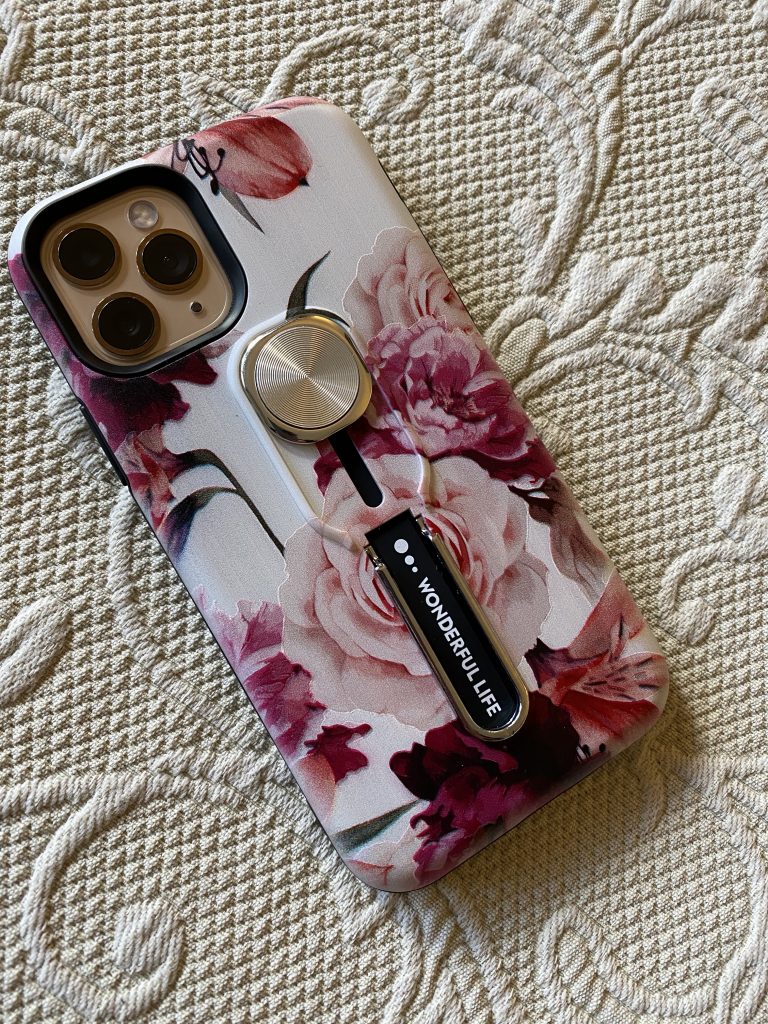 I am a sucker for flowers and this one has a finder holder too!  What I like about it is that it can be stored flat by using the button above it. Therefore it fits in your purse, your tripod or your phone holder in your car much better. I'm a bit worried about the durability of the slidable band but will watch it for a while. I would also liked to have the band higher up and at an angle like the Loopy Case. It's pretty though!
This one is only $12.99 on Amazon.
Here is One I thought very interesting:
The Pela 100% Compostable – Eco-Friendly Phone Case. 
That's right!  It's compostable after your done with it!  Pela cases are made of plants and are verified to meet ASTM D6400 standards for compostability. When you no longer need your case you can place it in any compost bin or you can send it back to them for composting. I think it's worth a try.
Last but not least,
OtterBox – OtterPop Symmetry Series Case for the 11 Pro in Island Ombre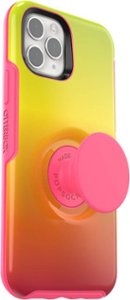 OtterBox is a very reputable brand for protecting your iPhone (or other brands). I chose this one with the Pop Socket, because again, I like to have something to hang on to.  I also chose the color because it aligns with my branding. The Pop Sockets are interchangeable so you can add your personality and did you know that Pop Sockets now come in a Pop Sockets Lip balm in 6 flavors? How handy is that?! I'm not quite sure that I'll like the socket better than the Loopy but the lip balm might make it hard to choose! Oprah Magazine also sent us our own personalized Pop Socket for our group! You could do that for your business as they allow personalization.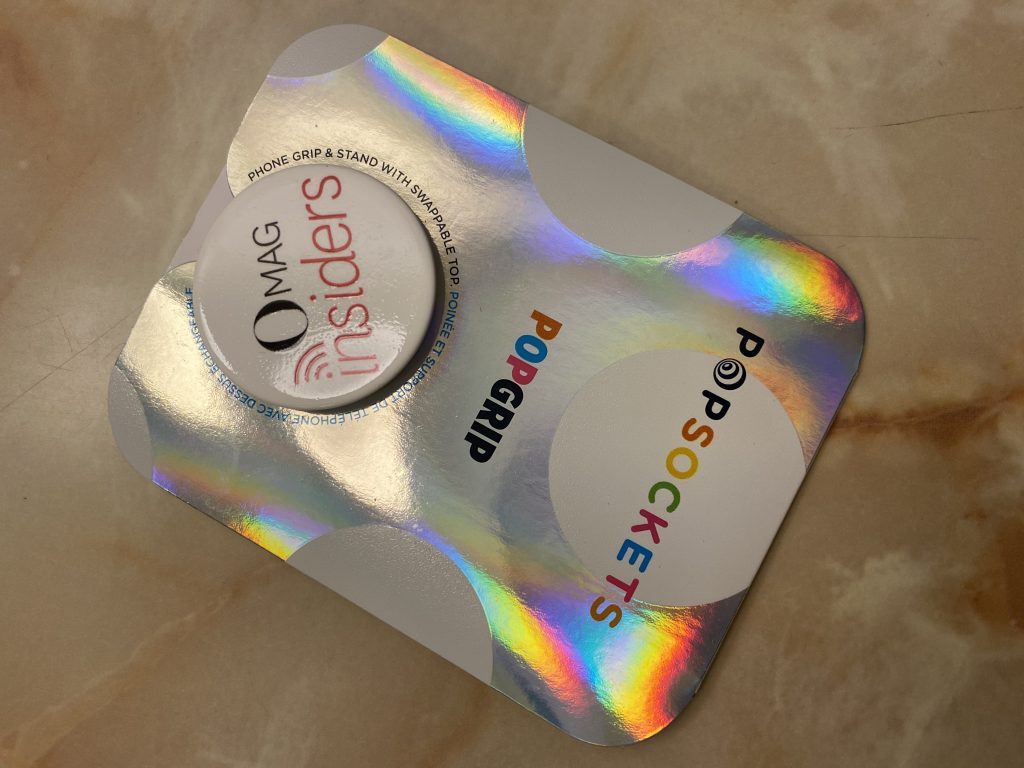 The OtterBox OtterPop cases are also able to charge wirelessly while lying on a charger and you can get a mount for your care to easily add your Pos Socket phone case.
You can find this version of the OtterBox at Best Buy and you can find other versions of The Otter Box on Amazon. There prices anges from about $32.00 to $79.00.
LEARN TO LOVE YOUR LIFE AGAIN
---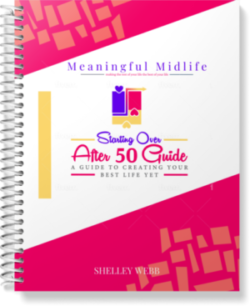 Do you feel like you need to hit the REFRESH button on your life? Download our free guide and begin to create your best life yet!