My Mom, who is 90, arrives tomorrow to live with me.
And so it begins again.
As many of you know, I cared for my father in my home for 4 years until he passed away at the age of 88 so I'm well aware of what it's like to be a caregiver.    I'm sure I've forgotten some of it though.
Because I'm a realist, I know that it's not going to be all smooth sailing and peaches and cream.  I know some of her quirks that will bother me and I know some of mine that will bother her.   Mother/daughter relationships are a little more complicated than father/daughter or mother/son.  Add to that  the fact that I'm very much an introvert and her personality lies at the very opposite end of the introvert/extrovert scale and it sets the tone for some interesting possibilities.
Her hearing loss will be a bit of a problem and because she walks much slower, errands will take at least twice as long. Unlike my father, she has no dementia, so that is one less thing to worry about.
But I also know some positive things that will come out of the experience. I will get to know my mother again on an adult level. I will learn more about her childhood and early adult years. I'll take the time to document some of the stories she recounts so that they can be preserved for our family. I will be able to enhance her later years by taking her on outings, getting her involved in church again, encouraging her to paint (although she doesn't need much encouraging) and doing projects with her.
The positives will outweigh any negatives and I'm so happy that she is willing to give this a try.
We have already gone through the house and "elderproofed" it as much as we could.  For more information on that, click here. There is a step-in shower in the master bedroom so that will become Mom's room.  (The combo bath/shower would be too dangerous and we definitely won't be adding a walk-in bathtub.)
So… I think we're ready. All we need now is Mom!
I'll be certain to keep you updated as we go through this journey.
LEARN TO LOVE YOUR LIFE AGAIN
---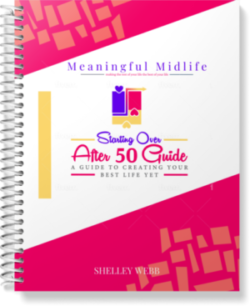 Do you feel like you need to hit the REFRESH button on your life? Download our free guide and begin to create your best life yet!