As we head towards summer, with its weddings, garden parties and brunches out, you may be excited to invest in a few new midi dresses.  Just because you're over 50 doesn't mean you can't rock stylish summer dresses and feel amazing (and comfortable). Summer midis are generally lightweight, breezy, easy to layer and can be dressed up or down. Some even come with built-in UV protection!
Whether you're looking for an everyday sundress to wear for lunch with the girls, something for an outdoor wedding, or a dress to wear on your next vacation, finding the best summer midi dresses for women over 50 that are both stylish and comfortable (and not matronly!) can be time-consuming. Here are a few tips to help you choose.
Determine the best midi dress length for you.
The term "midi" refers to a dress that conceals your knees but not your ankles. More specifically, it is said to be a dress that covers exactly half of your calves. but it's now loosely accepted as any length from two inches below the knees to just above the ankles.  That's because a midi dress with a length that stops exactly halfway down the leg typically gives the impression that your legs are considerably shorter than they actually are so many people choose a different length.  For instance, a midi dress whose hemline rests just above the halfway point of your calves gives the appearance that your legs are longer.
Consider the Occasion.
An afternoon wedding on the beach will require something dressy but with lighter material but perhaps more coverage to escape the sun, whereas brunch indoors at a restaurant might suggest layers to deal with the inevitable air conditioning.  Strolls in the park would be best in something more casual like this sleeveless a-line that comes with UPF 30 protection.
Examine the fabric.
Wearing lighter textiles is one of the simplest methods to stay cool in hot weather. Choose breathable fabrics like cotton, chambray, rayon, and linen, which are easier to wear in the heat.
Be mindful of the style.
Certain styles look better on certain body shapes.  Refer back to my article "Smart Fashion-Sense – How to Determine Your Body Shape" to learn which shape you are and how to choose the best styles for your shape.
The advantage of the midi dress is that it will work for all figures, but its downside is that we need to wear it with heels, nude shoes or shoes the same color as the dress; otherwise, the length of the skirt shortens our silhouette. If you're on the petite side, this is especially important.
A midi dress is a great length for the rectangle shape as the hem hits at the slimmest part of your legs. If you want to create some curves, you can do so with ruffles and a belt.
Read the online reviews.
Don't forget to check out an online midi dresses review. Reviews can be very helpful when choosing an option. Users often describe the quality, the fabric, the sizing (for example, they'll leave their height and weight and how the dress fits in relation to the size they chose), and other details you might have missed.
Here are some of my favorites.
For Running Errands or a Casual Brunch
This one by Daily Ritual can be dressed up or down and is perfect for layering with a poncho or wrap. It comes in 11 colors and size ranges X-Small to  XX-Large. Price: $16.59 – $21.50 depending upon size. Find it here on Amazon.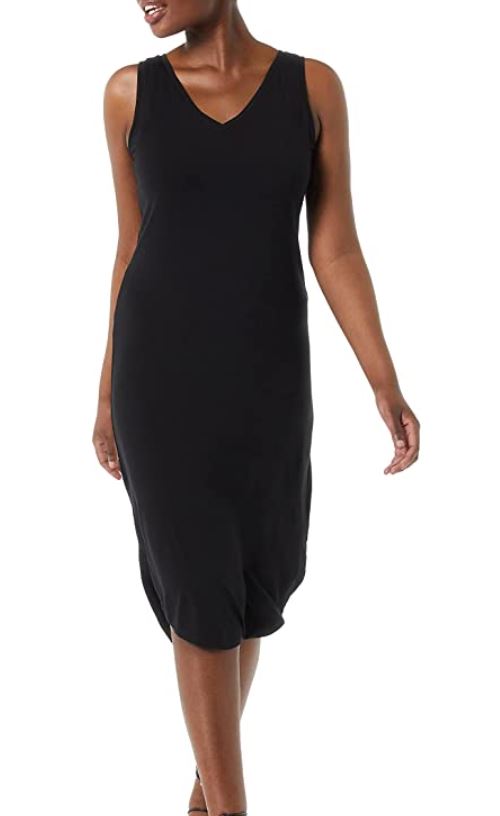 Sunday Brunch or Afternoon Wedding
This is a nice casual A-Line dress that could be dressed up or down, depending upon accessories. I especially like it because it has pockets! It's available in several colors from sizes small to XX-Large. Price: $27.00.  You can find it here.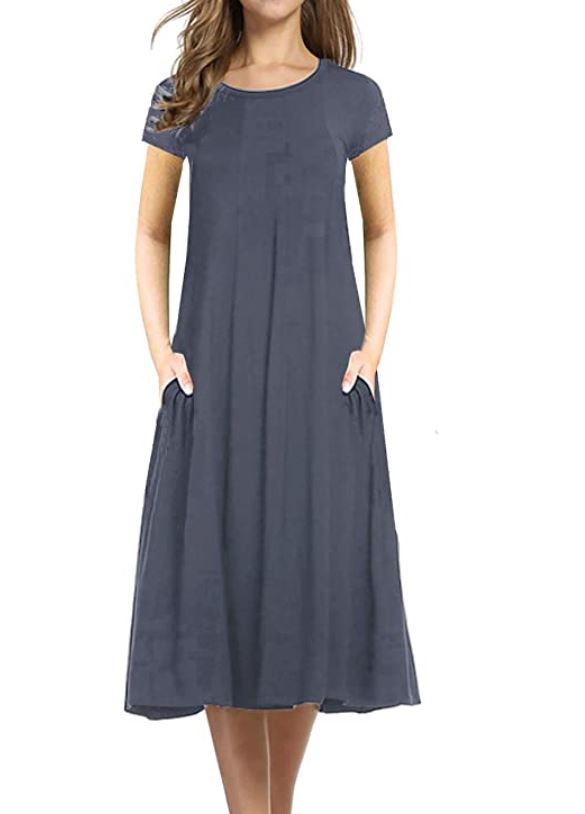 For a more formal afternoon or early evening wedding
I like this one because of the gathering at the tummy and covering of the upper arms. It comes in several colors and goes from XS to 3X.  Price: $29.99 – $34.99$34.99 depending upon size. You can find it here.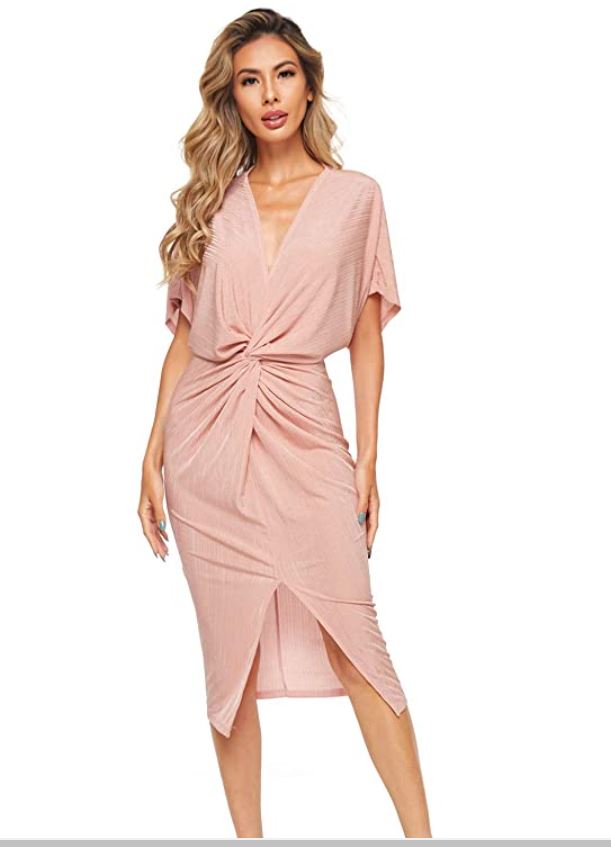 For summer date nights
I recently purchased this bohemian wrap-style dress and love how flowy it is. It's a bit longer and comes in 27 different colors and patterns and sizes from small to XX-Large. Price: $29.99 – $39.99 depending upon size.  You can find it here.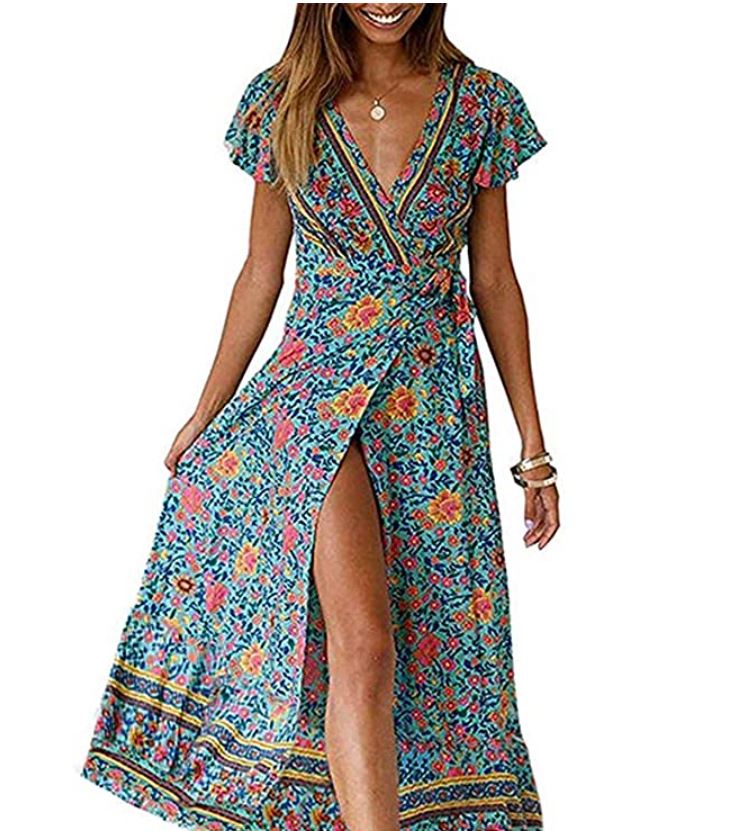 For super chill days
An oversized tunic sundress is great for those super laid-back days. This one is made from 55% linen and 45% cotton so it's very breathable. It can also be machine-washed on a gentle cycle, and flat dried.  It comes in 6 colors from sizes medium to XX-Large. It has a high-low loose hem.  Approximately $41.00 on Amazon depending upon size.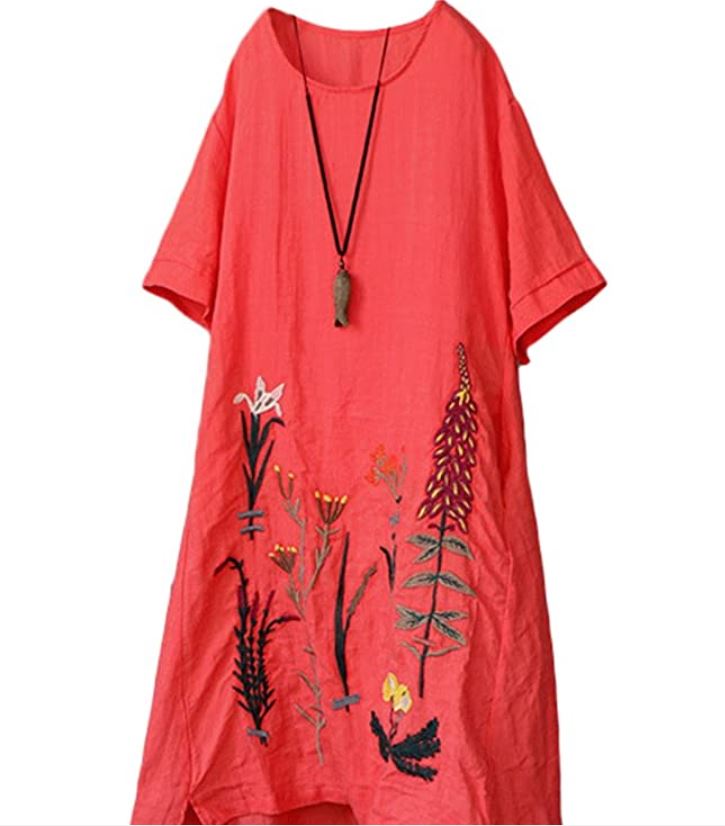 LEARN TO LOVE YOUR LIFE AGAIN
---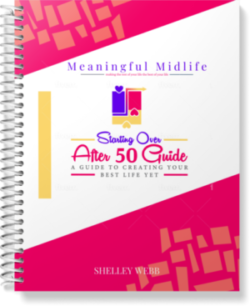 Do you feel like you need to hit the REFRESH button on your life? Download our free guide and begin to create your best life yet!