Most people have seen someone they know and love grow old, and we know we must always remember to treat our elders with utmost respect. In the medical field, when seniors are often at their most vulnerable, reverence isn't always easy to develop and display. However, doctors, nurses, and other health care professionals must always remember the ethics associated with geriatric care.
The Hippocratic Oath and Its Limits in Elder Care
The Hippocratic Oath remains relevant today in every facet of medical care, including geriatrics. Even non-medical professionals who are charged with caring for an aging loved one can benefit from adhering to the Hippocratic Oath in their loved one's care. Though the wording of the oath varies from institution to institution (and often from year to year), its main tenants remain the same:
Aim for beneficence and non-maleficence
Pass on knowledge to future health care providers
Maintain confidentiality
Still, some aspects of the oath are inappropriate (or at least nebulous) for aging patients. For example, some seniors may not be able to comprehend their illnesses, and medical professionals must confide in family members or other loved ones so the patient can receive the proper treatment. Additionally, because the elderly are not hale and hardy, treatments intended to do good may in fact do harm, conflating beneficence and maleficence. While the oath is a superb guiding principle, it isn't ironclad, especially in elder care.
Unresolved Ethical Dilemmas
Unfortunately, seniors may experience substandard care due to unstable ethics in the medical workplace. For example, not all cultures claim the same traditions and beliefs when it comes to healing, aging, and death, and often groups receive culturally inappropriate care. Health care professionals who impose the same values on every patient may be defying certain patients' wishes, so caregivers should strive to avoid stereotyping and understand each patient's needs and desires.
In addition, elderly patients who require long-term or complex care may suffer due to the dearth of experienced, specialized health care providers. Geriatrics is a distinct branch of medicine; though many doctors and nurses have some exposure with an aged population, not all have the precise training necessary to provide appropriate levels of care. This issue continues to plague health care facilities around the world, especially as the population grows older.
While ethics in health care will likely never be concrete, it does benefit caregivers of all types to be educated on the issues. Only then will their elderly clients receive the treatment and esteem they deserve.
Useful Ethical Documents
Once a Jewish cultural tradition and now a widespread document useful to seniors and their caregivers alike, an ethical will allows an aging individual to commit to writing those values he or she holds most dear. Also known as legacy letters, these documents can inform caregivers about a patient's beliefs and wishes and can give lasting and satisfying closure to family members and loved ones. Ethical wills boast no concrete format, and they may be as formal or familiar as desired.
Adult Children and Ethics
After a lifetime of being cared for by their parents, many adult children have a hard time understanding why and how to care for their now elderly parents. Unfortunately, this misunderstanding (coupled with busy lives and strong desires to forget the situation) can lead adult kids to abandon their aging parents to nursing homes. Without family support, elderly persons often wither away even under the superior care at these facilities. Fortunately, there are many more family members who are willing to take on the role of caregiver for their aging parent or loved one and do it with a sense of love and responsibility.
Thus, medical professionals should feel the responsibility to ensure their aging patients' family and friends are treating their elders with respect. And equally, family members should ascertain than medical professionals are behaving likewise. Here are some tips to help adult children maintain their parents' sense of dignity while adhering to necessary medical protocol:
Reconcile any past wrongs that may still impact the health of the relationship.
Always be open and honest regarding emotions.
Strive to be perceptive regarding unspoken issues that may be plaguing an aging loved one.
Never neglect rituals or events that are important.
Ask about the aging loved one's perspective on aging, life, and death.
Provide as much liberty as is appropriate for the loved one's mental and physical state.
LEARN TO LOVE YOUR LIFE AGAIN
---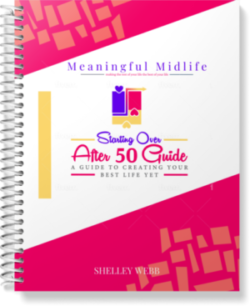 Do you feel like you need to hit the REFRESH button on your life? Download our free guide and begin to create your best life yet!