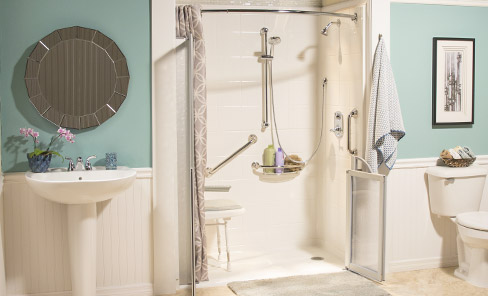 As our loved ones age and their eyesight, balance and mobility decrease, they may become fearful of falling.  The bathroom, although usually the smallest room in the hourse, is also perhaps the most dangerous room in the house because of the possibility of falls.  According to a study from the Centers for Disease Control (CDC), nearly 200,000 Americans are treated in emergency departments for bathroom-related injuries each year.
One especially dangerous place is the bathtub itself.   Not only is it difficult to step over the side, but because of decreased eyesight, it may be different to decern where the bottom of the tub is.  Additionally, lowering oneself  down into the water may be difficult  for many seniors.  Getting out of the tub is even worse.  Many a senior has been stuck in the tub for long periods of time because they were not able to lift themselves out.
Of course, there are bath chairs, bath mats and grab bars that can be installed but they are not quite as efficient.  Because many bath/shower combos are made of fiberglass, the grab bars are not as secure either. Seniors know this and they become fearful of bathing.
When my mother came to live with me, she was especially happy because there would be a walk-in shower in her room.  She told me that she had not been bathing as often at her own place because she was a bit scared of being hurt.  But even our walk-in shower has a 2 inch step over and no built in grab bars so I wasn't completely comfortable that she wouldn't fall.
Thankfully it is now fairly easy to purchase an ADA compliant AND aesthetically pleasing walk-in shower complete with slip resistant surfaces, sturdy grab bars and even a seat. What's great about them is the trackless bottom that can prevent tripping.  I was looking at the some of the websites that offer these showers and noticed that most of them have built-in or fold-seats, as well.
I also noticed that there are shower models that would aid caregivers in helping to bath an elder. There was a half-door option and a model that had doors that could be folded in order to allow 2/3 of the shower to be open to the caregiver.  This would be much less hard on the back.
Other things to consider changing in the bathroom:
* install grab bars – seniors WILL reach for the towel bar when losing their balance or trying to get up from the toilet. Both the senior and the towel bar will end up on the floor.
* Buy a raised toilet seat – it's difficult to get up from the toilet because of its height. The raised toilet seat makes it easier to sit and to rise.
* Install grab bars by the toilet – if the raised toilet seat doesn't come with grab bars, and there is no place to install a grab bar, consider purchasing a commode and placing it over the toilet.
* Remove throw rugs – these are tripping hazards.
* Install a motion detector light – this will enable the elder to walk in to a lit room rather than a darkened one.
Once the senior feels safer, they may be more willing to bath on a regular basis.
LEARN TO LOVE YOUR LIFE AGAIN
---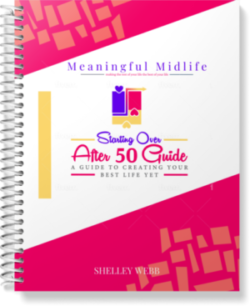 Do you feel like you need to hit the REFRESH button on your life? Download our free guide and begin to create your best life yet!