My father has always enjoyed building things and working with power tools.  In his lifetime, (during his spare time) he has built 2 cabins, (one of which is actually a beachfront home, not a cabin), a basement, an addition to my childhood home, a GREAT playhouse for my children, many birdhouses, (some of which you can still find scattered about our yard) and probably many other things that were "before my time".  But while constructing these items , my father has never been what you might call "careful" of his own safety.  Big portions of two fingers are missing due to "a planer" mishap; he has fallen out of a tree while trying to nail railings onto an upstairs balcony, broken an ankle falling down stairs he was constucting and  hamered and split numerous fingernails.  In fact, as a teen I remember coming home to an empty house where my father SHOULD have been, searching for a blood trail, FINDING it and calling local emergency rooms…..Yep….I found him.  15 stitches.
That being said, power tools and his wanting to continue to use them, have been the cause of several major discussions and frustrating encounters.  We once had a huge blow-out because he ordered a radial arm saw and wanted me to drive down to pick it up for him.  UGH ! Aside from his dementia, his vision is bad, he can BARELY stand without the use of a walker, and his heart is functioning at 25% capacity.  But he still gets bored.
His power tools are located in "the shop" which is several hundred yards from the house so I have not had to worry about his using them lately, because it's too far for him to walk.  Why haven't I gotten rid of the tools?  I'm just not ready to fight that battle.  Believe me, it will be a huge one !
He has been using his cane to take small walks lately (still refusing to use his walker in public) to the end of the driveway and back but is discouraged that he can't go further.  My friend and I came up with what we thought was a GREAT idea.  I would order him one of those motorized scooters and we could all go for neighborhood walks together.  We live in the country in a contained community so traffic is minimal and the landscape is lovely.  We could all get some fresh air and while the walk would be slower than I'd prefer, I could still get out of the house.
I was feeling good about our plan when I approached my father with the idea.  "Yes", he said "that would be great….and THEN I could drive it out to the shop and "putter around" and make sure that the truck still runs."
GROOOOOOOOOOOOOOOOOOOOAN
LEARN TO LOVE YOUR LIFE AGAIN
---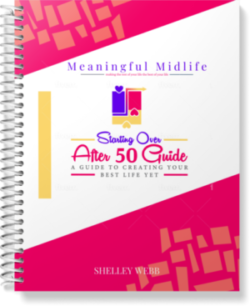 Do you feel like you need to hit the REFRESH button on your life? Download our free guide and begin to create your best life yet!