Gramma Goes Techie: the Best Computers for Use by Seniors
As our population ages, so does the age of computer users.  Baby boomers and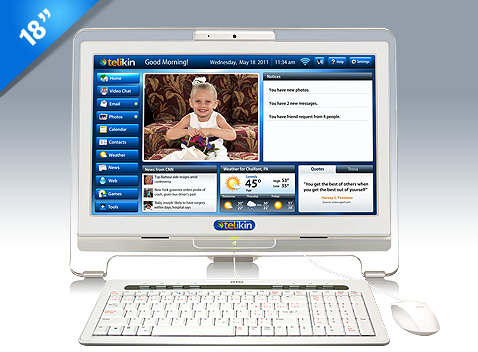 caregivers are one of the fastest growing segments of Facebook and many elders are learning how to use e-mail, games, picture storage and even video conferencing. Seniors want to be connected.
But not all computers are easy for seniors to use; in fact there are very few that are.
I'll begin by sharing about the computer that I found to be the most senior-friendly, probably because it was specifically designed for seniors. It's called the Telikin and can be found at www.Telikin.com.
This computer is a touch-screen stand alone computer.  It is basically like a stand up lap top and can be set up in less than 5 minutes.  It does come with a mouse and keyboard but because it is a touchscreen (like the iPad), the mouse isn't necessary.
The operating system is Linux so it is very resistant to viruses.  Any software that is needed is preloaded and the company provides free lifetime software updates.  Because of this, software such as MS Office cannot be added but the company is getting ready to add an MS compatible word processor.  It does have Adobe Flash support (which is one thing that my iPad does not have and that causes me disdain.)
Software includes web access, e-mail, games, video chat (using Skype), a built in webcam, photo sharing using Facebook, news updates, weather updates, a 6 in 1 SD card reader (for adding photos), and a CD/DVD player.
The Telikin has 2 different size screen options: an 18.6″ LCD monitor  with a 320 gigabyte hard-drive ( approximately $699.00) and a 20″ LCD monitor with a 500 gigabyte hard-drive(approximately $999.00).  Both are also Wi-Fi ready.
One cool feature is that with just a touch, the screen can zoom up to 200% so it is excellent for those with vision problems.
Antoher feature is that there is a help tab on every screen and there are video tutorials.
But my favorite feature of all is their "Tech Buddy system".  This system allows the senior to give a trusted family member or members their user name and password. If there were to be a problem, a family member can access their computer remotely to check it out.  The family member can also add appointments to the calendar, add photos, etc.
Of note is that you might also find this same computer listed on the website www.FirstStreeOnline.com as their WOW! computer.  They are a subcontractor for the Telekin.  At this time, the WOW! computer does not include the Tech Buddy system although the company anticipates adding that feature soon.
Another computer that has been recommended as a senior-friendly computer is the Chromebook.
The Chromebook is a product of Google's partnership with Samsung and Acer.
There are different models starting at $430.00 with the Wi-Fi equipped versions starting at $500.00.  The 3G Chromebooks come with 100 MB of free internet data per month (meaning they don't require an internet provider service) which is not a huge amount but is probably enough for checking e-mail and gathering photos.
This type of computer system is also protected from viruses because nothing but Google's built in processes can write to the hard drive.  In that regard, it is a great choice.
If your elder does have an issue with the computer, there is the ability for you to "sign-in" to their computer from afar and configure the settings remotely.
To me, it isn't as user-friendly as the Telekin, doesn't have touch-screen technology and sometimes laptop screens are difficult for elders to see.  But the Chromebook does come with a font re-sizing feature and also something called ChromeVox which reads the tabs as you open them and also the entire content of the screen.
Apple iPads have also been suggested as good computers for seniors to use.
iPads are stand alone tablets, don't take up much space, have touchscreen technology and are quite intuitive.  Objects can be made larger with just the pinch of a finger.  And there are plenty of "apps" for seniors to download from the app store – some are free; some are not.
I have an iPad and when I went to visit my mother, she was very interested in it.  She espcially liked scrolling through the photos.
My problem with the iPad being used for seniors is that there is not a way to add photos from a camera card.  The photos would need to be loaded to a computer and then transferred to the iPad once the iPad was connected to it OR they could be e-mailed or placed on facebook and obtained that way.  Sometimes the quality of the photos on Facebook aren't great because of the way they were originally uploaded (it takes much longer to upload high quality photos to Facebook).
I also think that it would be difficult for seniors to be aware of what apps were available to them (and then, of course, they would need to remember the iTunes password each time they purchased an app.)  (My father could never remember the password to even log on to his computer.)
I don't find that the e-mail system is super-easy to use and don't imagine that seniors would either.
Another problem with the iPad is that it does not work with Adobe so many video features are unavailable and again, software such as MS Office is not compatible with this computer.
That being said, I love the iPad for my own use.  It would be a good "toy" to keep certain seniors entertained, as long as you were there with them – there are piano apps, games, on-line newspapers, the Oprah magazine, music, etc.  I just don't feel that it's the best option for a senior-friendly computer.
There are 2 computer options produced by HP that deserve mention.
One model is the Autopilot.  It can be purchased as a desktop ( for approximately $1,125.00) or a laptop (for approx. $1,165.00) and is said to have goof-proof operation.
The features of this computer that impressed me were the "OnTimeRx" medication and appointment reminder software that is included, the high-contrast keyboard and mouse and the Hoyle Crossward and Sudoku puzzles.
The desktop version comes with a 17 inch monitor, mouse and color printer.
There other model is the Vision Plus Model which comes preconfigured with screen magnification sofware, a high visibility keyboard, an all-in-one printer and a scanner so that other things can be scanned and magnified (assuming the senior is able to operate the scanner).
It also has the OnTimeRx software and retails for $1,255 for the desktop.
Of course, desktops take longer to set up and can be a little more confusing in that regard.
The last computer I wanted to mention is the least expensive at approximately $549.99

.  It is the Kiwi PC from www.kiwipc.com
It's a desk-top and is Linux-powered like the Telikin so viruses are unlikely.  It comes with a 19″ monitor, pre-installed and simplied e-mmail system, a color-coded keyboard (different colors for consonents, vowel and punctuation marks – not sure I like that) with 1″ over-sized keys.  There are 2 USB ports in the keyboard.
It comes with 2 GB of memory, a 250 GB hard drive and a DVDRW drive.  There is a 1 year warranty on this product.
The one feature that I really don't like about this computer is that although they offer free system work for Kiwi upgrades, they require that the owner PAY for the upgrade, SHIP the computer to company and the company will perform the upgrade and send it back.  That's not something that would be easy for most seniors to do and almost over-powers the low cost of this computer.

(Thank you to one of our readers who pointed out that apparently this computer is no longer available and the link brings up a "site for sale" notification.  I wanted to leave it here for the remote possibility that it becomes available again.)



So there ya have it.  I'd love to hear from any of you who have had good (or bad) experiences with any of these computers or have perhaps discovered an even better computer option for senior use.
LEARN TO LOVE YOUR LIFE AGAIN
---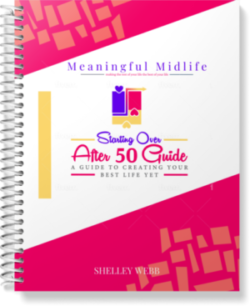 Do you feel like you need to hit the REFRESH button on your life? Download our free guide and begin to create your best life yet!