A maxi dress is a floor or ankle length casual dress that is formfitting at the top and loose flowing at the bottom. These dresses are usually made from cotton or polyester and come in a variety of colors and patterns. A Maxi dress is easy to throw on, always in style, and extra comfortable, especially during these quarantine times. You can either wear them with flip flops for a casual summer look or with wedges for a more formal occasion. 
Whether you're tall or short, thin or plus size, you can wear a Maxi Dress! There are just some things you need to consider when shopping for the best Maxi Dress to suit your figure and body style. Here are some tips to help you find the best maxi dress for you!
Plus Size
If you are plus size and well endowed, it's best to choose a maxi dress with straps. A halter-style or wider straps can help to prevent any sagging. Black or black print is a good choice as it is a very slimming color and comes in a variety of styles to suit anyone.
Length
Make sure the dress isn't too short. If you are smaller in stature, it shouldn't stop at the ankles. This can make you look shorter than you really are! If you have a hard time finding the perfect length for you (as I often do), you can always hem a dress that is too long. 
Shoes
Maxi dresses are casual enough to wear with trendy sandals or flip flops. If you are looking to dress it up, wedges and espadrilles are a good choice. Choose neutral tone sandals and wedges that can go with any color dresses you choose.
Colors to Consider
Whether you like bright colors or lighter feminine colors, black is another traditional color that you may want to consider when choosing a maxi dress. It is also a slimming color and can be found in many styles.
I also like the black dresses with floral prints that can give you a lively look as well as diversify your wardrobe. Aside from black, colors with lighter shades of green, orange, and teal are some of the most popular options for the season as well as those with some neon thrown in. You can find options that are appropriate for almost any event and occasion.
Pattern Options
Floral patterns and stripes are two trendy options to consider when shopping for maxi dresses. I've always loved florals and am happy to see them in style again this summer.
Similarly, using stripes the right way can give a slimming look to your body frame making it the appropriate choice for parties where you can show off your curves and perfect fashion sense. Gayle King does a beautiful job of choosing striped options that flatter her figure.
Whether you are going for a walk in the park or attending a wedding, a Maxi dress can be the perfect choice when you select the right type for your figure. There are tons of Maxi dress options that are perfect for every frame, including plus sizes. Don't be afraid to show your style this season and well into fall with the perfect Maxi dress! 
LEARN TO LOVE YOUR LIFE AGAIN
---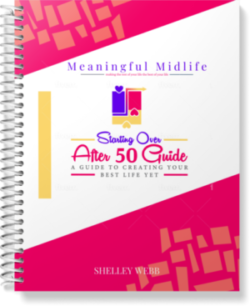 Do you feel like you need to hit the REFRESH button on your life? Download our free guide and begin to create your best life yet!