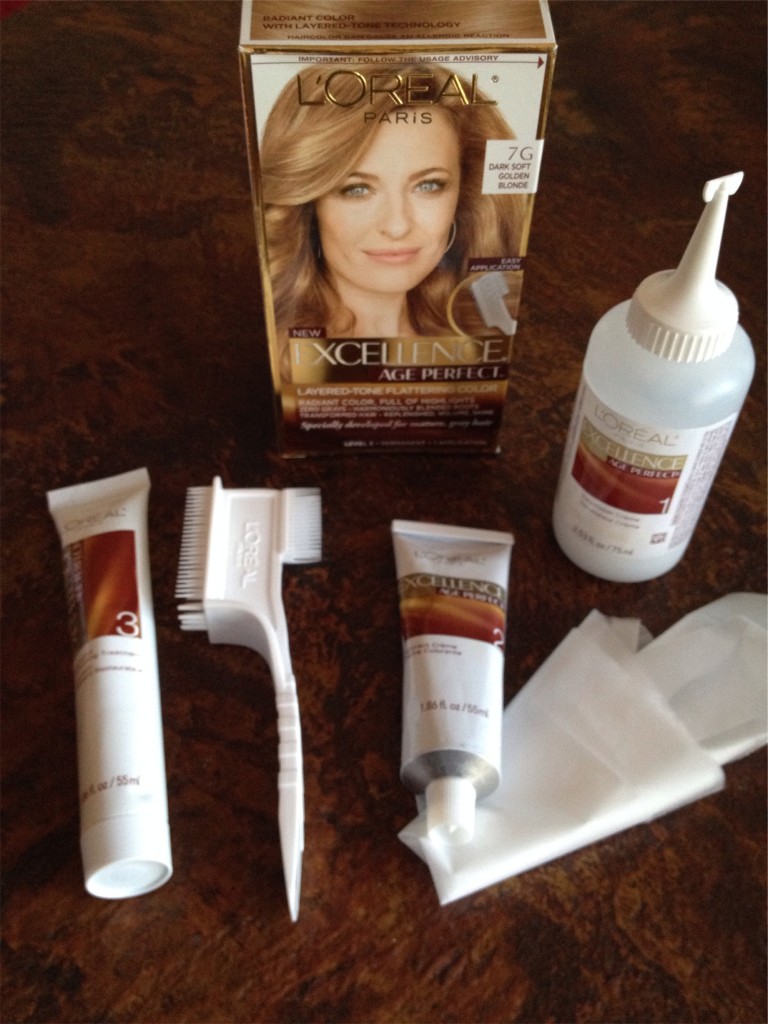 Now that my Mom is here and I'm still working full-time (thankfully from home), getting to the hairdresser is not as easy.  So when roots just become too obnoxious to bear, I turn to some at-home hair remedies! I have  used L'Oreal hair coloring products often in the past so when I was offered the opportunity to test their new Excellence Age Perfect haircolor, of course I jumped at the chance.
This new collection was created especially for "mature hair" (a kinder, more gentle way of saying gray) and promises to 100% cover grays and deliver color that is full of natural looking highlights and lowlights.   Color adapts to gray hair differently than pigmented hair so this new layered tone technology is a welcome improvement to those of us who need the coverage. The product is available in 8 shades and to help you find the one that is right for you, they offer a color consultation tool that walks you through the selection process.
Having used L'Oreal hair color in the past, I already knew that it is an easy process.  But for those of you who haven't colored your own hair, you'll be very impressed with the simplicity of the process.
When I opened the kit, I was surprised to find that along with the disposable gloves, there was also an application brush.  I'm not sure if this is a new addition to all of their hair color lines or just in the EXCELLENCE AGE PERFECT line.  The brush, which features a small comb on one side, was easy to use and was great for coloring the tiny areas around the temple.  Because I have short hair I can easily miss the temple and the sideburn area.
Rather than the 2 bottles of solution that I am used to seeing, I found a tube of crème had replaced one the bottles.  I loved that this made the crème color thicker and not drippy at all.
The kit also includes a tube of conditioner to use after shampooing out the haircolor mixture.  It's a nice conditioner and leaves the hair full and shiny.
The color turned out great, all grays were covered and I did notice the multidimensional tones in highlights.  I have never ever had a problem with their colors turning orange or other awkward shades, even after a full day of gardening in the strong summer suns so I trust their product implicitly.  Their product is very affordable, as well.  You can find out more about them here.
If you're considering in home haircoloring or root touch-ups, I hope you'll give them a try. If you do, let me know how you liked them.
In the interest of full disclosure, I am participating in a Vibrant Influencer network campaign for L'Oreal Excellence Age Perfect and am receiving a fee for posting (and I received the hair color free…BONUS!)  The opinions expressed in this post are my own, of course. I am in no way affiliated with L'Oreal Excellence Age Perfect and do not earn a commission or percent of sales.
LEARN TO LOVE YOUR LIFE AGAIN
---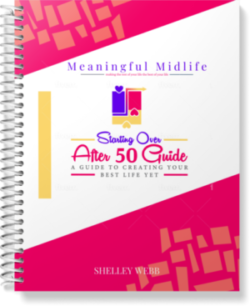 Do you feel like you need to hit the REFRESH button on your life? Download our free guide and begin to create your best life yet!