This post is part of a series of posts about the wineries and vineyards in Paso Robles, California, which we visited in September of 2023. You can find more about Paso Robles, the wineries we visited, the places we stayed, and other places we visited in the original blog post. You can also find out more about the wines we tasted while there on our podcast, Wine Time Fridays… or wherever you get your podcasts!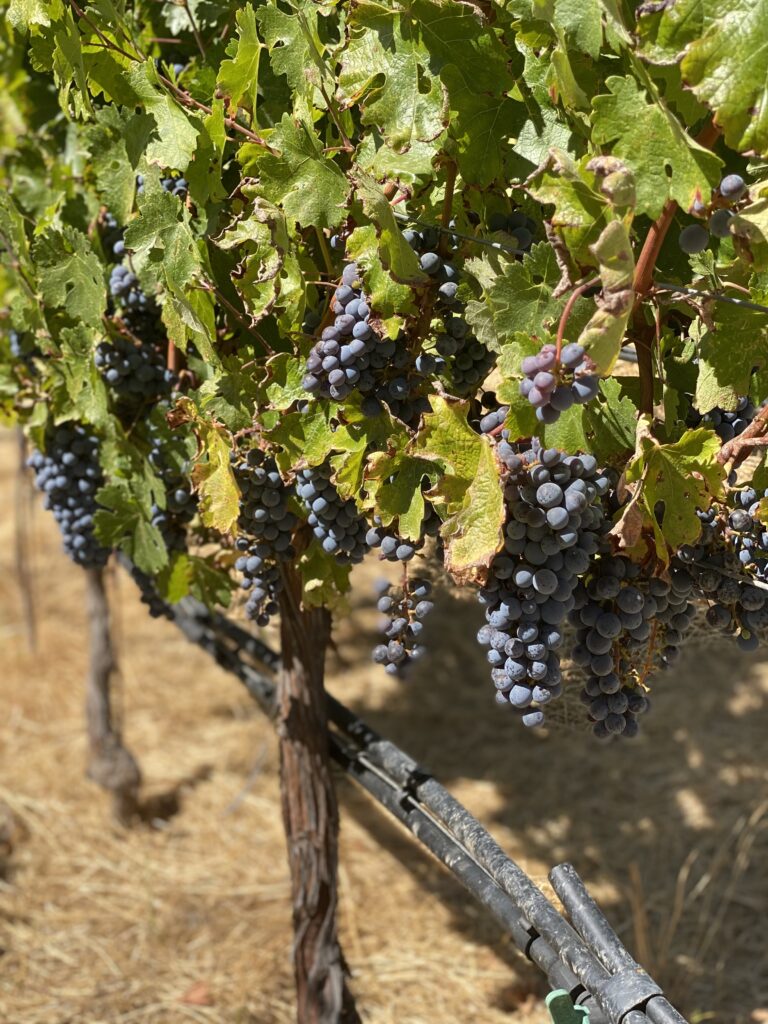 We didn't have Halter Ranch Vineyard Estate on our list of wineries to visit but we happened to find it on our way back to our hotel after our tasting at Tablas Creek. We noticed that they served lunch so we decided to stop!  And are we glad we did!  What a beautiful and interesting estate!
Halter Ranch is a 2,700-acre certified organic (by California's Certified Organic Farmers (CCOF)) estate dedicated to land, art, and wonderful terroir-driven wines. The ranch itself was established in 1880 and has had a total of 6 owners since its beginning. The current proprietor is Hansjörg Wyss, a native of Switzerland, who purchased the property in 2000 and named the property Halter Ranch after his mother, Alice Halter.  Their winemaker is Kevin Sass.
An interesting tidbit is that the movie "Arachnophobia." was filmed at the ranch, featuring the Victorian Farmhouse. (We did see a tarantula on the road going towards their estate.) Also, it was at a hosted barbecue on their property that Ronald Regan announced his re-election campaign for California Governorship.
There are many different things going on at the ranch. They have an organically certified chef's garden,  as well as a 17-acre olive grove!  Their first California Extra Virgin Olive Oil release was a Tuscan field blend, made up of Frantoio, Leccino, Maurino, and Pendolino olives.
They are open daily for tastings from 10:30 p.m.-5:00 p.m.  There are 2 types of tastings: one is their Ranch Flight for $35 and the other is their SIlver Label for $50.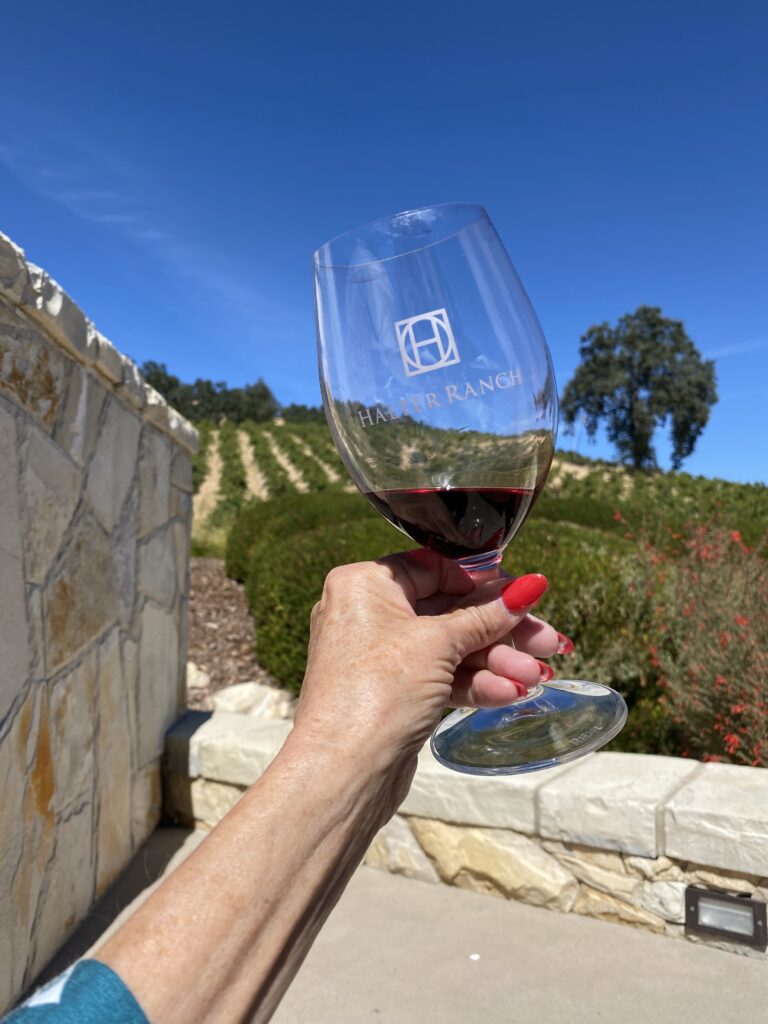 The adorable Covered Bridge was completed in 2009. According to their website, "The inspiration behind the construction was to transition from the historic to the contemporary portion of the property. Much of the modern architecture on the property was reminiscent of Wyss' upbringing in Switzerland." You enter the winery side of the property through this covered bridge! It is also used to host Bridge DInners and their little train runs through it at times (probably not during the dinners.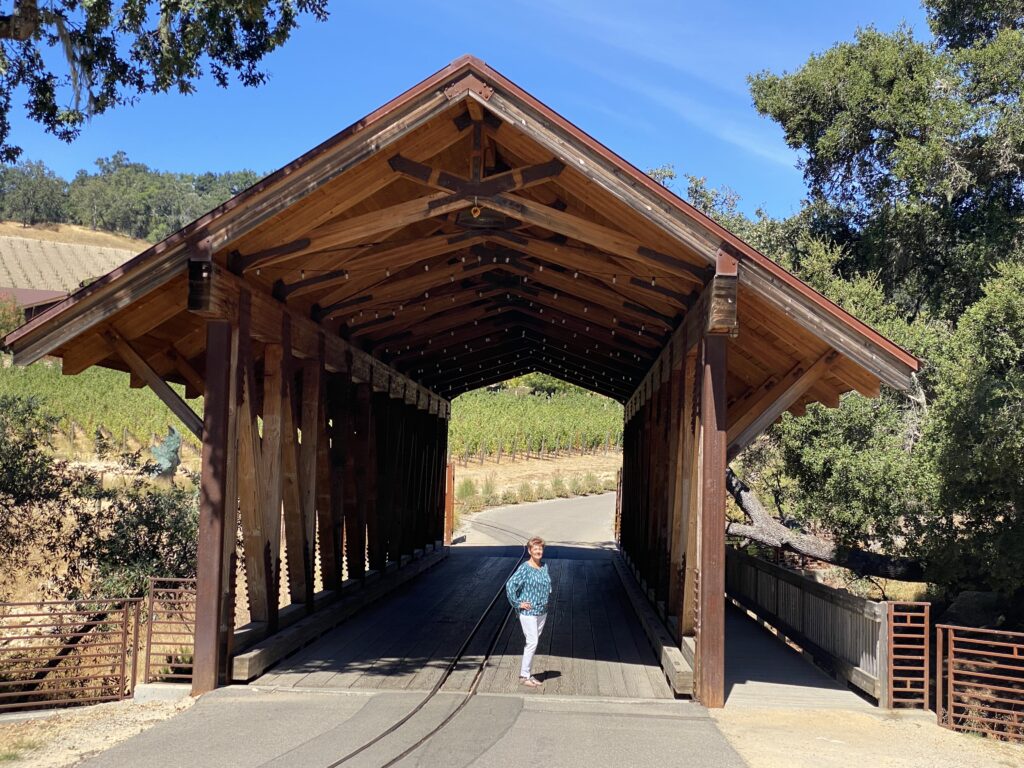 Artwork
There are over 30 pieces of wonderful artwork on the property, created by various artists.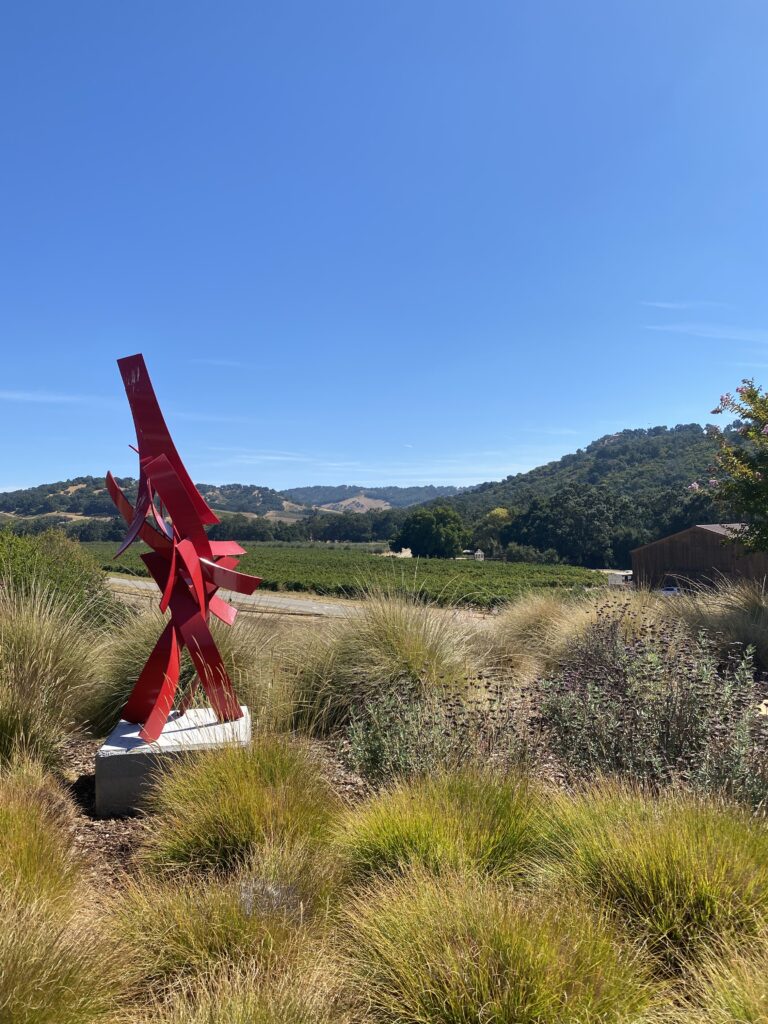 This interesting sculpture is made of aluminum and is called, 'Once Again' by talented self-taught sculptor, Matt Devine. On Instagram, he is @mattdevineart.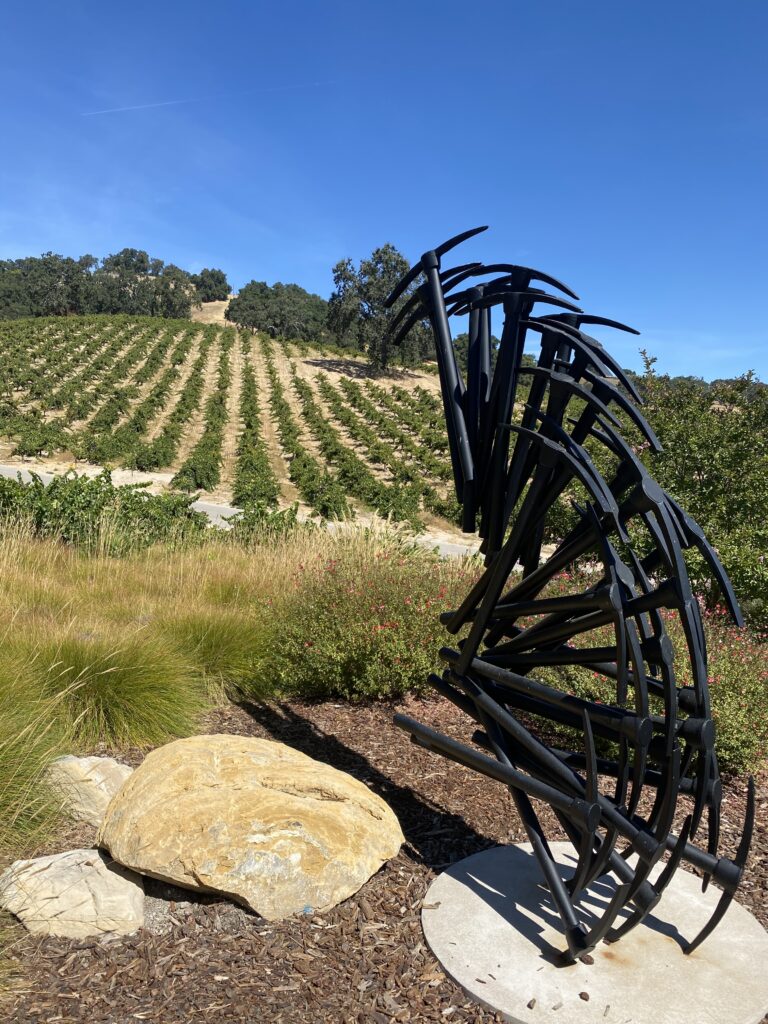 This intricate pickaxe sculpture is close to the tasting room. Unfortunately, I don't know the artist's name or the title of the piece.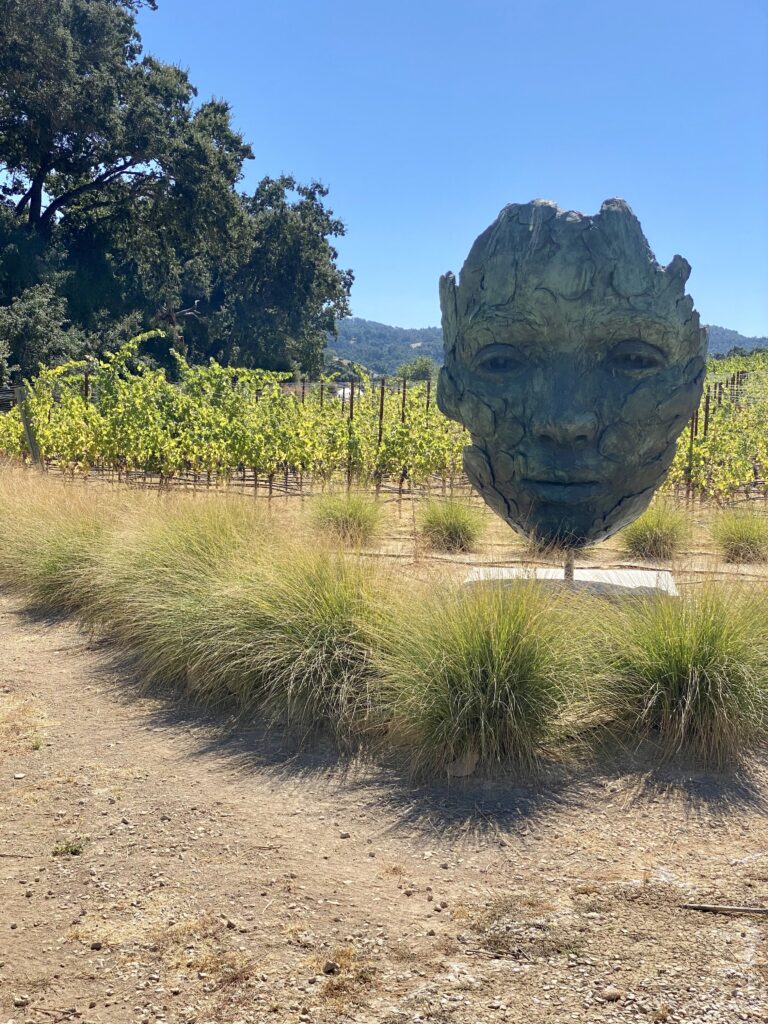 You'll find this bronze sculpture on the left-hand side just after going through the covered bridge.  "The Colossal Fragment" was created by South African artist Lionel Smit – @lionelsmit
Lionel gets his inspiration from locals in Cape Town, South Africa to create extraordinary pieces.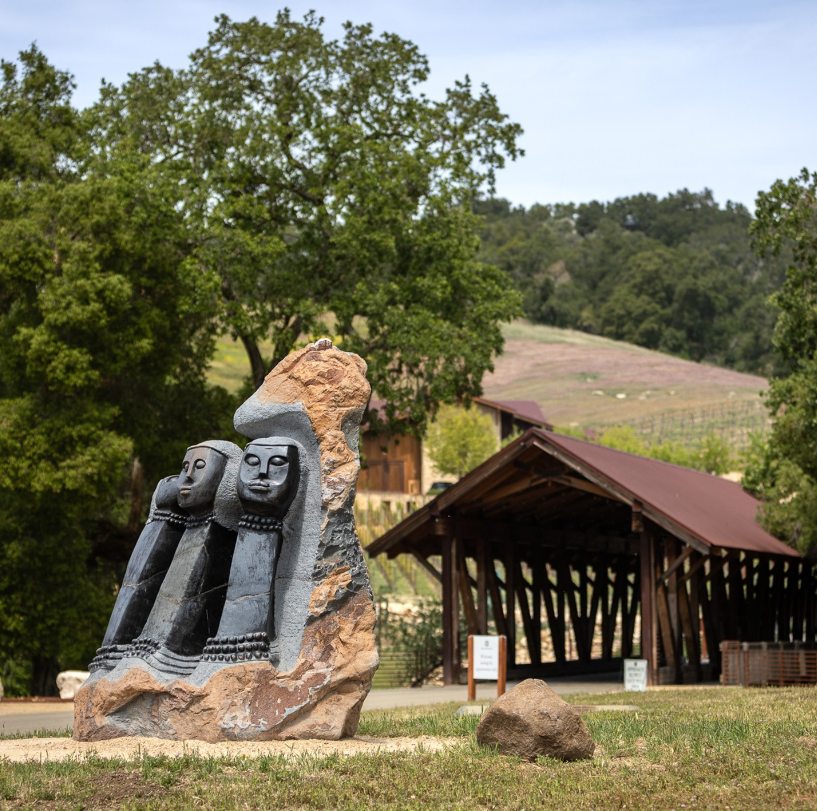 This stone sculpture whose artist is also unknown was purchased from the African Trading Port (ATP) in Cape Town, South Africa. The ATP showcases pieces from leading and upcoming artists in their continent.
Private Airport
If you're a pilot with a plane, you can request to fly in for lunch or a tour!  They ask that you request a fly-in time at least 3 days in advance.
Tours
The Train Tour
This tour is for wine club members only, but once you visit, you may want to become a member. You'll ride in a little open-air train car pulled by one of three hand-crafted Swiss locomotives. You'll be able to take a glass of wine to enjoy on the train. There are three different train cars: the Steam Locomotive, Krokodil, and Pullman Cars. All the trains are scale models of the historic trains that can still be seen and ridden when in Switzerland where the owner, Hansjörg Wyss is from. The trains are approximately 1/3 scale of their full-sized counterparts.
While touring the estate by train, you'll see art installations, historical landmarks, vineyards, of course, and winemaking in progress. You can also reserve a spot on the caboose – $500 for 4 people!
The last train tour of this season takes place on November 24th and will return in the Spring of 2024.
Land Rover Defender Tour
On this tour, you'll taste their iconic Ancestor wine (which is a Bordeaux blend) under the spiritual heart of the ranch – the 700-year-old Ancestor Tree, the largest Coast Live Oak on record while also enjoying a wine and cheese pairing.
Winery & Cave Tour
On this tour, you'll visit their state-of-the-art production facility and the largest wine caves on the Central Coast. Each guest also receives a tour-exclusive Tasting Flight created by Winemaker Kevin Sass.
Lunch
Lunch is available from 11:30 a.m. until 3:30 p.m. and can be enjoyed on the patio when the weather permits. We shared the Charred Summer Squash, the Harvest Salad, marinated olives and a baguette…. and of course, some wine. (More about the wines and our wonderful server, Liam, as you scroll).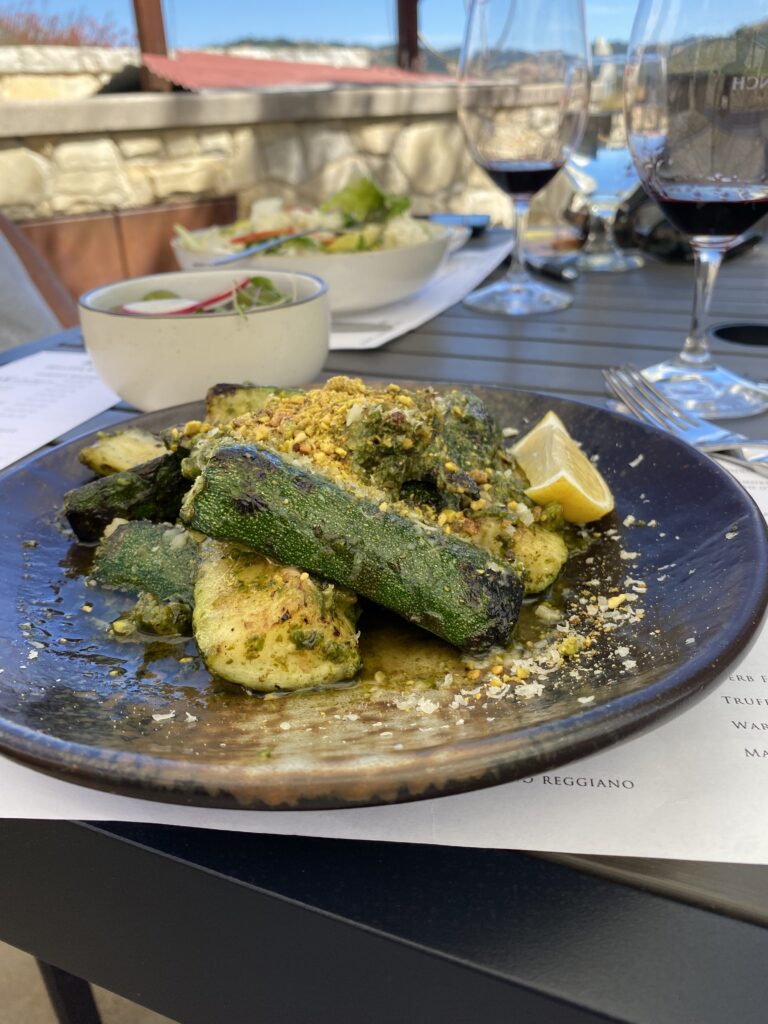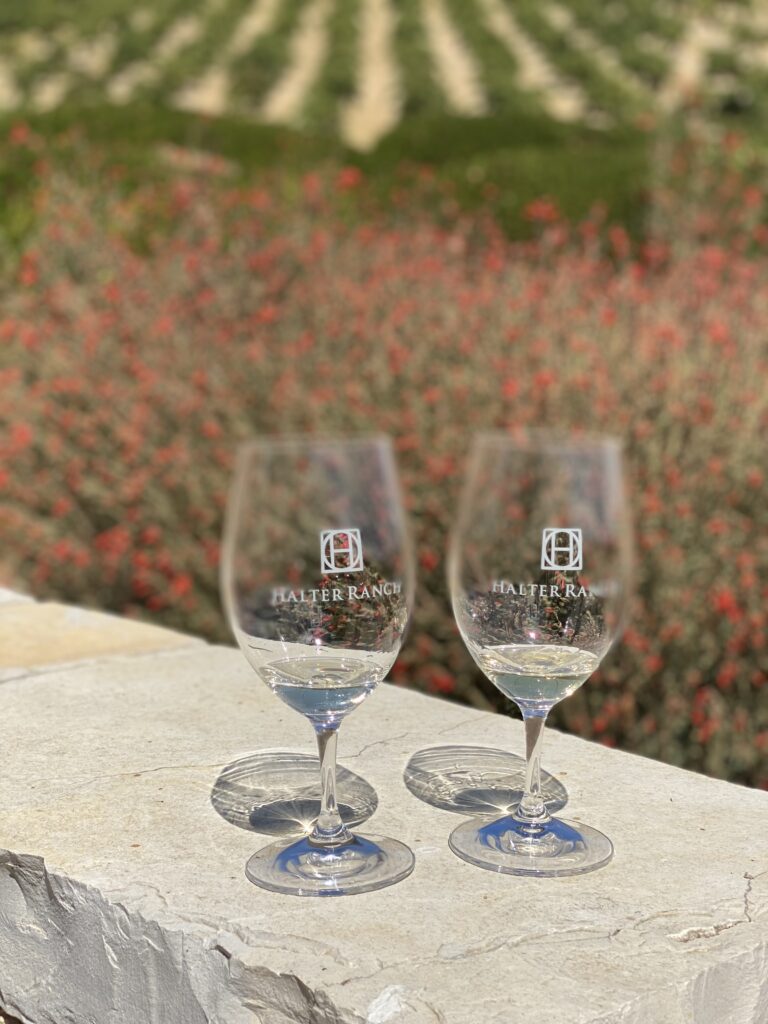 There are several different lodging experiences available at the ranch: an 1880 Victorian farmhouse, "Vineyard View" with a wrap-around patio and a pool, the "Hunting Lodge", and two Pilot's Cottages (for those flying into the ranch).
Wines We Tasted
We tasted the wines during our lunch and let our guide choose them for us. He was training a new server so he imparted lots of wisdom about the ranch and vineyards. He chose some wonderful selections! All of their wines were great
Because I lost my tasting notes from when we were there (ugh!), I'm quoting the tasting notes from their website and linking to the PDF tasting notes for each wine.
2022 Effervescent Rosé
This was a delightful way to start the tasting. Slightly effervescent but unlike a sparkling wine, this rose' had hints of watermelon, strawberry and citrus. It gets its effervescence from a bit of residual CO2 from fermentation. It's a blend of 89% Grenache, 10% Picpoul, and 1% Mourvedre.  $50.00 at the winery.
"The 2022 Vermentino showcases aromas of white peach, lemon and a hint of honey. The palate is soft and rich upon entry, with flavors of orange zest, citrus, marmalade and a touch of minerality that comes from limestone-rich soils."  $45.00 at the winery.
2022 Viognier 
You're almost always going to get notes of peach in a Viognier and theirs was no different. This is one of my favorite wines for the warmer months. It's a wonderful sipping wine. "Aromas of white peach, nectarine, and tangerine make up the bouquet in our 2022 Viognier. The entry is crisp, bright, and filled with flavors of apricot, marmalade, and honey."  $45.00 at the winery.
2020 CDP
This one was also lovely! A blend of Grenache, Syrah, Mourvedre and Tannat.  "The 2020 CDP has aromas of raspberry, ripe plum, and a touch of Herbes de Provence. The entry is bright and fresh, driven by red and blue fruits.". $55.00 at the winery.
2019 Cabernet Sauvignon
75% Cabernet Sauvignon, 20% Malbec and 5% Petit Verdot. "The 2019 Estate Cabernet Sauvignon features aromas of black cherry, red currant, cassis, and a touch of pencil lead." $65.00 at the winery.
2020 Tannat
As I mentioned before, I'm a fan of Tannat and theirs was a great one!  Paso Robles is a good place to grow Tannat. One of the reasons I love Tannat is because of the spiciness of the variety, somewhat like a malbec. "The 2020 Reserve Tannat features aromas of clove, cardamon, black tea and dark fruits. The entry is juicy and textured, driven by flavors of blackberry, black currant, and a mix of baking spices." 100% Tannat  $102.00 at the winery.
Block 22 Syrah Estate Reserve
"The 2020 Block 22 Syrah features aromas of blueberry, ripe plum, cinnamon, and nutmeg. The entry is rich and juicy, driven by flavors of elderberry, raspberry, and boysenberry preserve." $102.00 at the winery SOLD OUT!
2020 Cuvee Alice Estate Reserve
Cuvee Alice is a blend of 45% Grenache, 40% Syrah, 8% Tannat, and 7% Mourvèdre and is only available for wine club members. There are several different wine club opportunities that offer significant discounts.
2019 Ancestor Estate Reserve
52% Cabernet Sauvignon, 28% Petit Verdot, 20% Malbec. Named for the old oak tree on the estate, "The 2020 Ancestor features aromas of blueberries, cassis, raspberry, and a touch of mocha from the new French oak." $85.00 at the winery.
Be sure to catch our other Paso Robles destination points!  You can find them by visiting the summary post here.
Halter Ranch Vineyard Estate can be found at 8910 Adelaida Rd, Paso Robles, CA 93446. Check out their website to order! 
A Halter Ranch, Texas is coming in 2024 and there is said to be one in Temecula, California, as well.
LEARN TO LOVE YOUR LIFE AGAIN
---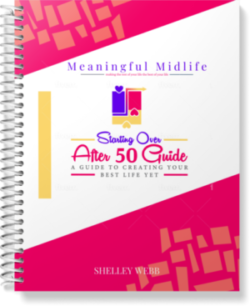 Do you feel like you need to hit the REFRESH button on your life? Download our free guide and begin to create your best life yet!