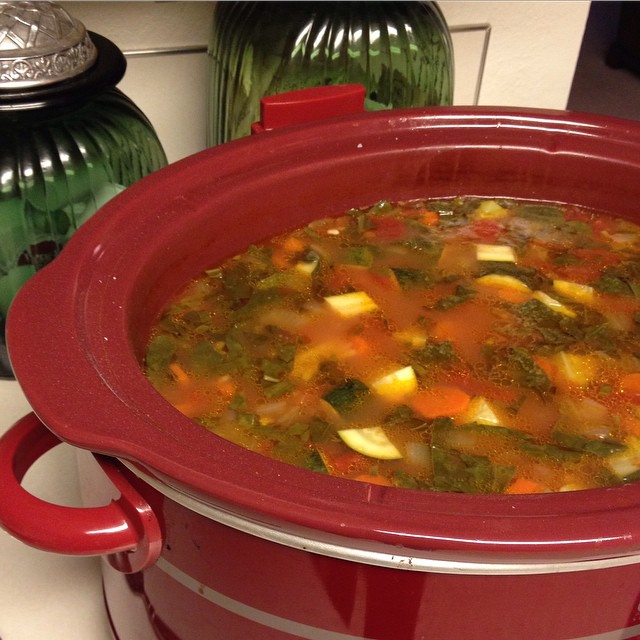 This is a very nutritious and fairly low calorie minestrone that was adapted from the version on Cook's Country.  It filled my  5.5 qt slow-cooker almost to the very top so be sure that yours is large enough.
Ingredients
1 cup dried medium-sized white beans, rinsed and pre-cooked for 20 minutes* (see note below) They don't need to be soaked overnight.
6 tablespoons extra virgin olive oil (3 T to cook and 3 T added later)
1 onion, chopped
4 carrots, peeled and cut into 1/2-inch pieces
3 garlic cloves, minced
2 (14-ounce) cans diced tomatoes
8 cups chicken stock
3 cups water
2 cups loosely packed basil leaves, chopped
1 teaspoon dried oregano
1/4 teaspoon red pepper flakes
2 medium zucchini, quartered lengthwise and sliced 1/4 inch thick
1 bunch fresh spinach = leaves chopped
1/2 cup tiny farfelle (or other small sized pasta)
salt and pepper to taste
grated Parmesan to garnish
Directions:
1.  Put beans and enough water to cover by one inch in a medium pot. Bring to a boil over high heat and then reduce to low and simmer, covered, until beans begin to soften (about 20 minutes). Drain beans and place in slow cooker.
2.  Heat 3 Tablespoons of the olive oil in a pot over medium heat.  Add the onions and carrots and saute' until onions are softened – about 5 minutes.  Add the garlic and saute' for 30 seconds.  Add the tomatoes (AND juice) and cook until most of their liquid is absorbed (about 8-12 minutes).  Add the chicken stock and water.  Finally, add 1/2 cup of the basil (the rest will be added at the end of cooking). the oregano, and red pepper flakes. Stir and bring to a boil.
3.  Transfer all of the mixture to a slow-cooker and cook, covered, on low for 6-7 hours (or on high 5-6 hours).
4.  To finish, stir in the zucchini, chopped spinach, and pasta and cook on high for an additional 20- 30 minutes (until pasta is al dente).   Then add the remaining basil and remaining 3 Tablespoons of olive oil. Salt and pepper to taste.  Garnish bowls of soup with Parmesan and serve with a crusty bread and ceasar salad.
Here's to healthy eating!
PS If you really like onions, the Cook's version added an additional one.
LEARN TO LOVE YOUR LIFE AGAIN
---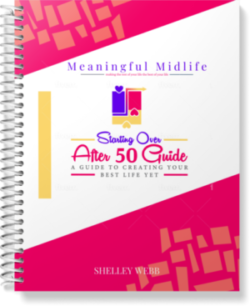 Do you feel like you need to hit the REFRESH button on your life? Download our free guide and begin to create your best life yet!