While a working professional, I have also been a caregiver to both my parents. My father died from lung cancer and was in a hospice program that taught me, as the primary caregiver, and us, as a family, the most amazing lessons.  As did my father. He was only home and in the hospice program for a month or so.  A very stoic yet gentle and loving man, when you asked him how he was, his answers were always "Fine" and with cheer in his voice.  A day or so before he died, I was preparing to go back to Manhattan from my parents home on Long Island – it was only an hour by train.  I leaned over and gave my father a kiss and said "Daddy, how do you feel".  He said, "Not so great honey".  I promptly went outside, threw up in the bushes on the side of the house, came back in and said, "I don't need to go back in the city, I'm going to stay here".
I stayed there and slept on the floor next to my father's bed, which had been moved into the living room and watched him, for the first time, struggle during the night.  Moving his hands, trying to remove the oxygen.  I called the hospice nurse and , even at midnight, she was there within 15 minutes.  She explained to my mom and I that my father was beginning his journey.  She asked me to whisper into his ear.  I did and his eyelids flickered.  She explained he was still "here" and did know what was happening.  She took the time and sat with my mom and told her that she needed to give him permission to go.  That he loved her and us, my brother and I, so much, he would stay as long as he could and he thought we were not ready and still needed him.  It was an amazing thing.  What was more amazing was to see my mother, 80 years old at the time, married for 55 years to my father, lean over and tell my father she loved him, that she would be OK, that she had me, and my brother Charlie, and my father should go to Jack, my brother who had died some years before, very unexpectedly, of a heart attack, in his 40's.  Their first born, their oldest son.  "Go to Jackie" my mother said.  And my father reached up, took her head in his hands, pulled her to his lips and kissed her.  Then he just rested.
It was another day or so before he died.  My brother, who lives in Manhattan ( next door to me!) was coming to my parent's house after work each day and staying for some time, some nights sleeping over, some night going back to the city.  This particular night at about 3AM, I sensed my father's actions were changing.  I called my brother and told him I had sent a car for him and he should come.  He got there at 4AM, we all sat around my dad, who was very calm and peaceful and that afternoon, with grace and dignity, he took a breath, released it, and his spirit left his body.
After the funeral, my mother came and stayed with me in NYC.  After about a month, I went back to work.  I came home early one day, and she was sitting in the living room crying.  When I asked her what is was that she was crying about she simply said "I want to go home."  So, home we went.  I moved back into my old room and commuted from Long Island to NY every day.  For the next 7 years.  To try and keep her as active as I could, I did what my dad had been doing.  I took her, picked up a elderly neighbor and took them to the monthly women's church group meeting.  And the senior club meeting. And the historical club meeting.  And so it went.  And to the doctor's appointments.  And to the beach once a week in the summer…..I became an "honorary senior!".
We saved you a seat on the bus they would say.  Why don't you come with us?   Oy.   I was desperately trying to keep up some life if my own, see some of my girlfriends, still date – all while taking care of mom.  But slowly mom would do less and less without me.  Gone were the home cooked meals.  She began to forget when I would get home.  She became frightened at sunset.  Was she experiencing "sundowning"?  When we visited her doctor, and when the doctor asked mom how she was, mom's answer was always "Fine, fine."  With a big smile.
There was never anything wrong.  Even if she was sick just the night before.  At the doctor she was "Fine, fine."  I would  look at the doctor and try to use my eyes to give the real answer to the question asked my her.  So, after some long discussions with my brother, who was always involved with mom's needs, from the end of the phone, and relief visits on weekends, it was decided mom would come live with me, in NY.  I have a two bedroom co-op, my brother and his wife a duplex next door.
LEARN TO LOVE YOUR LIFE AGAIN
---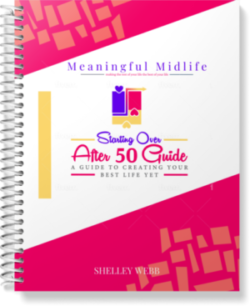 Do you feel like you need to hit the REFRESH button on your life? Download our free guide and begin to create your best life yet!