I remember the excitement of waiting for the Favorite Things episode of The Oprah Show each year. It was always a secret until the day of and I was so excited if I happened to be available to watch at that time!  I have to confess that I imagined myself being in the audience and jumping for joy each time Oprah announced a new item that was going home with the audience members! I also have to confess that later on, I'd watch and immediately purchase some of those items so that a.) I wouldn't miss out and b.) I could scoop up a couple of extras and sell them on eBay for a profit! One year, I was able to get pink Uggs for my daughter and myself and also have 2 extra pairs to list!
Some of my favorites from the TV years were the Karen Neuburger pajamas, Gingerbread by Philosophy,  Kai butter, the iPOD!!, the Blackberry "wireless email device", Philosophy Hope in a Jar, the Breville Panini Maker, and the Nikon D3100 digital camera (I have always loved technology).  I remember the audience was filled with teachers in 2004 which was very special. About the giveaway show, Ms. O always said It's not the gifts. "It's about hope. It's about knowing that something really magical and joyful and wonderful can happen to you when you least expect it."
With that said, here are my favorites from Oprah's Favorite Things 2019:
The Sony SRS-XB12 Extra Bass Portable Bluetooth Speaker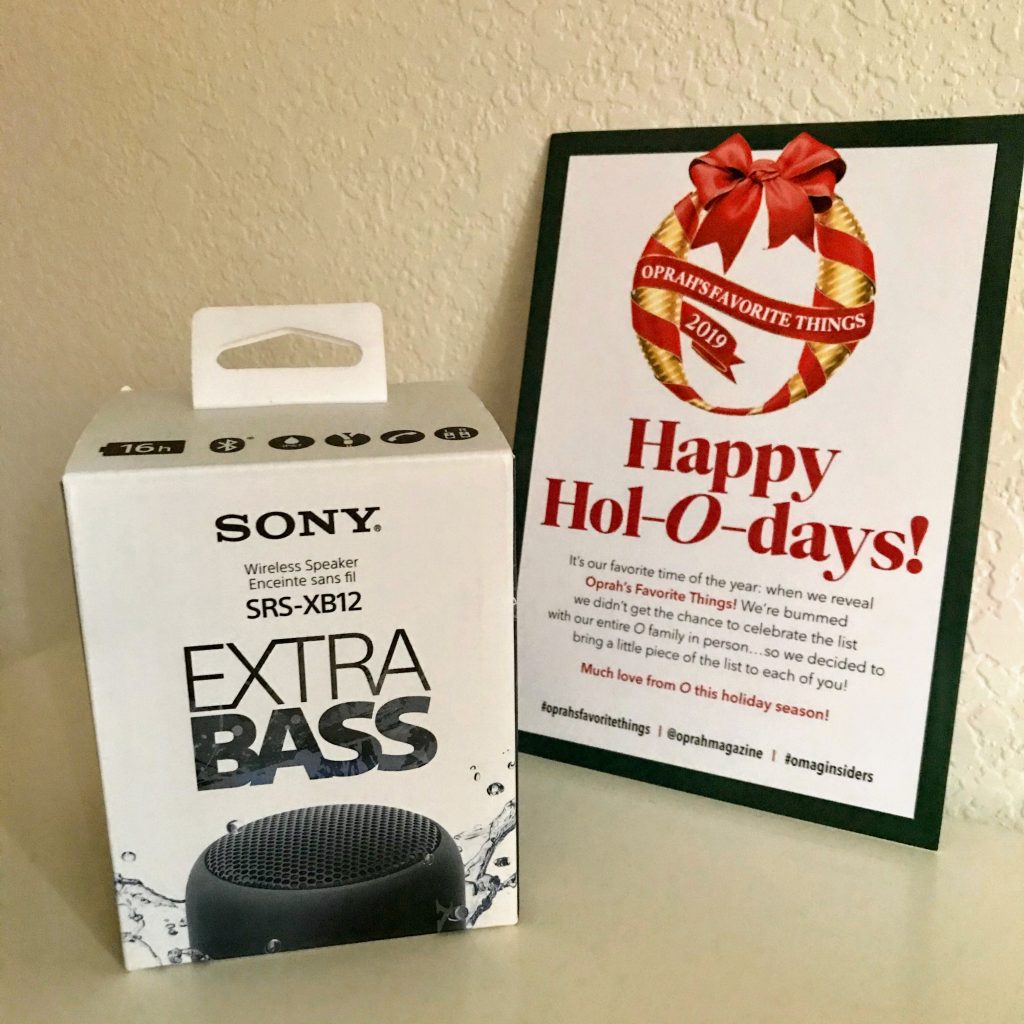 As an O Mag Insider, the magazine sends each of us one of the items from the Favorite Things list. This was my gift this year so of course, it is special.  I like this speaker because it has extra bass for a punchier sound, a strap so that you can carry it with you and a 16-hour battery life! It's waterproof so I can listen to podcasts or music while I'm getting ready in the morning and I can add an additional speaker for stereo sound!
Price: $60.00
The Rae Phone Crossbody
When you don't want to lug around your heavier purse, this is perfect. It can hold up to an iPhone 11 Pro Max, and has 10 card slots to hold everything you need. Made from vegan leather, it comes in several colors and the strap is detachable and adjustable. Dimensions: L 4″ x D 2″ x H 7.5"
Price: $47.50
Ecoffee Cup Reusable Cup
Even though most coffee houses use recyclable material for their coffee cups, why not just bring your own. This cup comes in several sizes and several colors with fun names such as Mrs. Mills, Like a Boss, Toroni and more. It is BPS, BPA, phthalate, and latex-free and LFBG, FDS, and Japan Food Compliant. It is made with natural fiber, corn starch, and resin and is fully dishwasher safe. It is NOT a thermos though.
Price: $11.99
Sorel – Women's Out 'N About Puffy Insulated Winter Sneaker Boot
Yes!  These are great! They are insulated and waterproof and come in "natural tan" and "pure silver". " The waterproof vulcanized rubber shell with herringbone outsole gives you a little extra traction."

Price: $140.00 – $206.00
Bartesian Premium Cocktail and Margarita Machine
Technology combined with kitchen appliances!  Probably not something I could afford to give anyone other than a family member but I do love it! It comes with capsules of real juice concentrates, bitters and extracts so that you can easily make premium cocktails and margaritas with just the push of a button! You can even select the strength of your drink!

Price: $349.99
Peepers by PeeperSpecs Women's Bravado Blue Light Filtering Reading Glasses
I need these in my life!  If you do a lot of work via a computer or smart device, you should think about wearing lenses that filter the blue light because it can be damaging. These Peepers combine that with a reading glass lens which is even better for those of us over 40!  They come in several colors and magnification strengths!

Price: $20.00
BAGGU Standard Reusable Shopping Bag: 3-Pack

I like these bags because they're machine washable. Many of the bags available on the market are not. They must be washed out with a cloth and I'm never quite sure they are clean, especially if I've been carrying meat or produce.
These bags are quite large, come in all sorts of colors and can hold up to 30 pounds. They fold easily for storage – another thing that is much better than the current market bags.

Price: $ 36.00 for 3 but will probably last almost forever.
Becoming: A Guided Journal for Discovering Your Voice
If you like to journal, this is a great guided journal written by Michelle Obama and JUST published this month! It has more than 150 inspiring questions and quotes to help you discover—and rediscover—yourself and your story.
Price: $12.27 for the hardcover

Link AKC Smart Dog Collar with GPS Tracker & Activity Monitor
For the pet lover or for YOUR pet, this dog collar with GPS can keep track of your pet nationwide. It works with iOS and Android. It includes an extended warranty, a size guarantee, and access to the Pet Poison Helpline, a 24/7 animal poison control center. It also has the ability to use sound training.
There are temperature alerts if your dog's environment is too hot or too cold. It has an LED light on the collar with remote turn-on LED light to see and be seen. Vet visit records can be stored in the app.
Price: $90.00 It requires a service plan though which looks to be about $43.00 per 3-month plan.
Fruit Pies From Piedaho
I haven't tasted these but they're from a woman-owned bakery in Idaho (where I live) so I had to include them!  Some of their flavors include salted caramel apple, strawberry vanilla bean, apricot, peach and elderflower gallette, brown sugar whiskey plum pie, cranberry crumble galette, blackberry pie with a fresh thyme crust and more!
Each pie is handmade from freshest ingredients in Idaho and hand-decorated so no two pies are the same. They are delivered pre-baked and flash-frozen via 2-day UPS service. At 10 inches in diameter, they can serve 8-10 people.
Price: $22.00 – $38.00
The Everything Travel Blanket
This is such a great idea! I always bring a shawl on the plane to double as a blanket and pillow-ish thing but this is so much better! It's a multi-use faux-cashmere accessory that is big enough to be used as a travel blanket but stylish enough to be used as a shawl and a scarf. If you keep it in its bag (which can tie onto a carry-on or suitcase), you can use it as a pillow. It's great for both men and women (I saw Adam Glassman wearing it as a scarf)! It comes in 6 colors.
Price: $88.00
TRUFF Hot Sauce, White Truffle Limited Release, Gourmet Hot Sauce with Ripe Chili Peppers, Organic Agave Nectar, White Truffle and Coriander
If you have a friend who opts for hot sauce over wine, then this is the gift to give! It's vegan, gluten-free and is low to medium heat. The packaging is beautiful!
Price: $35.00
To see all of my favorites from this year's list, go here.
If you like to see the whole list of Oprah's Favorite Things for 2019, you can find it here.
LEARN TO LOVE YOUR LIFE AGAIN
---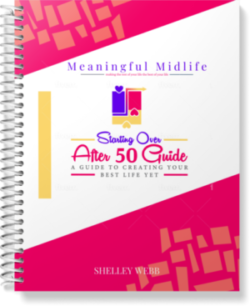 Do you feel like you need to hit the REFRESH button on your life? Download our free guide and begin to create your best life yet!