There's a New York Times Magazine article that speaks to the "business of anti-aging".  In this article, they talk about industry chatter over celebrating aging and embracing our wrinkles and gravity-prone skin. They mention the cover of the September issue of Allure featuring 72-year-old actress, Helen Miren with a tattooed arm of a twenty-something guy slung over her shoulder, because you know…that's possible for every 72-year-old now.
Inside the magazine, editor Michelle Lee says that she will stop using the term anti-aging in future issues, but then adds that no one is recommending that we stop using retinol.  What she wants to change is the packaging and marketing around HOW we sell it." Lee states "changing the way we think about aging starts with the way we talk about aging"… in essence, let's be anti anti-aging.  Really?!  The problem is we DON'T talk about aging at all and we don't talk about death either. As caregivers, we know that all too well.  Let's have a realistic conversation about aging and how we can best prepare ourselves.
To that end, Abbott, the maker of adult nutritional drink Ensure® that you know so well, and the International Council on Active Aging® (ICAA) conducted a survey of 600 people ages 50 and older to learn more about their biggest priorities, motivators, and beliefs as related to nutrition, health, activities and aging.
Some of their findings:  Remaining in good health was a priority, followed by financial stability and the desire to travel to new locations.  Their biggest fears were a health setback, being a burden on their family and financial concerns.
Being able to stay independent, travel and spend time with their children and grandchildren were at the top of their motivators for staying healthy.  Here's one that surprised me though –  "22 percent of respondents ages 56 – 65 say going on dates and having romantic evenings motivates them to stay healthy and active".
What did they consider "old"?
36% of adults aged 50 and over thought that 80 was the age at which point they would consider themselves old. 20% considered 70 to be old. Of course, once they hit 75, most thought that 80 was the point at which someone would be considered old. My mom is 94 and I'm not sure she would agree to being called old yet!  She still paints daily and loves to shop!
Nearly 7 in 10 respondents believed that a positive attitude can add 6 or more years to their life. I believe it can add even more than that!
When these folks were asked what advice they would give their younger selves, the top two answers were to "prepare for retirement" (too late for that now!) and "to eat healthier" (you can begin this at any time for at least some benefit).  "Spending time with family or friends" and "traveling" were not that high on the list.  The older adults in the survey advised their younger selves to "seize the day" and to take advantage of the time allotted you.
But what about exercise?  It's important to keep exercising in order to stay mobile. Sitting is the new smoking, as they say and apparently many have forgotten that they must "move it or lose it"!
Concern for appearance was something that was also not mentioned in the results.  I know it's a concern for women; otherwise, the beauty industry and cosmetic surgeons would not be doing as well as they are. For men, intermittent fasting, blood transfusions (true story) from teenagers and cryotherapy are popular anti-aging practices.
The most surprising thing about the survey to me is that no one mentioned caregiving.  In fact, there wasn't even a hint of that consideration being addressed.   At some point in our lives, we will all be a caregiver of some sort, and for many of us, the role lasts for years and can be detrimental to our health. This is something that should have been discussed in the survey.
The entire survey fact sheet can be found here.
What is your biggest priority as you age?  What steps are you taking to prepare for your golden years?
LEARN TO LOVE YOUR LIFE AGAIN
---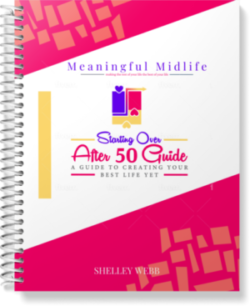 Do you feel like you need to hit the REFRESH button on your life? Download our free guide and begin to create your best life yet!