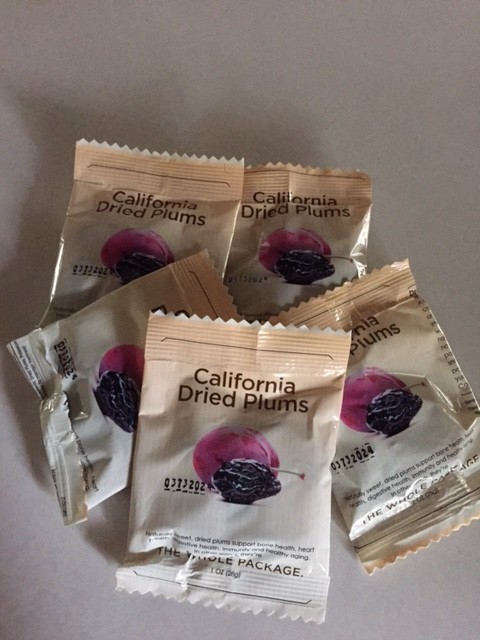 It may seem odd but I actually used dried plums in a lot of my recipes.  They add a nice, sweet flavor which is compatable with a lot of dishes (AND it matches well with red wines).  I have a great meatloaf recipe and also I use dried plums in my stuffing recipe for Thanksgiving.
Dried plums have a lot of nutritional value.
Research suggests that eating two servings, (about 100 grams or 10 to 12 dried plums), may improve bone mineral density (BMD) and slow the rate of bone turnover in post-menopausal women.  Polyphenols in dried plums may act as free radical scavengers, suppressing the rate at which bone loss occurs. As few as three dried plums a day can help stem bone loss.
One standard serving (4–5 dried plums) is about 100 calories. Additionally, each serving provides 3 grams of fiber (and is considered a good source of fiber), 293 mg of potassium, 16 mg of magnesium and more vitamin K than any other fresh or dried fruit.
Vitamin K helps improve calcium balance and promotes bone mineralization.  A serving of dried plums is considered an excellent source of Vitamin K, and provides 30% of the 80 mcg daily value.  Along with other vitamins and minerals such as potassium, copper, and boron, dried plums may have bone protective effects for both pre and post menopausal women.
They also promote digestive health (not just for constipation but we are just beginning to learn about the benefits of their other bioactive compounds such as phenolic compounds that may have general health-promoting benefits in the microflora of the digestive tract) and are naturally cholesterol free.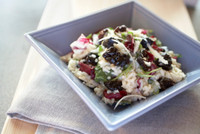 Risotto with California Dried Plums and Radicchio
Prep time: 10 minutes    Cook time: 12 minutes     Serves: 6
Ingredients
2   tablespoons butter
1   small onion, diced
1 1/2 cups Arborio rice
1    teaspoon minced garlic
1/2 cup white wine
6    cups hot low-sodium chicken broth
1    cup coarsely chopped arugula
1    cup coarsely chopped radicchio
1    cup (about 6 ounces) quartered California pitted dried plums
1/2 cup grated Parmesan cheese
1    teaspoon grated Meyer lemon zest (or any lemon)
        Salt and pepper
        Shaved Parmesan cheese
Directions
In a large saucepan, melt butter over medium heat. Add onion and cook, stirring occasionally, for 5 minutes or until translucent. Add rice and garlic; cook, stirring, about 5 minutes or until rice is hot. Increase heat to medium-high. Add wine; stir until wine is absorbed. Add chicken broth, 1 cup at a time, stirring frequently and letting each addition be absorbed before adding the next addition. When rice is tender and creamy, stir in arugula, radicchio, dried plums, grated cheese and lemon zest; season with salt and pepper. Portion into 6 shallow bowls and garnish with shaved Parmesan cheese.
Calories per serving: 272
If you're interested, you can find more recipes using California Dried Plums here.
Learn more about California Dried Plums on their website.
"I am participating in a VIN campaign for California Dried Plums. I am receiving a fee for posting; however, the opinions expressed in this post are my own. I am in no way affiliated with California Dried Plums and do not earn a commission or percent of sales."
For even more recipes, follow this hashtag on Twitter: #CADriedPlums #ad
LEARN TO LOVE YOUR LIFE AGAIN
---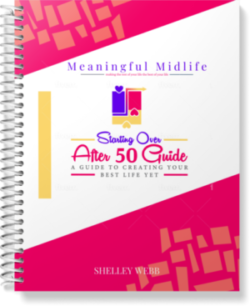 Do you feel like you need to hit the REFRESH button on your life? Download our free guide and begin to create your best life yet!