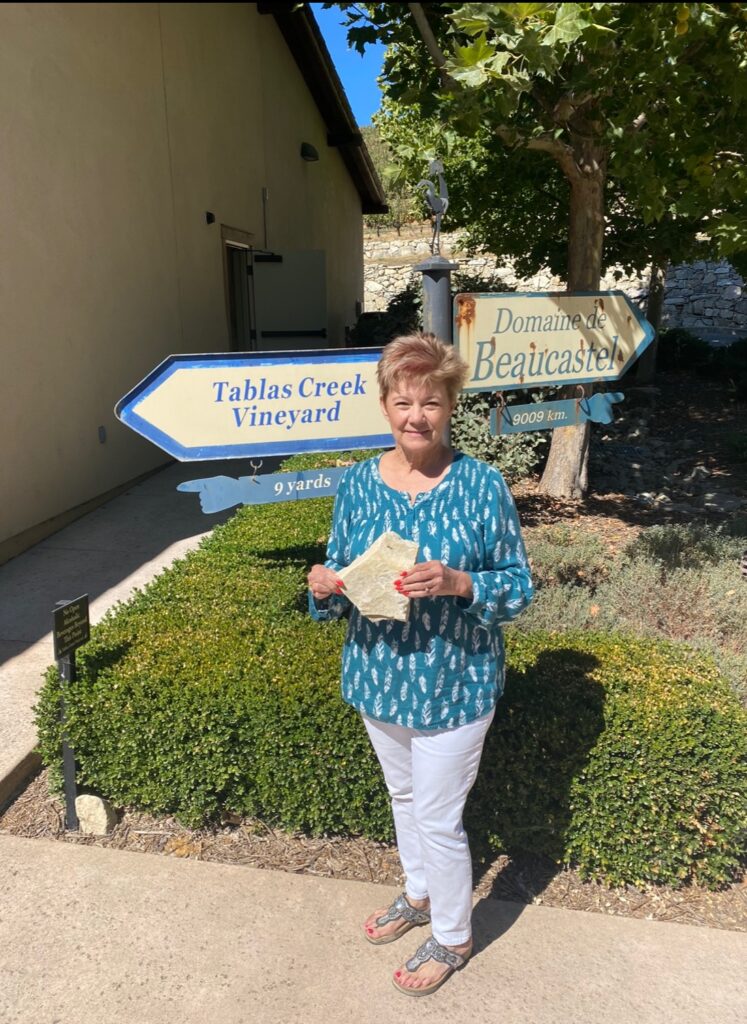 One of the first places I added to our must-visit list for our trip to Paso Robles in September was Tablas Creek Vineyard.  One of the wines they produce is a varietal called Tannat, which I love and which is hard to find.
But as we were driving to Paso, we found a podcast to listen to about Paso Robles and learned how Tablas Creek played quite a significant role in the history of Paso Robles wine industry we were especially glad that we had scheduled an interview and a tasting with them.
In the early 1990s, François Perrin, co-founder of Château de Beaucastel in Châteauneuf-du-Pape came to visit and immediately recognized the similarities between the Paso Robles area and the Mediterranean Rhone-type environment. He recognized the potential of Paso Robles' climate and soil conditions for producing Rhone-style wines and partnered with wine importer, Robert Haas to establish the equally-owned Tablas Creek Vineyard in 1989. The first Rhone vine cuttings from Chateau de Beaucastel arrived in California after a mandatory 3-year quarantine and indexing process to make sure the vines were virus-free. Planting began in the vineyard in 1994. They also created a grapevine nursery.
Tablas Creek focused on Rhone grape varieties, such as Grenache, Syrah, and Mourvèdre, which was a departure from the traditional Zinfandel-dominated wines of Paso Robles at the time. Many of the wineries that came later also focused on these Rhone varieties. You'll still see some Zinfandel produced there but not as much.
Their Rhone varieties include Mourvèdre, Syrah, Counoise, Grenache, Roussanne, Grenache Blanc, Picpoul Blanc (we love this variety!), Viognier, Marsanne, Terret Noir, Vaccarese, Cinsault, Muscardin, Clairette Blanche, Picardan and Bourboulenc. "In 2003, we decided we wanted the complete collection of Chateauneuf-du-Pape varieties and took field cuttings from Beaucastel of the 7 grapes we had not yet imported. With the planting of Muscardin in 2019, we became the first estate vineyard outside of France to plant the complete collection of Chateauneuf-du-Pape varieties."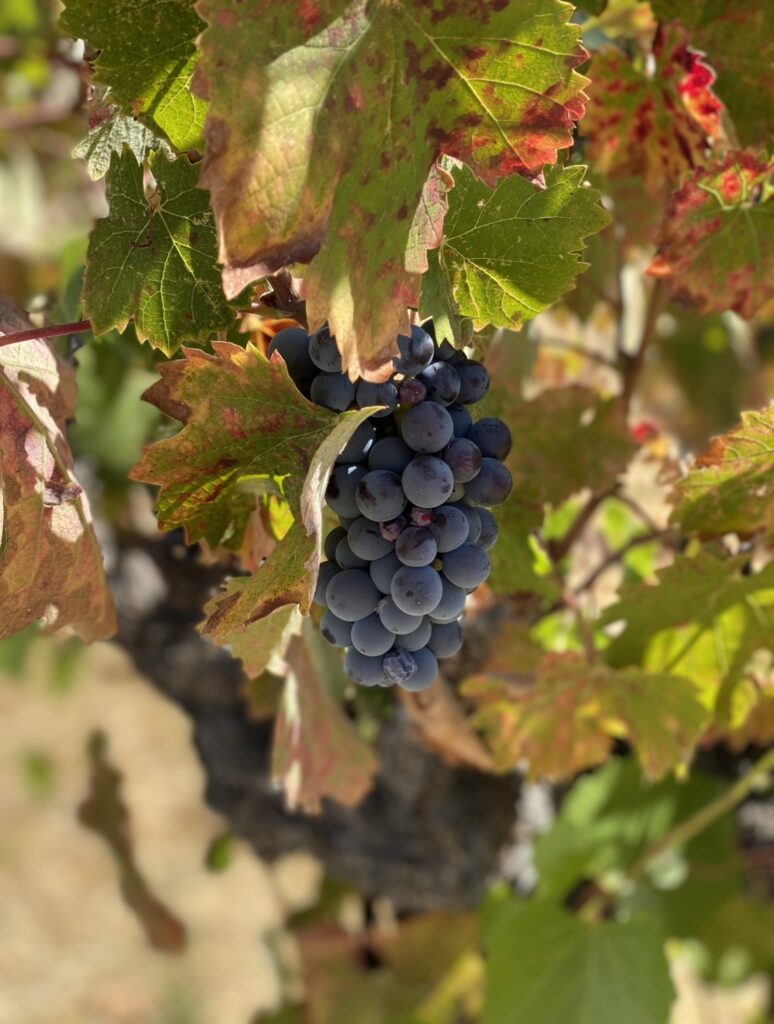 The winery's pioneering efforts in demonstrating the region's suitability for Rhone grape varieties and its advocacy for the AVA's creation helped to establish Paso Robles as a world-class wine region.
In 1996, Tablas Creek Vineyard submitted the petition to establish the Paso Robles AVA (American Viticultural Area) to the Alcohol and Tobacco Tax and Trade Bureau (TTB). The petition was approved in 2001, and the Paso Robles AVA became the 16th AVA in California. Jason Haas at Tablas Creek Vineyard continued to play a leading role in the development of Paso Robles, advocating for the establishment of sub-AVAs within the larger AVA. Sub-AVAs are smaller, more defined areas within an AVA that share distinct climatic and geological characteristics.
In 2013, the TTB approved the creation of 11 sub-AVAs within the Paso Robles AVA. Jason Haas (at Tablas Creek Vineyard), although he doesn't like to take credit for it, was instrumental in the research and documentation that led to the creation of the Adelaida District AVA, which is known for its cooler climate and calcareous soils that are well-suited to Rhone grape varieties.
Tablas Creek is a certified biodynamic estate vineyard and was the first winery in the world to become Regenerative Organic Certified. They are mostly dry-farmed.
For our podcast, Wine Time Fridays, we interviewed Wine Consultant, Lisa Rainey for our podcast. She is very knowledgeable and passionate about their wines. They have a lovely tasting room as well as a gift shop! We were fortunate to be there on a day when they were harvesting and destemming grenache so Lisa brought us out to see that!
You can listen to our podcast episode here (or wherever you get your podcasts) and learn more about the wines and the winery itself.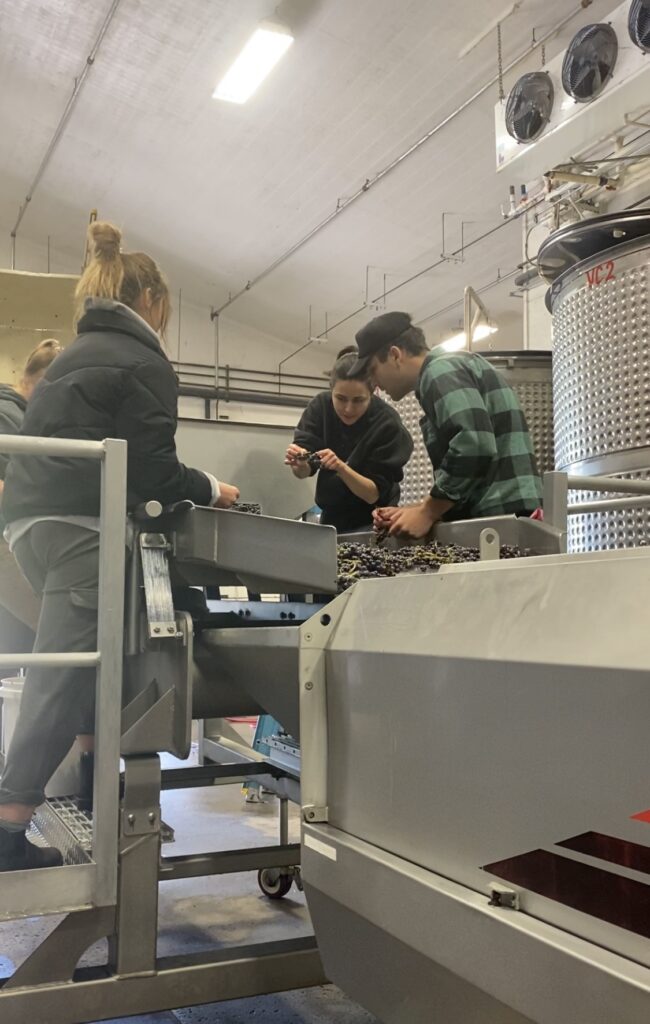 Here are the wines we tasted: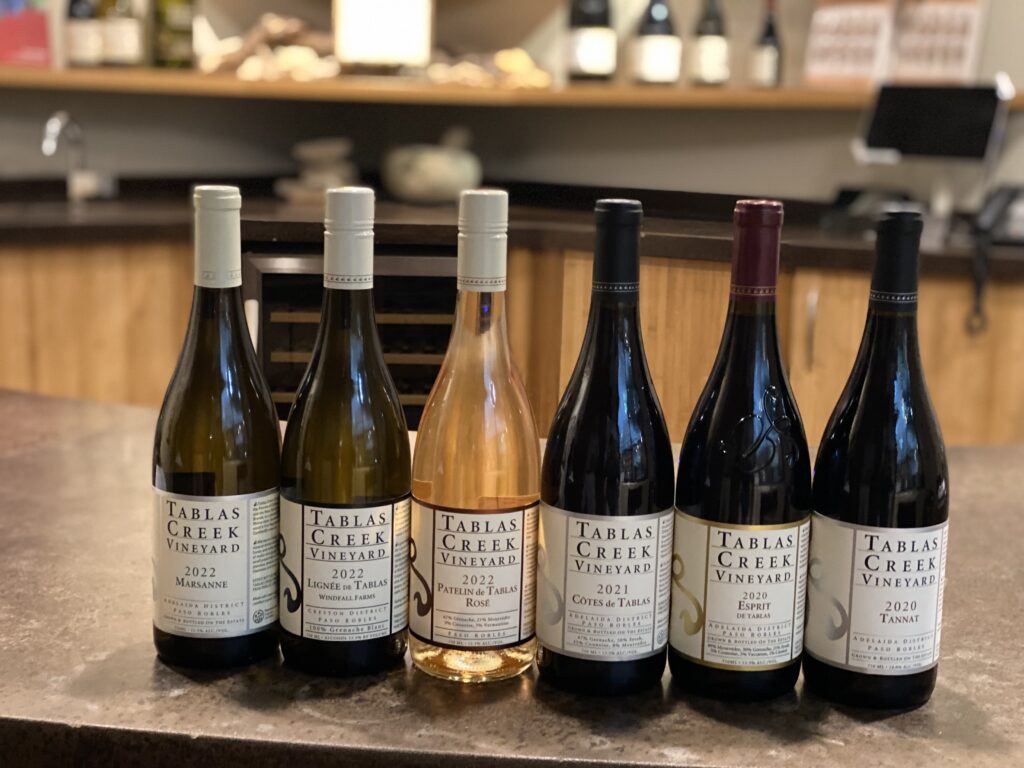 To check out all of the delicious wines of Tablas Creek Vineyard, please visit https://tablascreek.com
LEARN TO LOVE YOUR LIFE AGAIN
---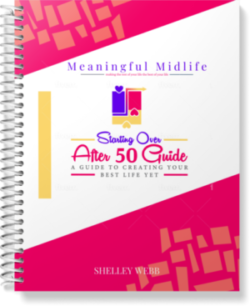 Do you feel like you need to hit the REFRESH button on your life? Download our free guide and begin to create your best life yet!