Today I read an article in the AARP Bulletin Today entitled "Can Training With Computer Games Keep You Driving Safer and Longer?"  by Julie Halpert( http://tinyurl.com/yz9snxf ) which made me very concerned for the safety of all drivers.  Below is the beginning of that article…
"Recently, I needed a ride to the airport and my 78-year-old father agreed to drive me. It had been awhile since I'd been his passenger, and the experience proved a bit unsettling. We barely avoided a collision with another car entering the on-ramp, and then, for the next 25 miles, I clenched my teeth as he drifted and veered in and out of his lane.
My concern only grew after he dropped me off: Would he make it home OK? Are my three young children safe driving around with him?
So far, my dad has been one of the lucky ones….  For my father, giving up the keys is simply not an option. He lives outside Detroit, in a suburb with no mass transit and where nothing is within walking distance. Without a car, he would be confined to the house and, worse yet, dependent on my mother to take him where he needs to go, diminishing his feelings of independence and self-esteem."
I was SO angry after reading this portion of the article that it took me another 30 minutes before I could read the rest of it !  The author is worried about her father's self esteem and him making it home okay and hoping that her kids are not driving close to him.  What about MY kids ?!?!  What about YOUR kids ?!?!  What about other adults?!?
For her father, giving up the keys is NOT AN OPTION??  It should be the ONLY option until such time as her father's driving is deemed safe by appropriate authorities.
Per the author "Last year alone, more than 750,000 drivers 65 and older were involved in accidents. Of those, one in six were injured and more than 3,400 were killed. We know from research by the AAA Foundation for Traffic Safety that the risk drivers pose to themselves and others increases beginning at age 70."
This is not acceptible.  Inconvenience is not a good enough reason to let our elders drive unsafely. I also realize that the loss of independence in our aging population is a huge loss but the loss of life is an even greater loss.
If the studies show that the risk of accidents increase beginning at the age of 70, then driver's licenses need to be renewed (using a physical driver's test)  every year after that.  Loss of vision, slower reaction time, dementia symptoms and lower tolerance to alcohol are but a few reasons that elders may show declines in their driving skills.
It wasn't that many years ago that an elderly man of 86 plowed into a group of people at the Farmer's Market, killing 10 of them and injuring SEVENTY more.  He wasn't drunk, nor on drugs, nor mentally ill…..
On July 26th, of this year, a SEVEN year old boy walking in a crosswalk with his father was killed by a 76 year old woman who was charged with motor vehicle homicide.  Six people sustained injuries when an elderly female driver crashed into a restaraunt in La Mirada, California in late October 2009.  On November 29, 2009, an elderly driver hit an injured an LAPD officer in Van Nuys.
I also read about elders involved in serious accidents in Massachusetts, Florida (again….a farmer's market), Pennsylvania, Washington and other states.
And yes, I realize that some elder drivers may continue to attempt to drive even after their driver's license is suspended, but many of them will realize that their abilities are lacking and will stop driving. Many seniors are reluctant to ask their friends and family for help just because of their fears of driving and this will give them a legitimate reason to ask for help with transportation.
Perhaps the computer programs that the AARP article mentions that "promise to improve the reflexes, focus and multitasking abilities fundamental to safe driving" can be of great help, but they do not guarantee driver safety.
Every senior over the age of 70 needs to be tested yearly. It's JUST a test.
LEARN TO LOVE YOUR LIFE AGAIN
---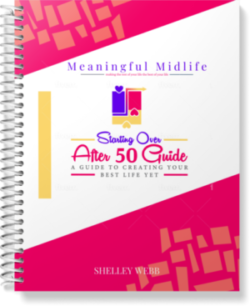 Do you feel like you need to hit the REFRESH button on your life? Download our free guide and begin to create your best life yet!