This is a guest post by Danielle K. Roberts.
Respite care is one of the best ways for a caregiver to receive the rest they need without having to worry about their loved one while taking their break. During respite care, your loved one will be taken care of by a trained professional in a safe environment. If your loved one is on Medicare, then receiving respite care can be a little tricky.
Ultimately, it depends on what kind of Medicare coverage they have. If they have Original Medicare (Part A and Part B), then the respite care will be subject to Part A coverage under certain circumstances. However, if they have a Medicare Advantage plan (Part C), then the rules of coverage are different.
Though not all parts of Medicare help with respite care coverage, it's important to know what each part covers as you help your loved one navigate their medical needs.
Parts of Original Medicare
Original Medicare consists of two parts, Medicare Part A and Medicare Part B. Medicare Part A provides the beneficiary with their in-patient hospital and skilled nursing facility coverage, among other things. Medicare Part B covers the beneficiary's outpatient medical services, such as doctor visits, lab work, and x-rays.
When it comes to respite care under Original Medicare, Medicare Part B generally plays no part in covering it. If your loved one is able to get respite care covered under Original Medicare, then Part A will be in charge of that coverage.
For an Original Medicare beneficiary to receive coverage for respite care, they must be on hospice care. Your loved one can be placed on hospice care if:
They are terminally ill with an estimated six months or less to live
Have accepted comfort care over treatment
Have signed a statement that says they choose comfort care over treatment
If your loved one meets the requirements above, then Medicare Part A will offer coverage for respite care for their caregiver. Part A will cover respite care in a hospital, hospice facility, or a nursing home. Respite care can last up to five days and can be received more than once on an occasional basis.
Also, the beneficiary may have a 5% coinsurance each time for their respite care. However, they don't pay anything for their hospice care itself under Original Medicare. Medicare covers hospice care at 100%.
Respite Care with Medicare Advantage
The Bipartisan Budget Act of 2018 that President Trump signed into law included many updates to Medicare. Among these updates were new benefits that Medicare Advantage plans were allowed to offer. Medicare Advantage plans, also called Part C, are allowed to offer certain benefits that Original Medicare doesn't cover.
Also, Medicare Advantage plans must offer at least the same coverage as Original Medicare but can also offer more comprehensive coverage if they wish. One example of a benefit that Original Medicare covers that Medicare Advantage plans can now offer with fewer hoops to jump through is respite care.
Starting in 2019, Medicare Advantage plans are allowed to offer several benefits that fall into the realm of respite care coverage. These include in-home support services, safety modifications in your home and even adult daycare. However, unlike Original Medicare, your loved one may be able to get these types of respite care without being on hospice. Every Medicare Advantage plan is different, and therefore, coverage for respite care will vary from plan to plan.
If your loved one has a Medicare Advantage plan that offers respite care coverage, they may have a coinsurance or daily copay that they will be responsible for. For example, if your loved one receives respite care for five days, and their plan has a daily copay of $50, then their respite care costs would be $250.
Other Options for Respite Care
If your loved one isn't on hospice and doesn't have a Medicare Advantage plan that covers respite care, then you'll need to look outside of Medicare for respite care coverage. There are a few facilities and companies that supply respite care at affordable prices.
You may look into short-term residential facilities, companies who provide in-home respite care, or even adult daycare facilities. You can contact your Area Agency on Aging to see if they have any nearby companies or facilities that they can recommend for respite care.
Because the number of unpaid, family caregivers is increasing every year, hopefully, we'll see Medicare start to update their coverage for respite care so caregivers like you can get the break they need.
*Note from Shelley: If you are caring for a person with dementia, the Alzheimer's Association has a couple of programs, such as the Senior Buddy Program that can help with respite care in your home for 3-4 hours per week.
Danielle K. Roberts is a Medicare insurance expert and co-founder at Boomer Benefits, where her team of experts help baby boomers with their Medicare decisions nationwide.
LEARN TO LOVE YOUR LIFE AGAIN
---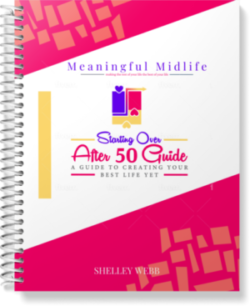 Do you feel like you need to hit the REFRESH button on your life? Download our free guide and begin to create your best life yet!