At the beginning of the year, we often think about making some changes in our life. Change requires determination and knowing who you are. Going after something that will make your heart sing requires stamina, consistency, and drive. And if people in your life aren't supportive, it can be even more difficult than it needs to be to make change.
​Here are some common roadblocks to overcome when you are making change:
Not knowing what you want
People not supporting your choices – could be family or friends
Questions regarding finances
Lack of connections
Fears
Opportunities – you may feel there are none or there may be too many which takes away your focus
In our Fab After Fifty Academy, our students spent some time thinking about what they want for the next season of life. It wasn't an easy exercise for them. Sometimes, we don't even know what we want because we've been so busy attending to the needs of others!
If you don't know who you are today, it can make getting a fresh start harder.
Here's why:
Your ambiguity creates confusion
You might lack confidence because you have not uncovered your values or determined your strengths and could easily be dissuaded
You may have a scarcity mindset rather than an abundance mindset
You might not have the courage to ask for what you want or you may not know what you want
You may let fear overcome your desires
You may fail to take risks or seek opportunities because the "safe zone" feels like the best place
Knowing who you are – your worth, your strengths, values, and desires is the key to making effective change. Once you know these things, the roadblocks are easier to overcome.
Here's how:
1. Trade ambiguity for certainty. Decide what you want specifically, and go after it. If you don't know, make finding out your primary focus. And yes, this will take some time, but you're worth it!
2. Trade lack of confidence for courage. Believe that what you want is valid, important, and achievable. God (or source) would not have put this desire in you if you weren't capable of achieving it.
3. Trade a scarcity mindset for an abundance mindset. Let go of the belief that there are limited resources. There are unlimited resources, options, finances, and opportunities.
​
Our Meaningful Midlife Makeover Kit will help you sort through all of this… and more! If you've not yet purchased it, you can find out more about it here.
LEARN TO LOVE YOUR LIFE AGAIN
---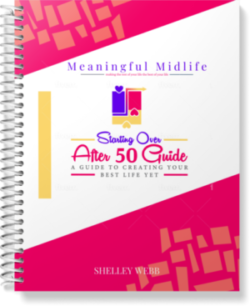 Do you feel like you need to hit the REFRESH button on your life? Download our free guide and begin to create your best life yet!