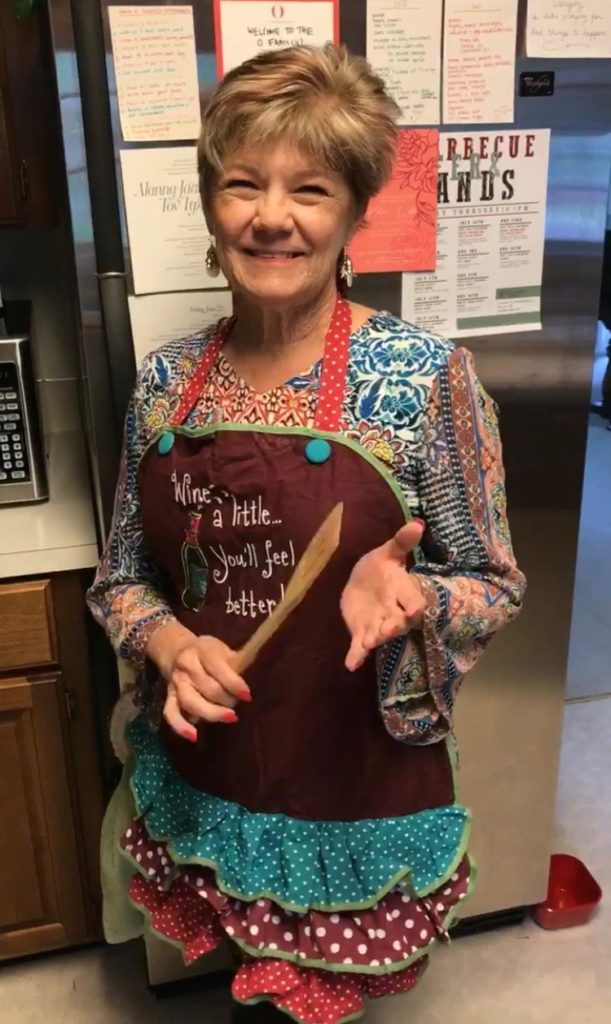 You may have seen one of my latest articles where I compared several meal-kit delivery services. If not, you can find it here.  Although I really love this type of service, one of my biggest complaints was the amount of packaging that accompanied each delivery. There were boxes, insulation and bags of frozen gel refrigerant and then individual packaging for each ingredient.
I was recently gifted the chance to try Terra's Kitchen meal-kit delivery service and when I learned that they delivered their ingredients in a reusable vessel (it can be reused over 100 times), I was really excited.  We really try not to use more plastics and packaging than necessary (I even wash and reuse my Zip-Loc bags).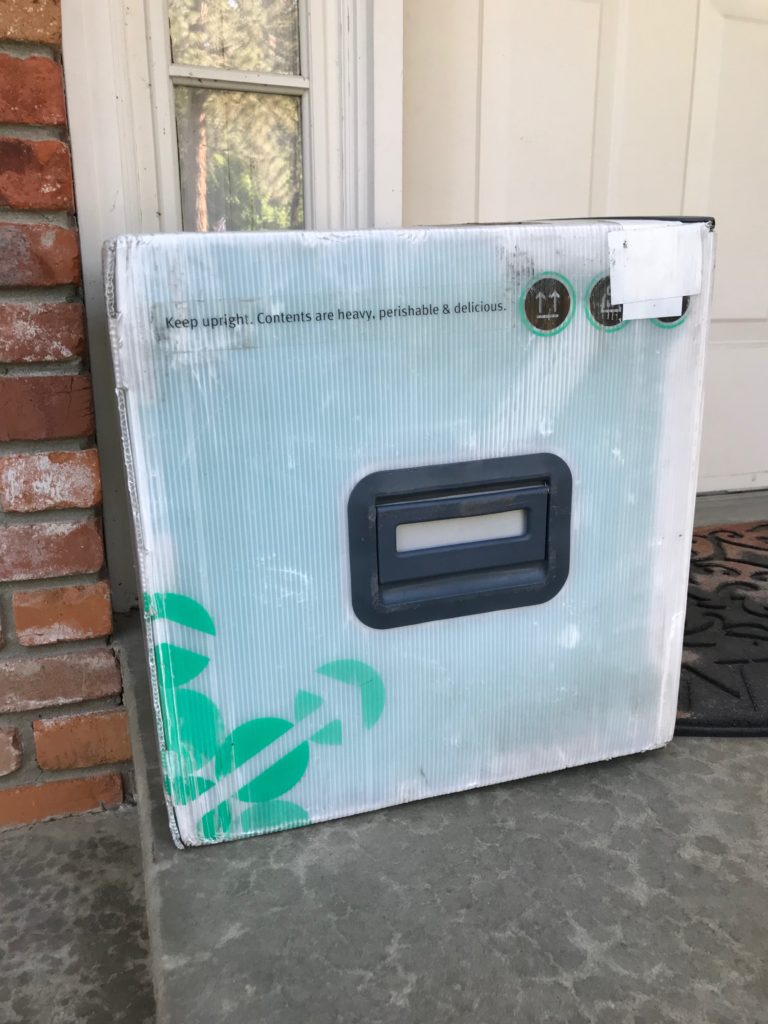 But because recycling may not be the most important to you, here are 3 other reasons to try Terra's Kitchen meal-kit delivery service.
1. Large Selection of Meal Options
In my opinion, Terra's Kitchen has more healthy options that some of the other meal kit services. Based on the Mediterranean diet, your menu choices include Paleo, Vegan, Vegetarian, Whole 30, Weight Loss, Gluten-Free, Dairy-free, Low-calorie and Low-carb and you can switch them around whenever you'd like. You are also able to select the types of protein you'd like included: beef, chicken, fish, pork, lamb, bison (a cool option), and/or tofu.  There's even a 3-day fresh food detox option.  For my free sponsored trial, I chose the lower-calorie meals (more on that later).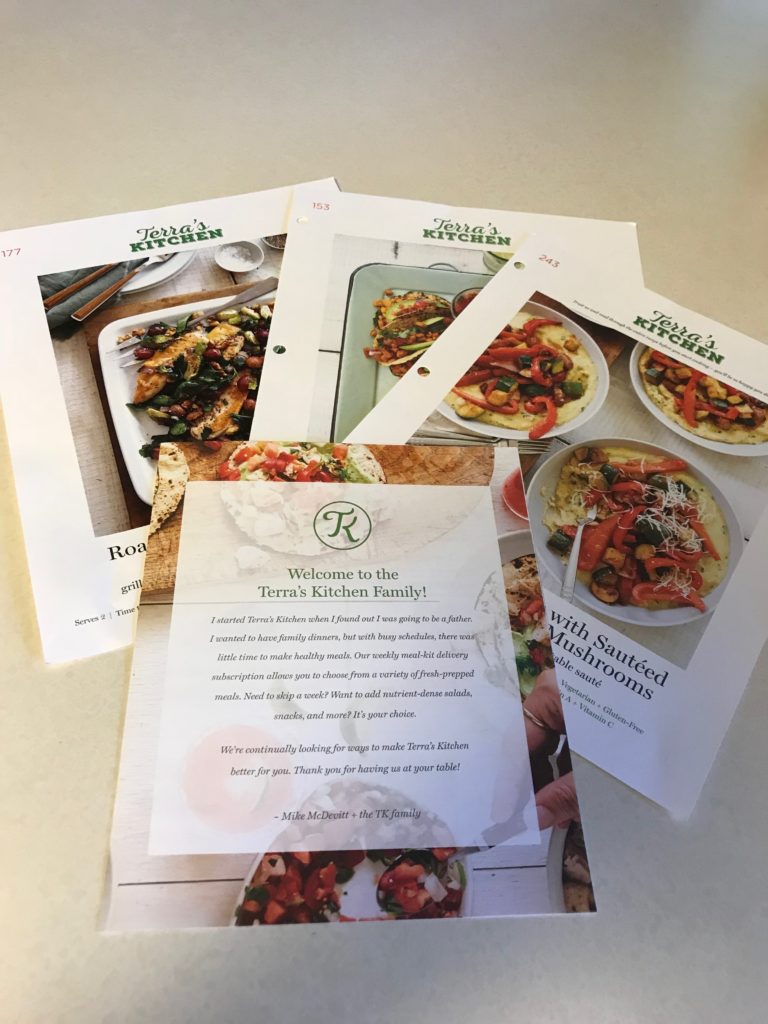 2. Time-Savings
I have Blazen Divaz practice 3 nights per week so saving time on meal prep is important to me!  I'm sure it is to you too! Not only are all the ingredients for each meal included, but Terra's Kitchen ingredients come pre-sliced, chopped and measured which saves you even more time on meal prep! You can literally dump them straight out of their containers into a pan, pot or mixing bowl.  Yet, you are still in charge – you can add more spices, control the amount of salt you use, include additional veggies if you want or add some pasta, potatoes or rice to stretch the meal to include more people or accommodate a bigger appetite.
3. The Ingredients are Fresh. 
I don't like using canned food or sauces and spices with preservatives. So far, everything that was sent from Terra's Kitchen has been whole foods with no additional additives.
4. The Recipes Can Be Recreated
A couple of the other meal-kit delivery services I've tried include spice mixes or sauce mixtures that I can't recreate because their ingredients aren't listed. I want the ability to remake a meal that was a hit with the family so I appreciate that (so far), there is nothing "proprietary" in the recipes. The easy-to-follow recipe cards have 3-ring binder sized hole punches and can be saved for later.
5. There are wine AND beer pairings listed.
While I don't drink beer, I do like a glass of wine with our dinner. Each recipe card comes complete with a suggested wine or beer pairing. For the Creamy Polenta Bowls with Saute'ed Peppers, Zucchini and Mushrooms, they suggested a silky Alsatian Pinot Gris or an English style brown ale.
Our Meals:
Sweet Potato Tacos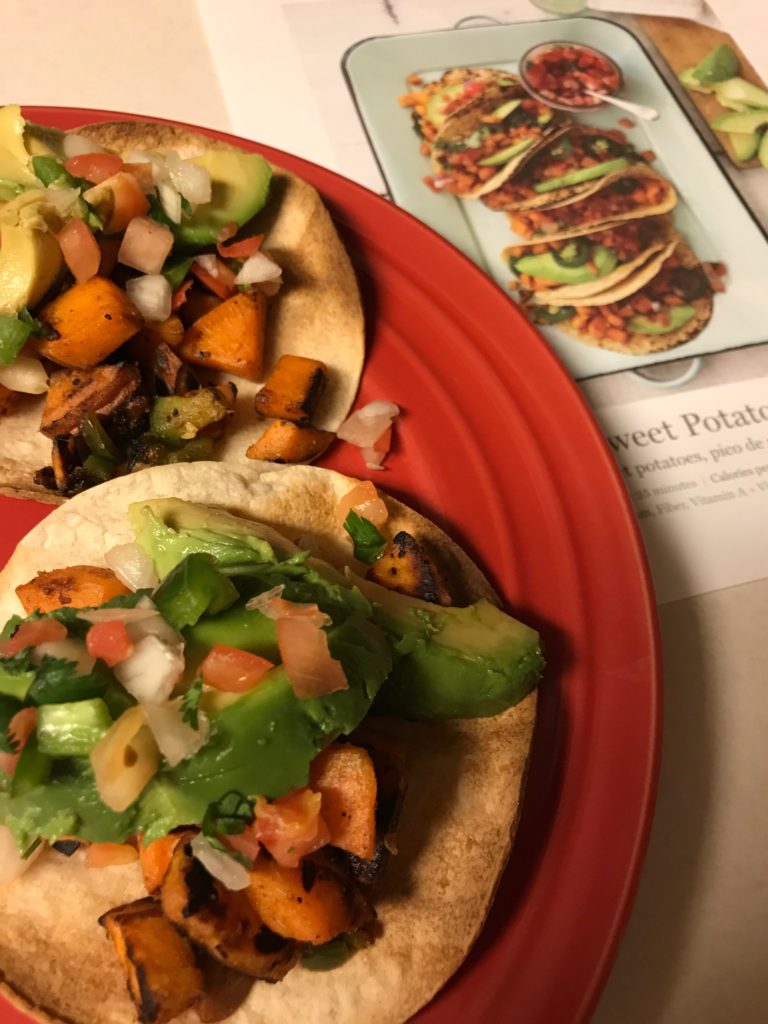 I over-charred the tortillas but it was good none-the-less. This could easily become a breakfast meal by adding some scrambled eggs to the mix.
Creamy Polenta Bowls with Sauteed Veggies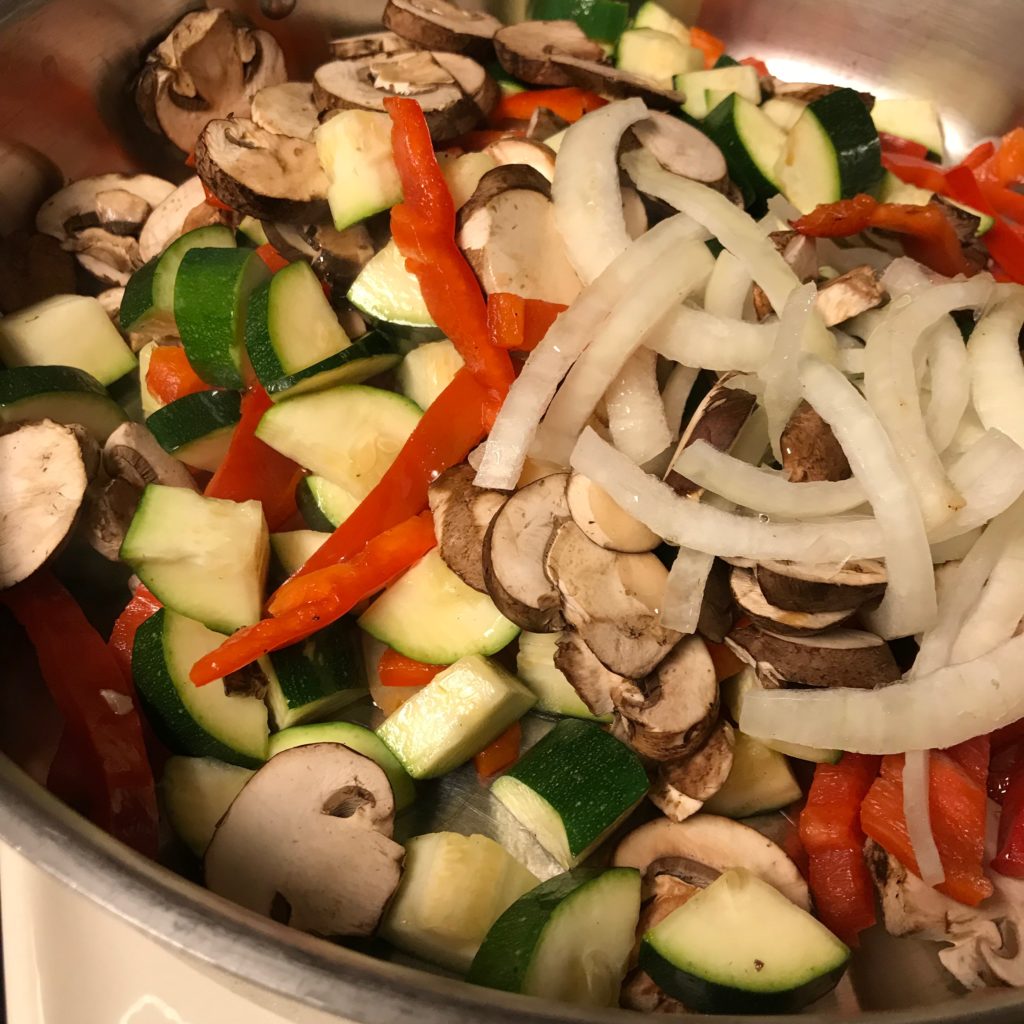 This was my favorite of the three meals we tried. It was just 360 calories per serving and was very tasty. The polenta could also be cooked a bit longer and set on a tray to cut like a pizza.
Roasted Brussel Sprouts and Red Grapes with Grilled Chicken Tenders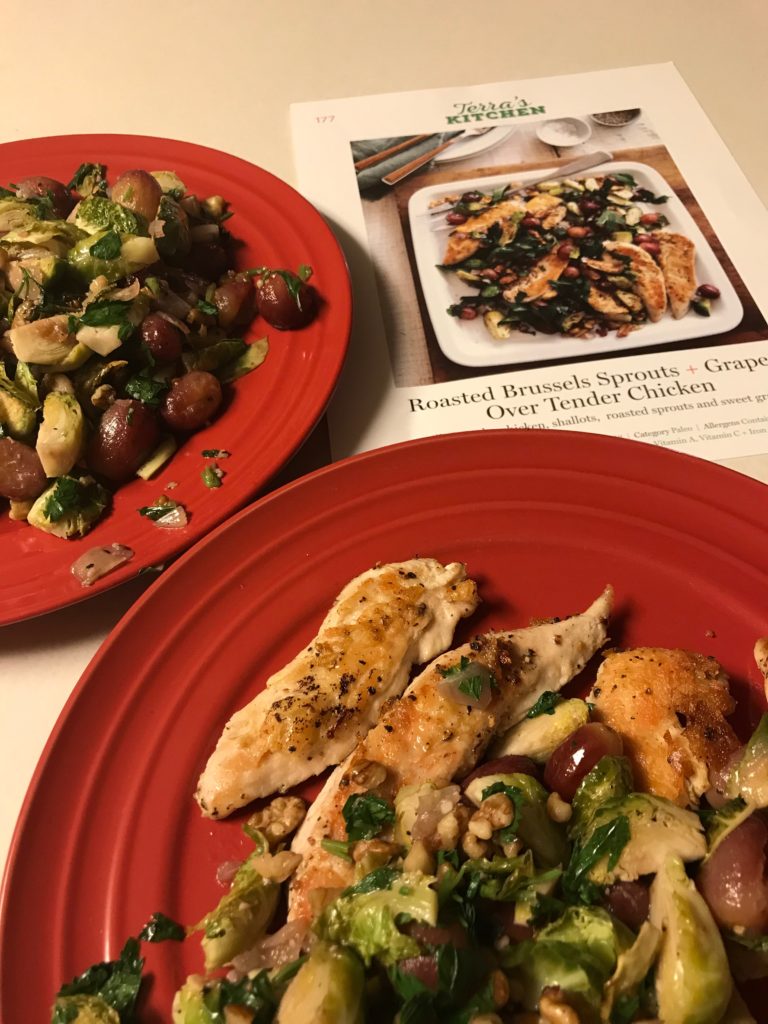 Full disclosure: I shouldn't have ordered this one. I've never been a fan of brussel sprouts but I guess I just keeping hoping that I'll find a recipe I like. If you like brussel sprouts though, you'll like this meal!
Besides meal kits, Terra's Kitchen also offers some salad kits and individual items such as grapes, watermelon chunks, protein powder, snacks, sides, beverages and desserts.
Being real: I have to be honest about the products and services I try or else I'm just selling.  The food is really good and very healthy!  I would have liked to see a bit more spices used in the recipes, but certainly, we are free to add our own. I still think there is too much packaging, but at least this packaging is recyclable unlike some of the other services.
Meals begin at $72.00 per week for 3 days/2 people and shipping is free for orders over $72.00.
If you're wanting to save time in the kitchen and yet still eat healthily, I'd highly recommend Terra's Kitchen. If you'd like to try, you can get $35.00 off your first order by using my code: WEBB35
You can visit Terra's Kitchen here.  I'd love to know if you try it out!
LEARN TO LOVE YOUR LIFE AGAIN
---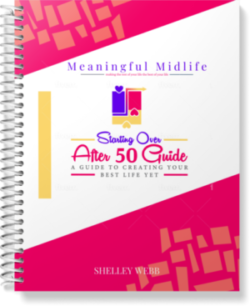 Do you feel like you need to hit the REFRESH button on your life? Download our free guide and begin to create your best life yet!