In September we spent some time at wineries in Paso Robles, California on the way back from my high school reunion. We had always wanted to go there and had planned an October trip for a milestone birthday of mine but of course, that was 2020.
Paso Robles is in San Luis Obispo County about 14 miles from the ocean as the crow flies. Morro Bay is about 30 minutes away.
Paso Robles was originally called El Paso de Roble's, pass of the oaks. Known by the locals as Paso or Paso Robles – the official "mispronunciation" is Pass-o Robe-ells. Winemaking began there in 1790 when vineyards were planted by missionaries at The Mission San Miguel Arcangel. Paso Robles became an official producer of commercial wines with the establishment of "Ascension Winery" on York Mountain in the 1880s followed by "York Mountain Winery" by Andrew York in the 1920s, which today is known as Epoch Estate Wines.
Originally, they grew a lot of zinfandel and cabernet sauvignon in Paso and were known for their big, perhaps over-extracted red wines. But over the years, winegrowers and winemakers have discovered that the Rhone varietals (more on Rhone varietals in the Tablas Creek post) do very well here.
When prohibition hit in the 1920s, grape growing was still allowed and vineyards would send out grapes to consumers with the warning "Definitely do not add yeast because the grape juice will turn to wine". They also included a list of other "do not dos" as well – basically instructions on how not to make wine.  Prohibition ended in 1933.
In 1983, the Paso Robles AVA (American Viticulture Area) consisting of about 614,000 acres was established but there are many, many microclimates and lots of soil diversities so it made sense to subdivide the AVA into 11 sub-AVAs or districts. The west side of the AVA is cooler and much of it can be dry-farmed. Some wineries you'll find here are Tablas Creek, Adelaida, Daou Vineyards and Winery,    The east side is hotter There are 28 different soil types from sandy loam to calcareous shale, slate, limestone, red and white clay, etc..
In 1990, there were only about 20 wineries in Paso Robles but now there are over 200 winery tasting rooms. Of course, we couldn't visit them all in one stay so we'll need to come back! Here are the ones we visited with links to the specific blog posts about each winery. Tasting fees vary and are sometimes waived if you purchase but sometimes not. * When wine tasting, I would recommend planning to visit a maximum of three wineries per day.
San Antonio Winery, Riboli Family Wines
Because we arrived in Paso Robles in the afternoon and were going to the Sensorio light show early evening, we stopped at one of the wineries in town for some snacks and a quick tasting. San Antonio Winery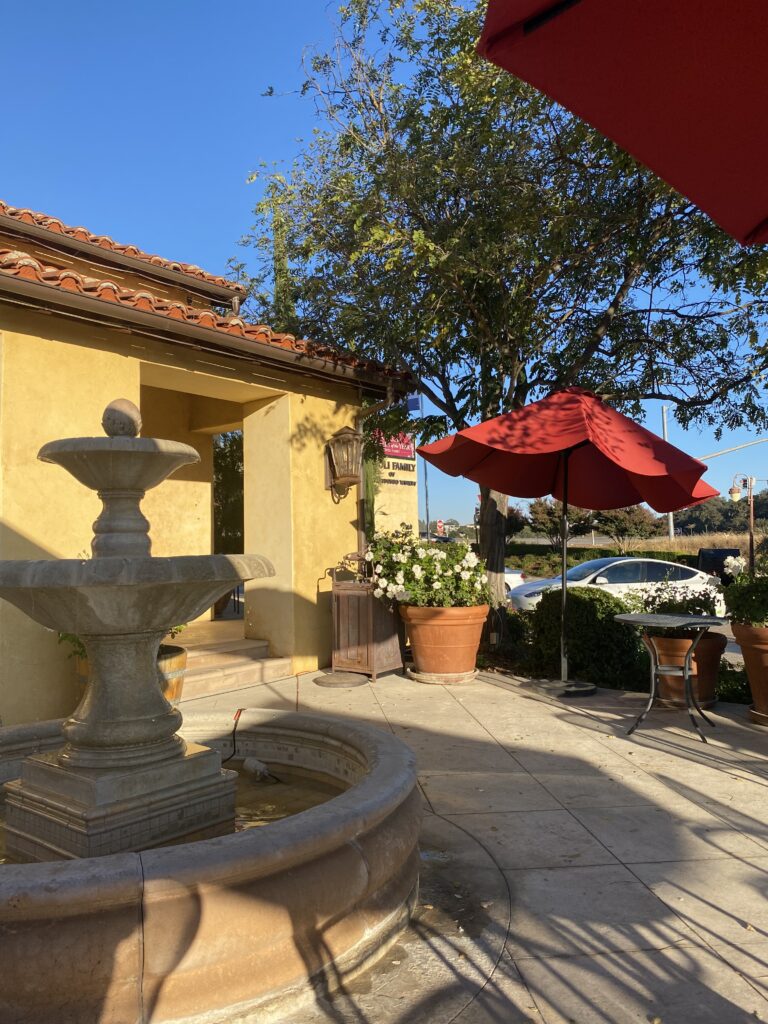 I added Tablas Creek Vineyard to my list of wineries to see early on because they produce a tannat, which I love. But as we were driving to Paso, we found a podcast to listen to about Paso Robles and learned how Tablas Creek played quite a significant role in the history of Paso Robles wine industry we were especially glad that we had scheduled an interview and a tasting with them.
We interviewed Wine Consultant, Lisa Rainey for our podcast. She is very knowledgeable and passionate about their wines. You'll want to read my post about Tablas Creek to learn more about its history and more about the Rhone varietals that do so well here in Paso Robles.
listen to the podcast episode here.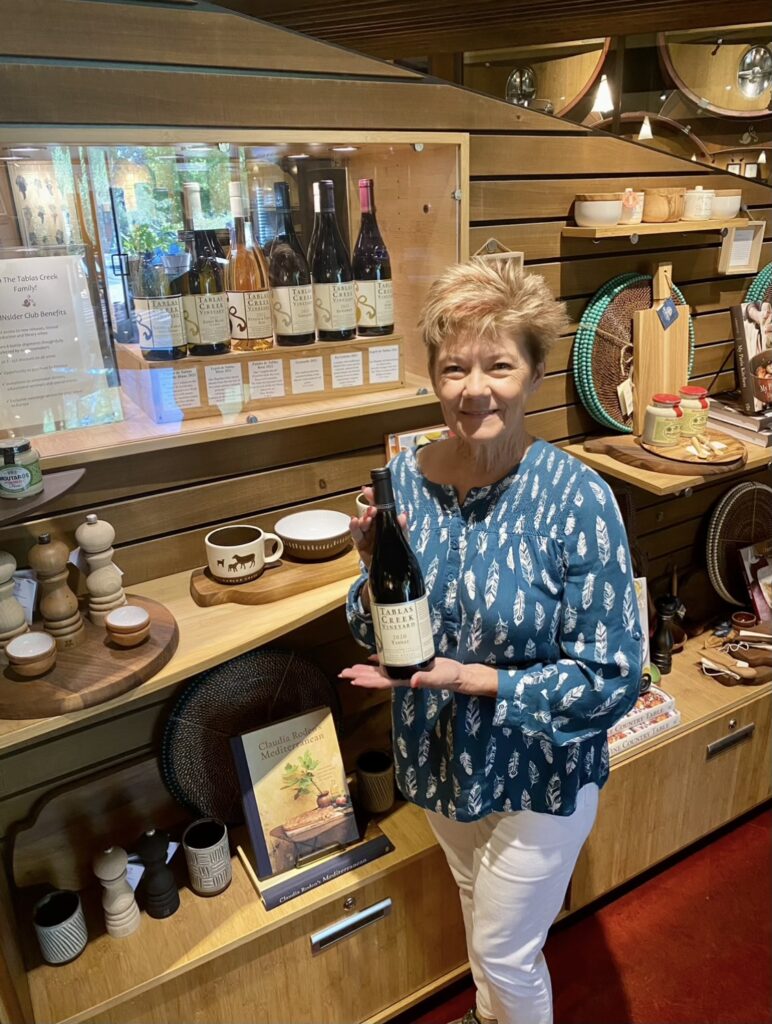 Halter Ranch was a beautiful winery with a tasting room and restaurant overlooking their vineyards. They had wonderful staff and beautiful views. We even saw a small plane take off from their private runway! While we had not scheduled a podcast interview with them, we enjoyed a wonderful lunch and tasted several of their wines. I would list this winery as a must-do lunch experience! It's on the way to (or back from) Tablas Creek. Read my blog post about Halter Ranch here.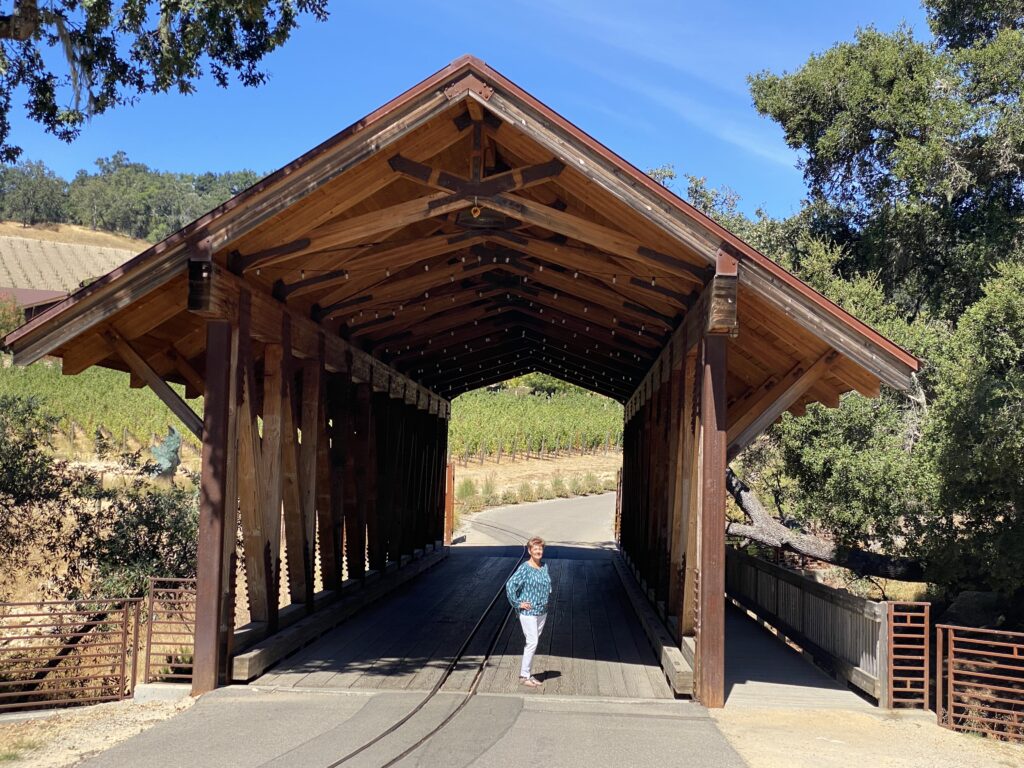 At Peachy Canyon Winery, we sat with winemaker, Drew Phillips and tasted 4 different wines – the 2022 Rose', the 2021 The Odd One, the 2021 Willow Zinfandel, and the 2021 West Side Zinfandel.  To learn more about our experience at Peachy Canyon click here (when I have that post completed). To listen to our podcast interview with Drew, go here.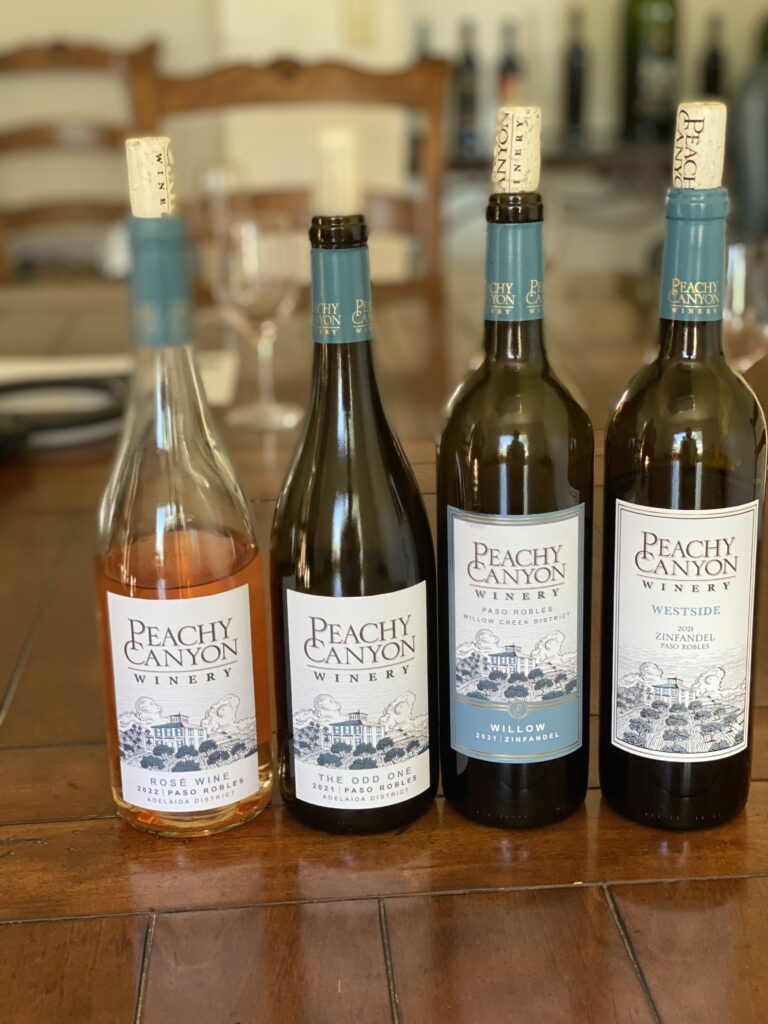 Levo is located in Tin City. We interviewed Lizz Sevin, who was very much "in a family way" (about to deliver her baby boy!), Learn more about Levo here and listen to the podcast episode here…. or wherever you get your podcasts!!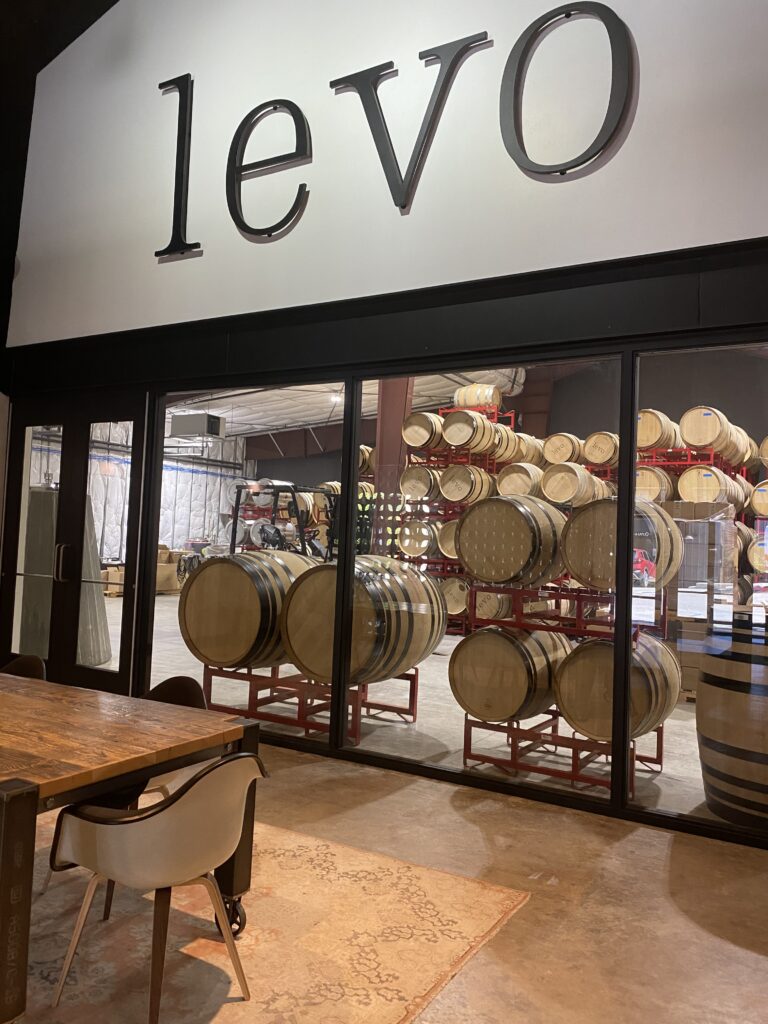 More about Justin coming soon!  Listen to the podcast interview with Brad Van de Lune here.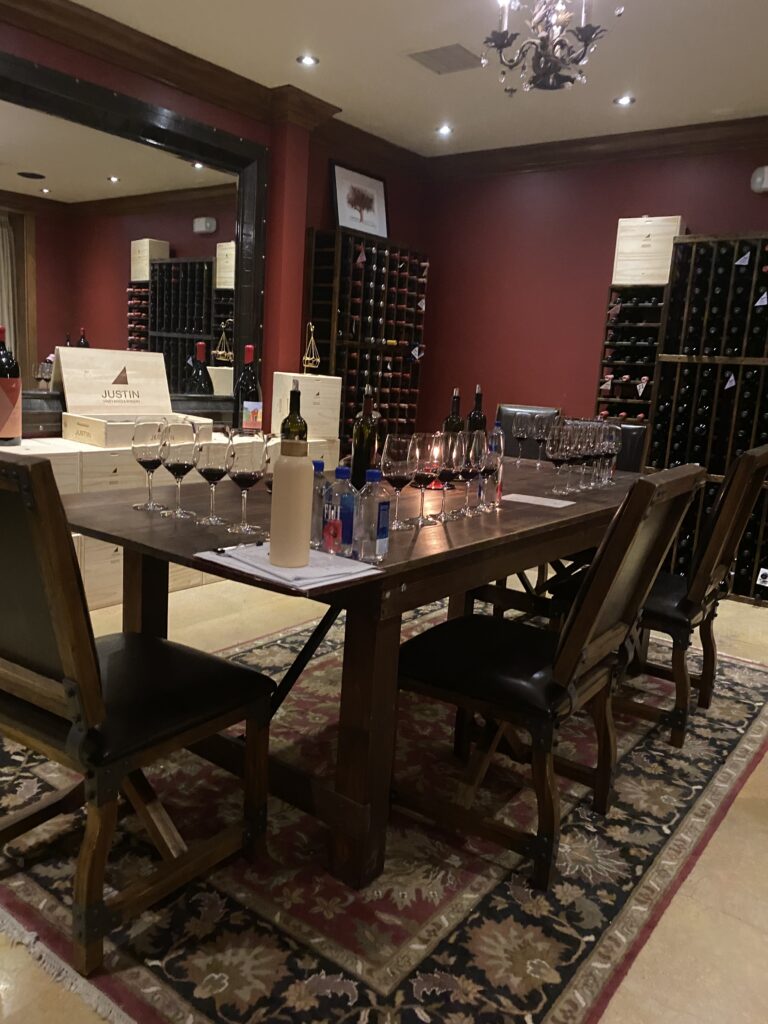 More about Turtle Rock coming soon. Listen to the podcast interview and tasting with Chris Burns, go here.

Other Must-Sees in Paso Robles
Bruce Munro: Lights at Sen­so­rio
Senosorio is an "exhibit in residence" about 5 minutes from downtown and is an immer­sive walk-through out­door exhib­it made up of close to 10,000 flick­er­ing points of light and a section with light towers made of lighted wine bottles. Local wine, beer and dis­tilled spir­its are avail­able onsite during event hours. There was also live music in the courtyard when we were there. You can carry your beverage around with you (in a plastic cup) as you walk through the exhibit but you may want to keep both hands free for taking photos. Yes, photos are allowed.
You can choose to walk around the exhibit or there is also a terrace experience (at a higher price point) where you'll have access to a pri­vate ter­race with guar­an­teed seat­ing, pri­or­i­ty entry, pri­vate restrooms, an Airstream trailer bar, fire­side tables, heaters, and supposedly the best views of the exhi­bi­tion. You'll still want to walk around at some point for the different views available.
All tickets are sold online prior to the exhibition. You can find those here.
Tin City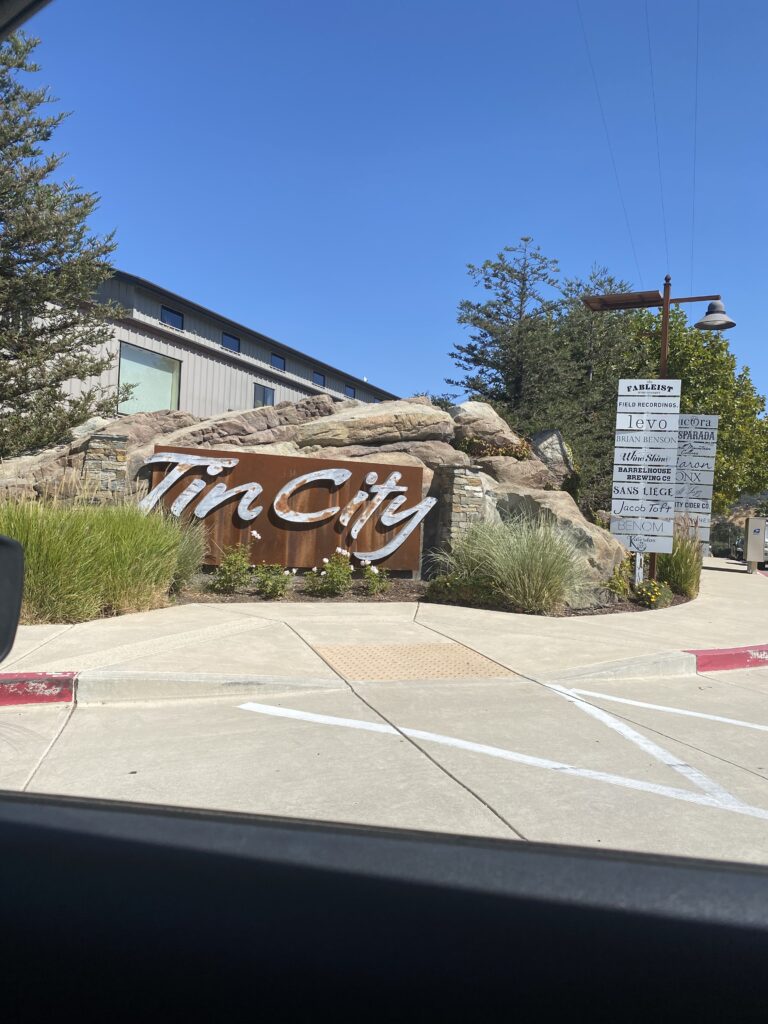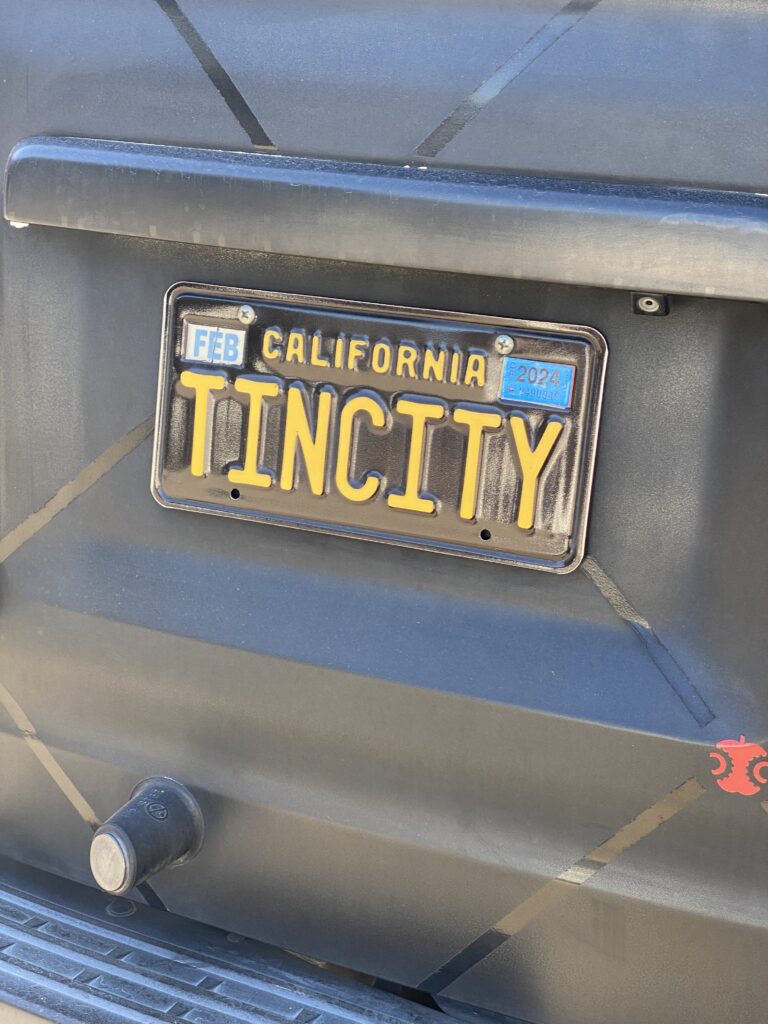 Tin City is a unique industrial hub and home to over 40 businesses housed in repurposed industrial buildings. Businesses include award-winning wineries, innovative craft breweries, artisanal distilleries, and a few other assorted businesses including Olivas de Oro olive oil shop, Sticky City USA, a candy shop and a specialty ice cream shop, Negranti Creamery, which makes its treats from sheep's milk! It's a very cute and quaint area that was begun by developer, Mike English. Emtre[neurs and craftspeople were able to set up shop more inexpensively than they might have elsewhere. Before we visited Paso Robles, we watched a documentary about Tin City that was very informative and interesting.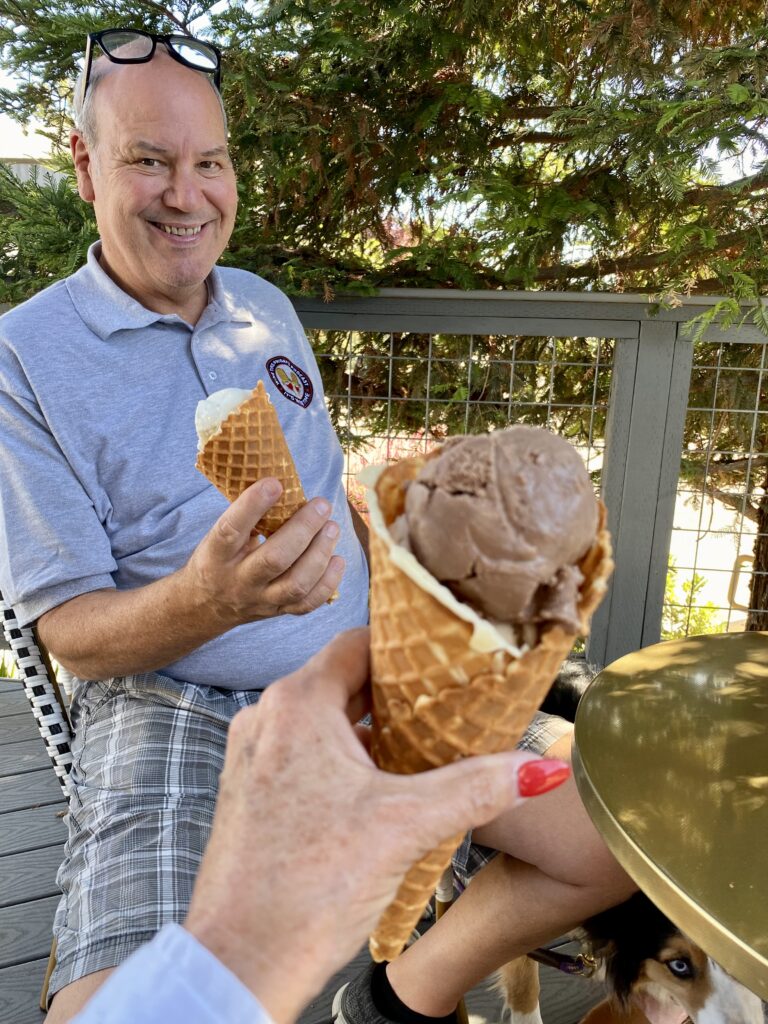 Tetto Rooftop Bar at The Piccolo Hotel 
The Piccolo Hotel is a beautiful hotel but we couldn't get reservations even 3  months ahead of our visit, so if you want to stay there, you'll need to book early. It's right next door to the Paso Robles Inn and in fact, they share some of their amenities with each other. Even if you don't stay there, do visit Tetto, their rooftop bar!  The views are lovely; they have live music and food. Another fun thing is that they have a Moet et Chandon vending machine in the lobby!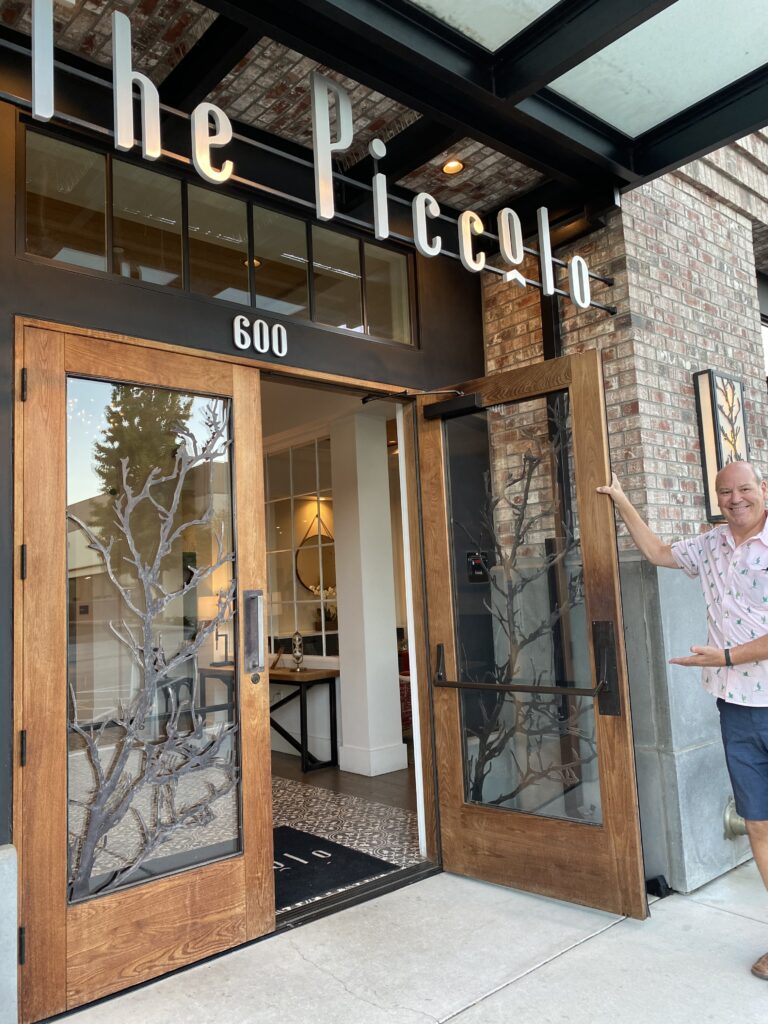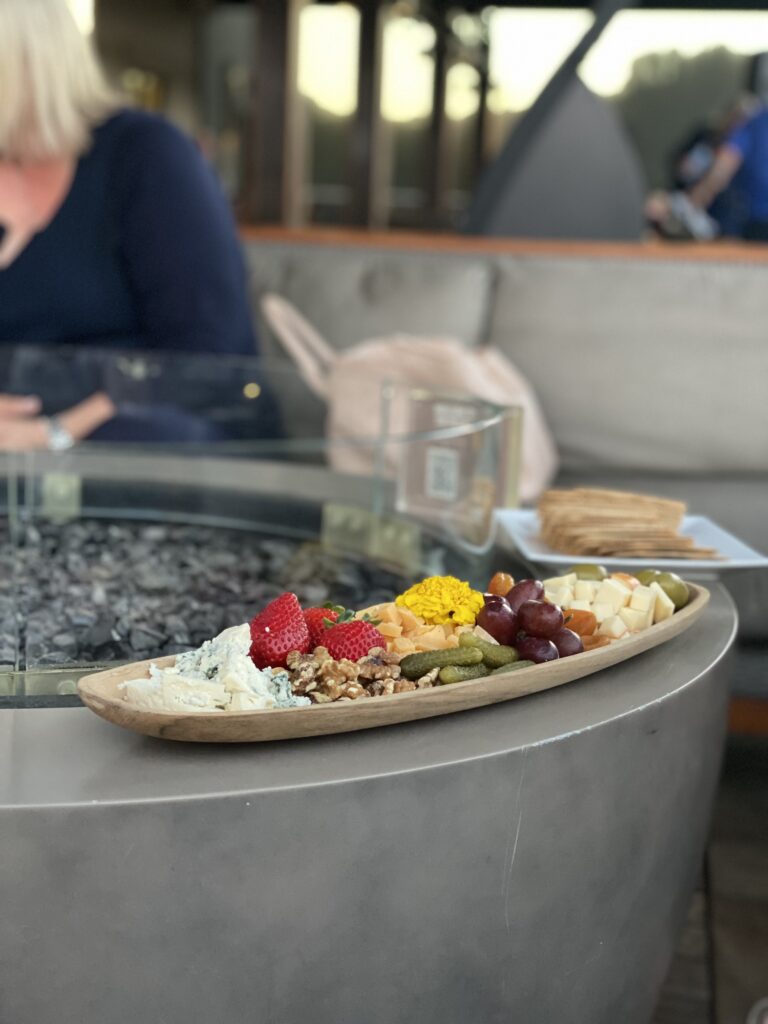 Where We Stayed
The Oaks Hotel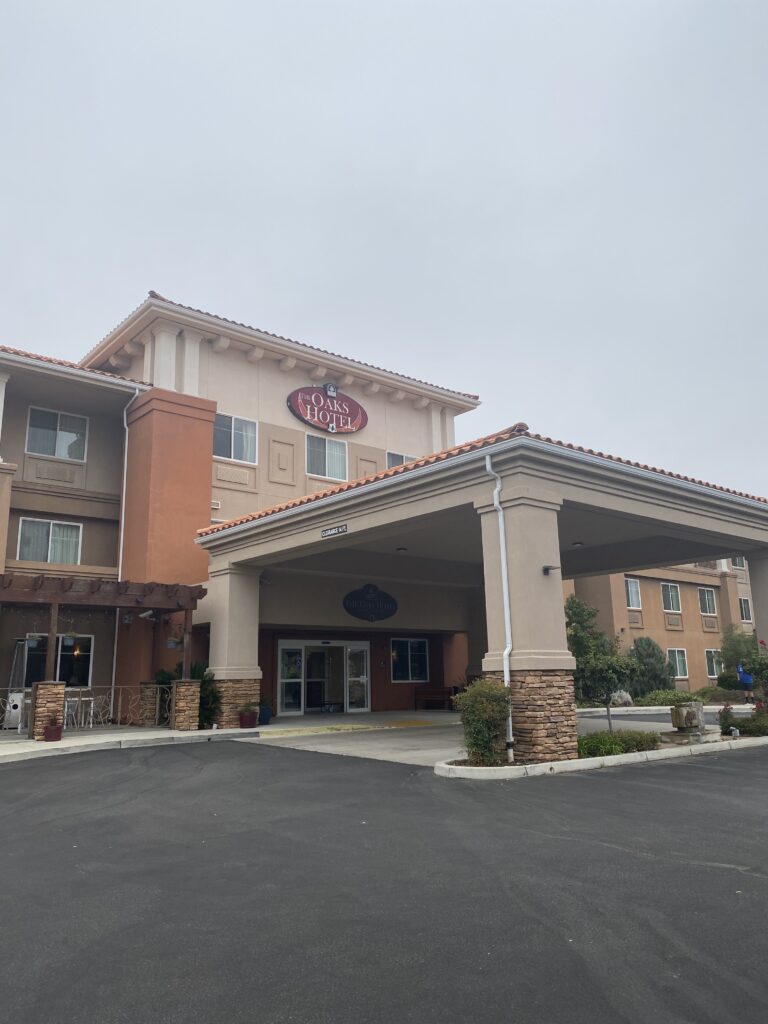 This was a very nice and quite inexpensive hotel that we stayed at the first night as we couldn't book the Paso Robles Inn on our first night. It was lovely. I would definitely stay here again and choose it over The Paso Robles Inn if we weren't meeting up with friends. The Paso Robles Inn has better courtyards with several sitting areas. This hotel included white terry robes and slippers (you could take the slippers home).
Paso Robles Inn
Completed in 1891, the historic Paso Robles Inn is located in the center of town right across from the tree-lined downtown square. It used to be known as Hotel el Paso de Robles (pass of the oaks) but is now the Paso Robles Inn. It has a lot of history behind it – it burned to the ground in 1940. In 1991 it was purchased by the Martin Family whose goal was to make it the landmark it once was. It did have some damage in a 6.5 earthquake in 2003. The grand ballroom (shown below) is the only remaining original building. It houses a grand piano.
The inn has several different types of guest rooms including fireplace rooms, grand ballroom rooms, and 18 deluxe wine-themed spa rooms which have a fireplace and a private hot tub on their patio. These rooms are a partnership between the wineries and the hotel.
The Steakhouse is their on-site restaurant and the Cattlemen's Lounge, on the second floor also has a nice view of downtown.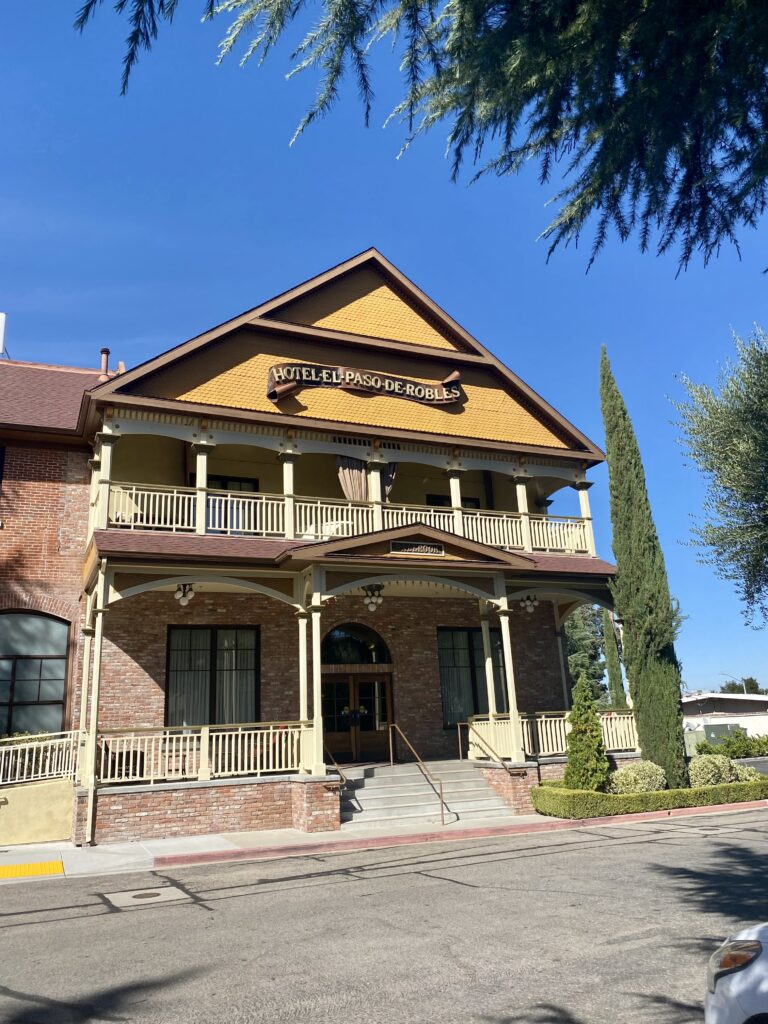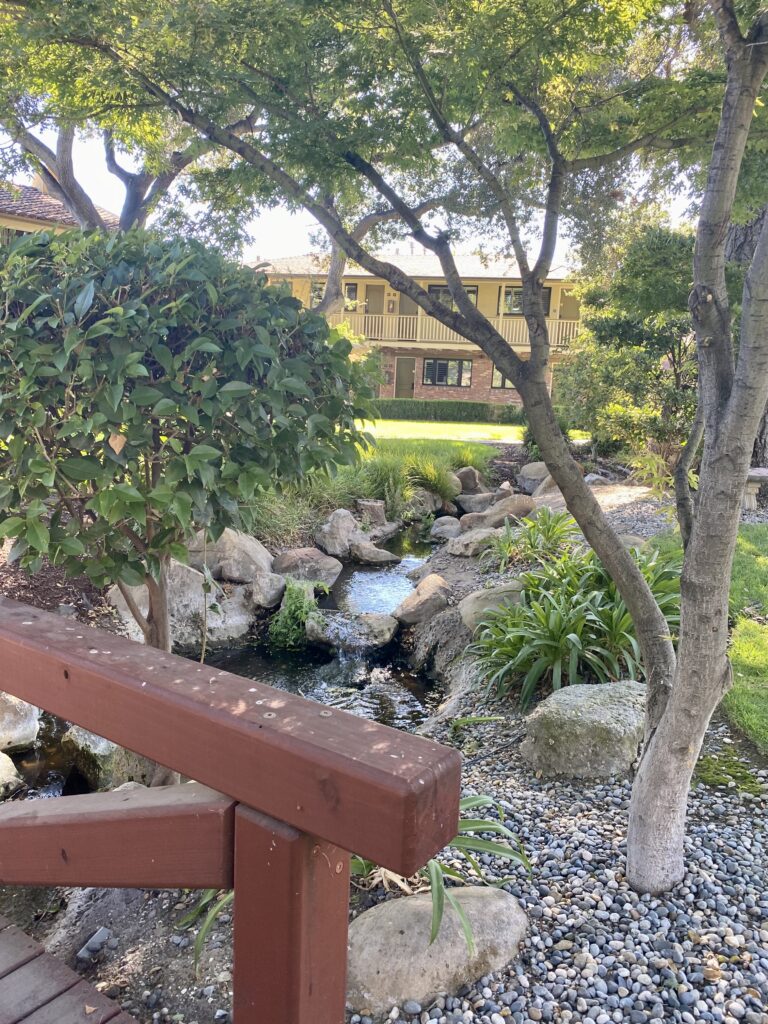 This little creek has some large goldfish (koi?) in it.
LEARN TO LOVE YOUR LIFE AGAIN
---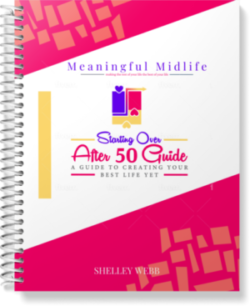 Do you feel like you need to hit the REFRESH button on your life? Download our free guide and begin to create your best life yet!