This is a sponsored post by The Dinnerhub and Babblebox but all my views are always my own.
I really do enjoy cooking but what I don't enjoy is trying to figure out what to make for dinner!  It's the hardest part! And once I decide, will I have all the ingredients on hand or will I have to send my sweetheart on a store run. That's why I've tried several meal kit delivery services including HelloFresh, Blue Apron, Martha and Marley Spoon, Gobble, Home Chef, Purple Carrot , Sun Basket and Terra's Kitchen.
To be honest, I liked most of the meal kits, and loved HelloFresh, and Blue Apron but did not like all the plastic packaging. Plus $62-65 a week seemed like a high price to pay for 3 meals for 2 people per week. To be honest, though, my food budget did not go up much at all because we wasted almost nothing.
I just learned of a new concept though and it sounded exciting so when I was invited to try it, I jumped at the chance. The Dinnerhub is a different kind of meal-planning service. It's an app on your phone. You still choose your 3 meals per week (for 2, 4 or 6 people). They offer different dietary options including gluten-free, dairy-free, low carb and diabetic-friendly.  You also have the option of choosing basic meal plans, quick meal plans or simple gourmet.
The meal plan recipes are proven to be well-loved and are chef-designed. Each one includes a perfectly paired side dish or two to go along with your main dish.  They're easy to prepare and ach meal can be made in 20-40 minutes using their step-by-step instructions along with pictures. Each recipe also includes a short video tutorial if you'd prefer to watch.  Calories and other nutritional data are shown on each meal plan so you can track your nutritional goals.  So basically, this sounds much like the other meal kit delivery options, right?
But hold on! After you've chosen your meals each week, you click on a button, and the app loads the ingredients into a shopping list!  Once you have your shopping list, you can cancel the items you already have on hand (like olive oil, mayonnaise, soy sauce, eggs, etc.) But it gets even better, if you upgrade to the Dinnerhub Plus, the app fills your online grocery shopping cart at your favorite store! You connect your online store to the app – I selected Fred Meyer but I know that Walmart is one of the options).  You can edit your cart by adding some other items you might need (like wine!) and you can then select a time to pick them up or have them delivered!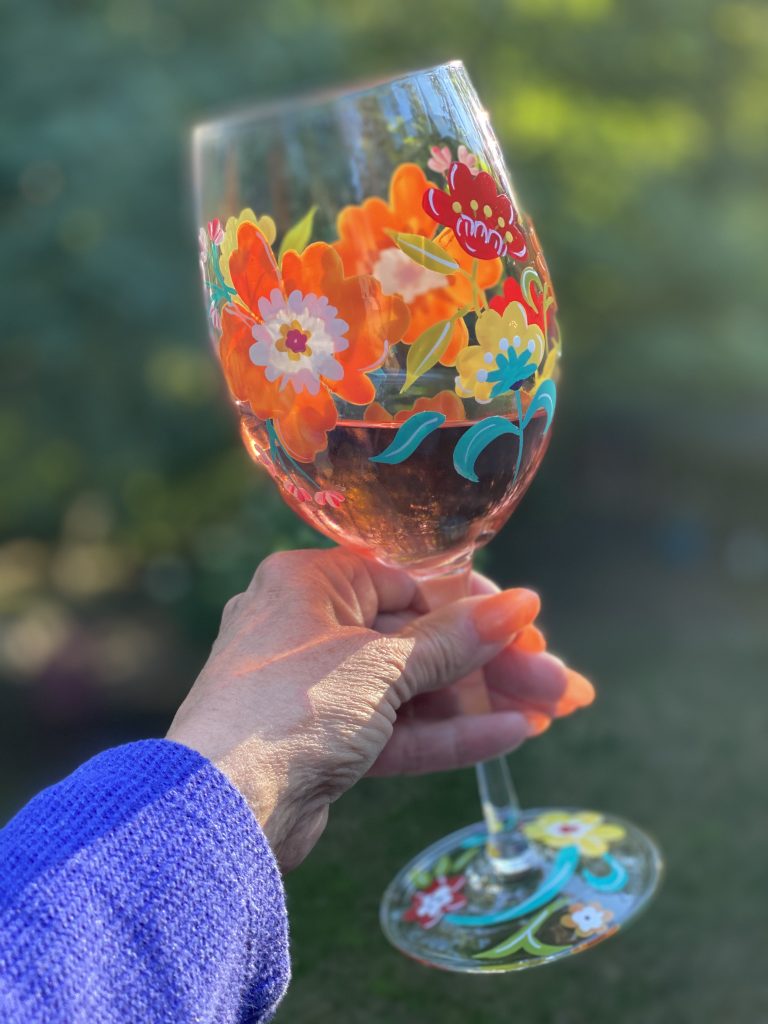 I tried the low carb option and it was just 24 hours from the time I chose my meals to the time I picked up my groceries!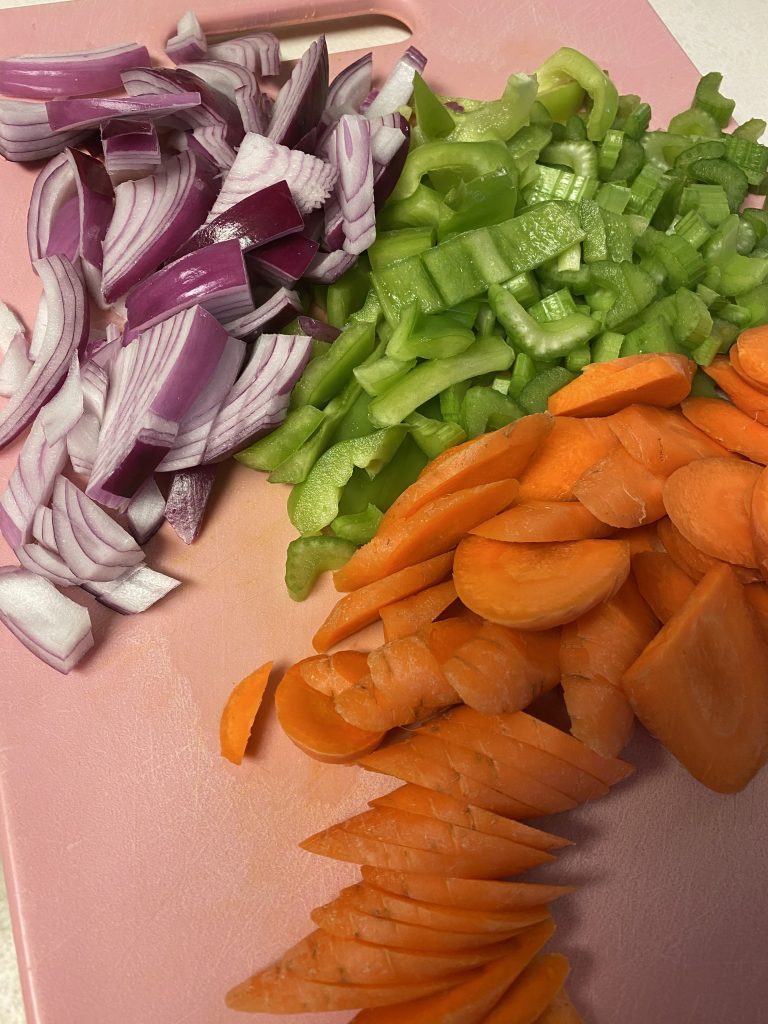 This dish would have been prettier if the red grapes had been in stock that day but it was tasty, none-the less.
The Yakisoba Noodles with Pork, Broccoli (andother veggies) and Clementine oranges was not my favorite. I would have substituted different noodles (and again, the Clementine oranges were not in stock so that was a disappointment).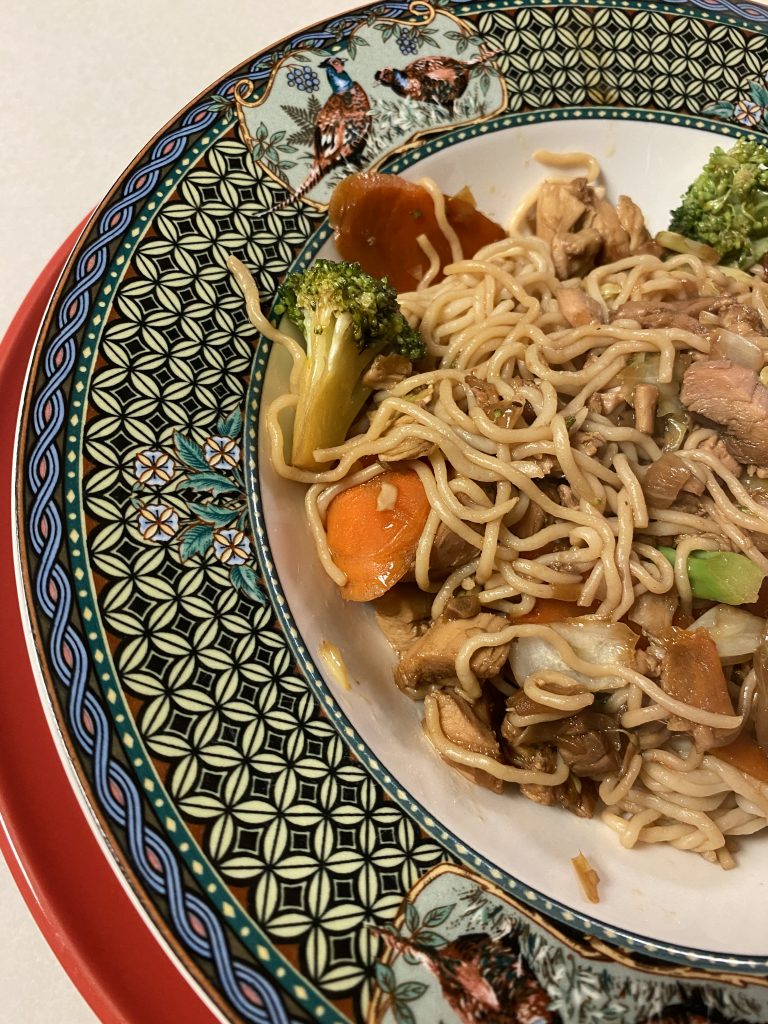 My thoughts on The Dinnerhub service
The positives:
Convenience!
Different dietary options available
No wondering what to cook tonight (I can never think of anything good).
No trips to the store for missing ingredients
Can choose your own meals out of many options
You can try new recipes and foods that you would not have thought to purchase
Easy and quick recipes
Can skip a week whenever you choose (but you'll still pay the monthly option)
You can keep track of your favorites on the app
You can pick up your groceries pre-shopped or even have them delivered! (super convenient right now!)
There are two levels of service:
1. The Dinnerhub – Our introductory service shares fast, tasty meal plans (based on your dietary preferences). We fill your app's shopping list for you with ingredients for your selected meals. A perfect solution if you…
 Enjoy or have time to grocery shop
 Are picky about selecting your own items
 Don't think grocery pick-up/delivery is for you
 Wish recipe ingredients would magically appear on your shopping list
 Need a place to house all your 'lists' in one spot on your device. (A handy 'To Do' list section is included.)
2. The Dinnerhub PLUS All the benefits of our introductory service PLUS a Personal Shopper! That's right – ingredients for your selected meals are loaded into your online grocery cart for you! This upgrade option is perfect if you…
 Need more time
 Eat out too often
 Dislike or have little time to grocery shop
 Often overspend/buy more than what's on your list
 Wish recipe ingredients would magically appear in your grocery cart
Pricing: 3.99/month for the regular service
Dinnerhub Plus – 1-month subscription: $15.99
3-month subscription: $29.97 ($9.99 per month)
12-month subscription – $107.88 ($8.99 per month)
Things I would change: 
I originally order the 4-person option as it was recommended as a money-saver in that you could have left-overs the next day. I switched to the 2-person option for the next week.
I wasted food which had not done with the other meal-kit delivery services and I spent $101.67 for the 3 days of meals instead of $62 with HelloFresh. Keep in mind, I had chosen the 4-person option instead of 2 person option. I still would have wasted a bit of food but I'm sure there's a work-around for that. The chickens were very happy about it though. 🙂
I don't like cooking the meals while working off my phone. I wish there was a print-out of the meal so that I could follow it more easily. At the end of the day, my eyes are tired because my work involves a lot of screen time.
I think it's a great value though and I plan to continue to use it for a while. I hope you will check them out for yourself! Click here now to get one month free with my promo code shelley!  If you do, please let me know your thoughts!
LEARN TO LOVE YOUR LIFE AGAIN
---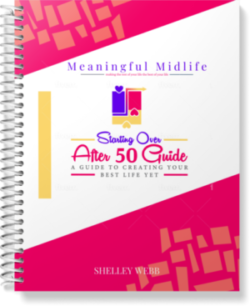 Do you feel like you need to hit the REFRESH button on your life? Download our free guide and begin to create your best life yet!